L.A. Fire Department takes step toward linking 911 system to nearby systems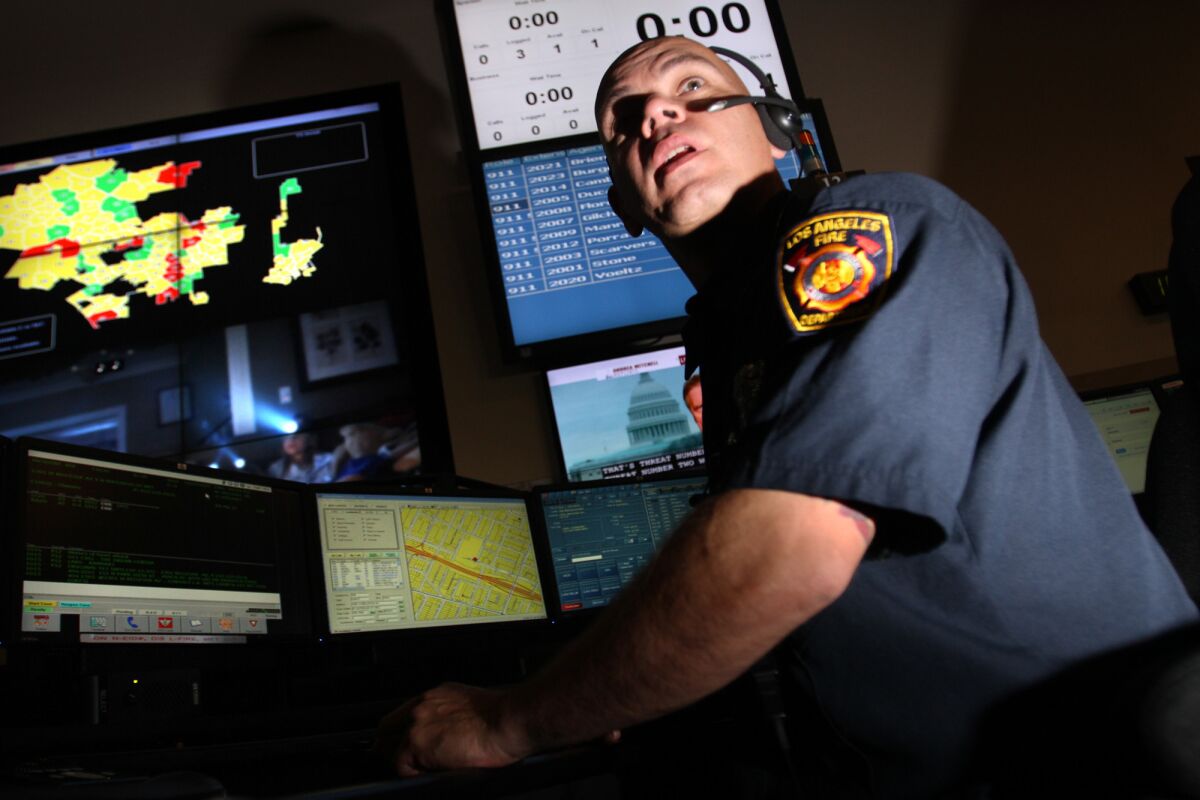 The Los Angeles Fire Department will upgrade its 911 dispatch center to work with neighboring fire agencies and help ensure the closest available rescuers are sent to victims during life-threatening emergencies, Chief Brian Cummings said Wednesday.
A Times analysis of city and county records published in October found that in more than 70,000 emergency medical calls since 2007, the LAFD sent its own rescuers to victims despite the fact that Los Angeles County firehouses were closer to the scene.
More than 1,300 of those cases involved cardiac arrests, in which seconds can mean the difference between life and death. In two cases highlighted by The Times, cardiac arrest victims died after waiting for LAFD units when county help was closer.
In an interview with The Times editorial board, Cummings said he would like to see a seamless network that connects dispatch systems across municipal borders. The LAFD is in the early stages of developing a computer system designed to work with neighboring dispatch centers, although other agencies will have to pay for similar upgrades to make the plan work.
Potential partners include the Los Angeles County Fire Department, the Long Beach Fire Department and the consolidated dispatch center that covers Burbank, Glendale, Pasadena and nine other cities, Cummings said.
"A system like that would provide the highest level of coverage," he said.
The LAFD's existing dispatch database is decades old and routinely breaks down, according to interviews with fire officials and internal LAFD documents previously reported by The Times.
Cummings said the upgrade would take three to five years and cost $12 million to $14 million for each department that connects.
For years, fire agencies across the country have pooled resources to alert rescue units closest to callers in need of help. Some of the largest fire departments in California, including those serving Orange County, San Jose and San Diego, have linked their dispatch operations.
Los Angeles' city and county fire agencies agreed in 1979 to link their dispatching operations to save lives and cut costs. But the connection was never made.
When The Times first reported on long delays in LAFD response times near city borders, Cummings said he was unaware of the plans laid out by previous chiefs.
On Wednesday, he said he had since met with Los Angeles County Fire Chief Daryl Osby, but said the talks were inconclusive.
Fire Commission President Genethia Hudley-Hayes supports the plan. She said the investment would improve response times and help cut future costs.
"The savings would be astronomical," Hudley-Hayes said. "But there's an upfront cost."
The stories shaping California
Get up to speed with our Essential California newsletter, sent six days a week.
You may occasionally receive promotional content from the Los Angeles Times.