7.1 earthquake leaves long-standing Cal State Long Beach building red-tagged
A building at Cal State Long Beach that had fallen into disrepair was further damaged by last week's magnitude 7.1 earthquake, the biggest to strike Southern California in nearly 20 years.
The Soroptimist House was red-tagged this week, barring people from venturing inside. The building had been used during the academic year as an interfaith center and had been vacated before the temblor.
"The building did suffer structural damage during the July 5 earthquake, and the facility is closed at this time," Cal State Long Beach spokesman Jeff Cook said. "The front facade has been compromised and is no longer taking the loads as designed."
The 2,000-square-foot ranch-style house was constructed in 1957 and has been used as a space for student clubs. The building was funded by Long Beach's chapter of Soroptimist International, an organization dedicated to the empowerment of women and girls.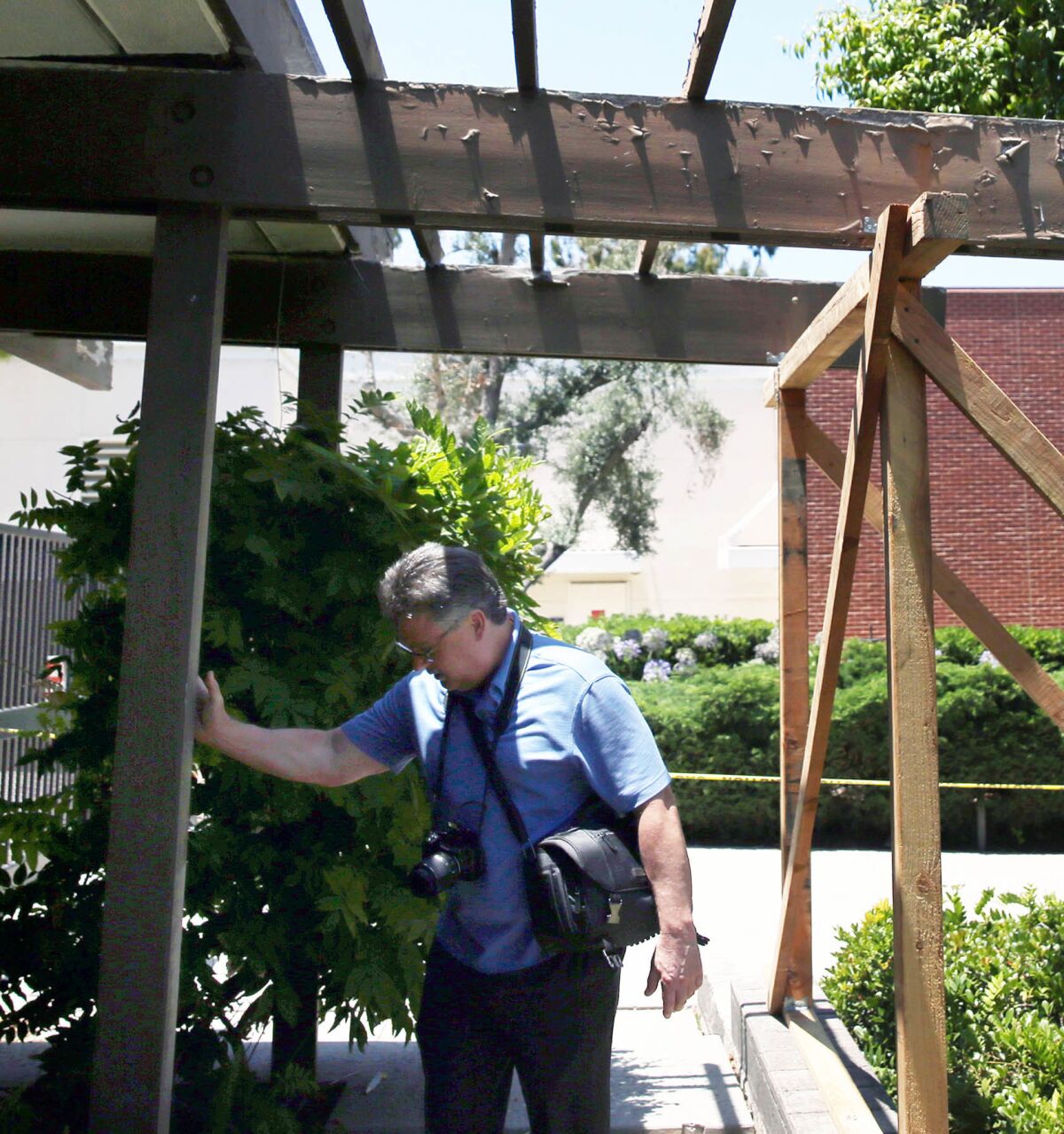 Cook said the role of the house has shifted over time to accommodate different student groups and school functions, but it has continued to play an integral role in campus life as a place for students to convene.
At the time of the earthquake, the house was unoccupied, but some furniture and supplies remained inside.
"I can see the damage on the exterior of the building, and there's bracing on the exterior where these columns are no longer plumb. You can see some separation from beams, separation of the roof or the ceiling and the front of the building," Cook said.
Plans to replace the building with a 6,000-square-foot alumni center have been discussed, but Cook said the university is still assessing that project.
"The earthquake changes the calculus of what the assessment looks like."
If any alumni center is built on the site, Cook said it will honor the history of the original Soroptimist House.
The July 5 quake struck one day after a magnitude 6.4 temblor rocked the Southland. That quake was felt as far away as Phoenix and Mexicali, Mexico. Damage at the epicenter near Ridgecrest, Calif., and nearby Trona was reported, and a man's death 95 miles away in Pahrump, Nev., may be connected to the quake.
Beyond the epicenter, the Long Beach building — which sits roughly 170 miles where the quakes struck — appears to be the first damaged in the widely felt temblor.
---
The stories shaping California
Get up to speed with our Essential California newsletter, sent six days a week.
You may occasionally receive promotional content from the Los Angeles Times.