CHP officers shoot and kill driver in Fullerton during street racing investigation
Less than an hour before they fatally shot a 19-year-old driver in Fullerton on Sunday, two undercover California Highway Patrol officers watched one pickup truck after another pull into the parking lot of the Santa Fe Springs swap meet.
Gradually, the number of trucks and off-road vehicles swelled from 10 to 50 to nearly 80, authorities said.
The drivers had come for a "sideshow," an illegal car rally in which motorists show off their skills, and many began spinning tire-scorching "doughnuts" that filled the air with acrid smoke.
UPDATE: Driver killed by CHP during illegal street racing probe is identified as Canoga Park man
The officers, part of a task force investigating street racing and other outlaw driving events over the holiday weekend, called for marked cruisers to break up the gathering.
As the law enforcement units arrived, a red Chevy Silverado pickup truck fled the area, blazing along side streets at speeds approaching 90 mph, according to California Highway Patrol Lt. Charlie Sampson.
The undercover officers followed the pickup for five miles, stopping on a dead-end street in Fullerton about 10:50 p.m.
The truck made a U-turn and barreled toward the CHP officers, who opened fire, Fullerton police said.
The truck struck another vehicle before driving toward the officers, who were exiting their vehicle when they opened fire, according to another law enforcement official with knowledge of the investigation. The truck struck the undercover cruiser either during or immediately after the shooting, the official said.
The official spoke on condition of anonymity because they were not authorized to discuss the case.
The driver of the vehicle died at the scene, and his 18-year-old passenger was treated for non-life-threatening injuries, according to Sampson and Fullerton police. It was not clear if the driver knew he was being followed by the undercover car, Sampson said.
The deadly clash highlights what many Southern California law enforcement agencies see as an increasing threat to public safety in the Los Angeles area — caused by a thriving street racing scene that has grown more dangerous for civilians and police alike in recent months.
The officers involved in Sunday night's shooting, which is now under review by the Orange County district attorney's office, were part of a larger deployment from the CHP's Southern Division, Sampson said.
The agency had received information that several car and truck clubs from the Bay Area had planned to travel to Southern California to take part in sideshows involving off-road vehicles, Sampson said.
This year, similar rallies involving car and truck clubs from the Bay Area drew nearly 500 racers to the South Bay, Compton, Watts and unincorporated areas of South L.A., police have said.
In response, the CHP's Southern Division deployed a swarm of marked cruisers and undercover officers to try and break up the rallies starting at noon Sunday, Sampson said.
The meet the officers were trying to disrupt had been moved three times Sunday, from South Gate to Rosemead to the Santa Fe Springs swap meet, Sampson said.
Relocating sideshows through cryptic Instagram posts and other social media blasts has become a common tactic on the street racing circuit in recent years, one that makes the drivers' movements harder to track, according to investigators.
The identity of the driver who was killed was being withheld pending notification of his family, according to Fullerton police. The surviving victim, an 18-year-old male, was shot in the arm and is expected to survive, police said.
Sampson would not identify either officer involved in the shooting, but he said they had been with the CHP for 15 and six years, respectively.
Though CHP cruisers are normally equipped with dashboard cameras, the unmarked vehicle did not have one because the officers were working undercover, Sampson said. The officers were not wearing body cameras either.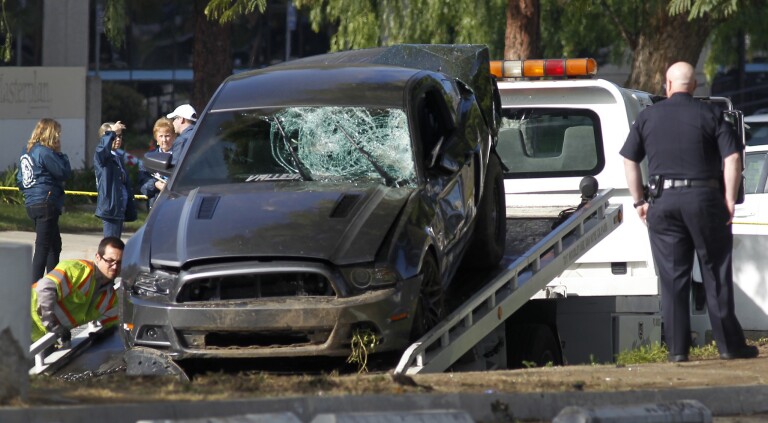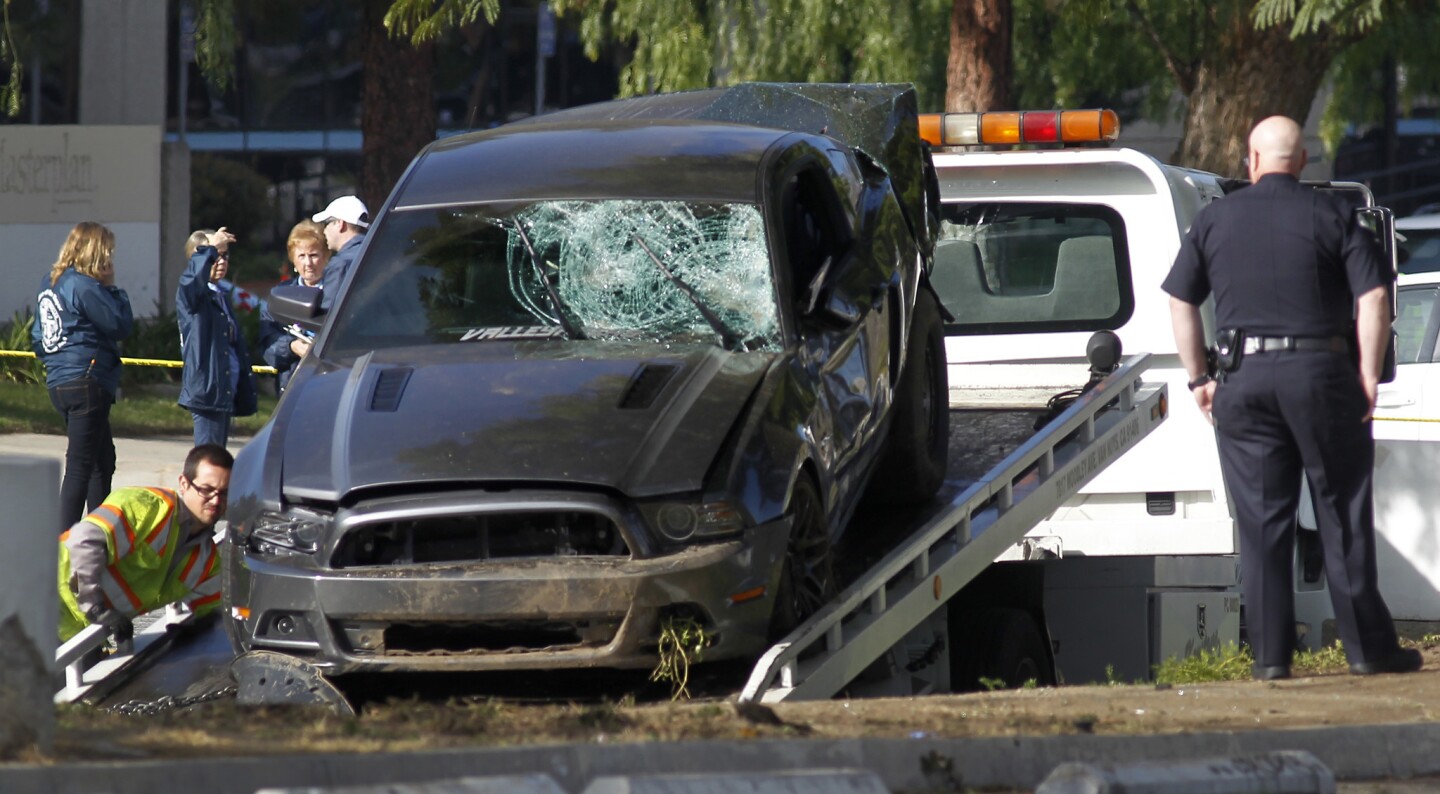 The Ford Mustang that struck three pedestrians, killing two of them, in Chatsworth is removed.
(Brian van der Brug / Los Angeles Times)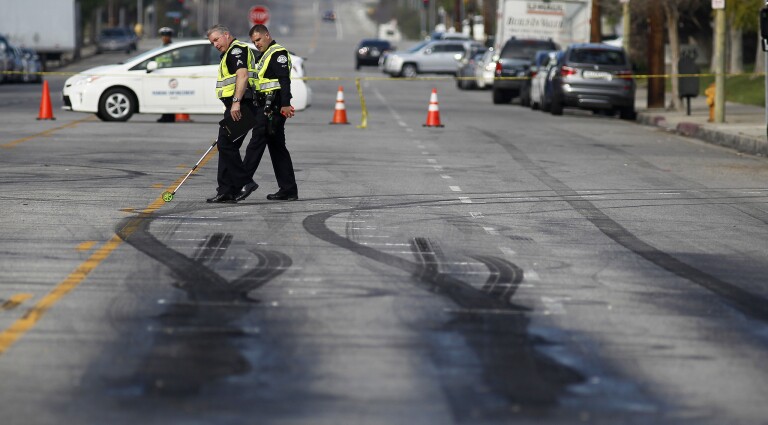 LAPD investigators survey skid marks at the scene where two pedestrians were killed by an out-of-control Ford Mustang that officials say was street racing in Chatsworth.
(Brian van der Brug / Los Angeles Times)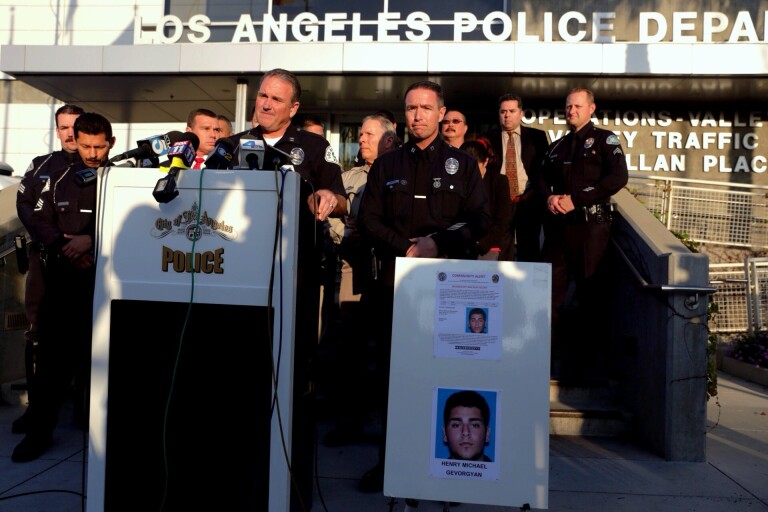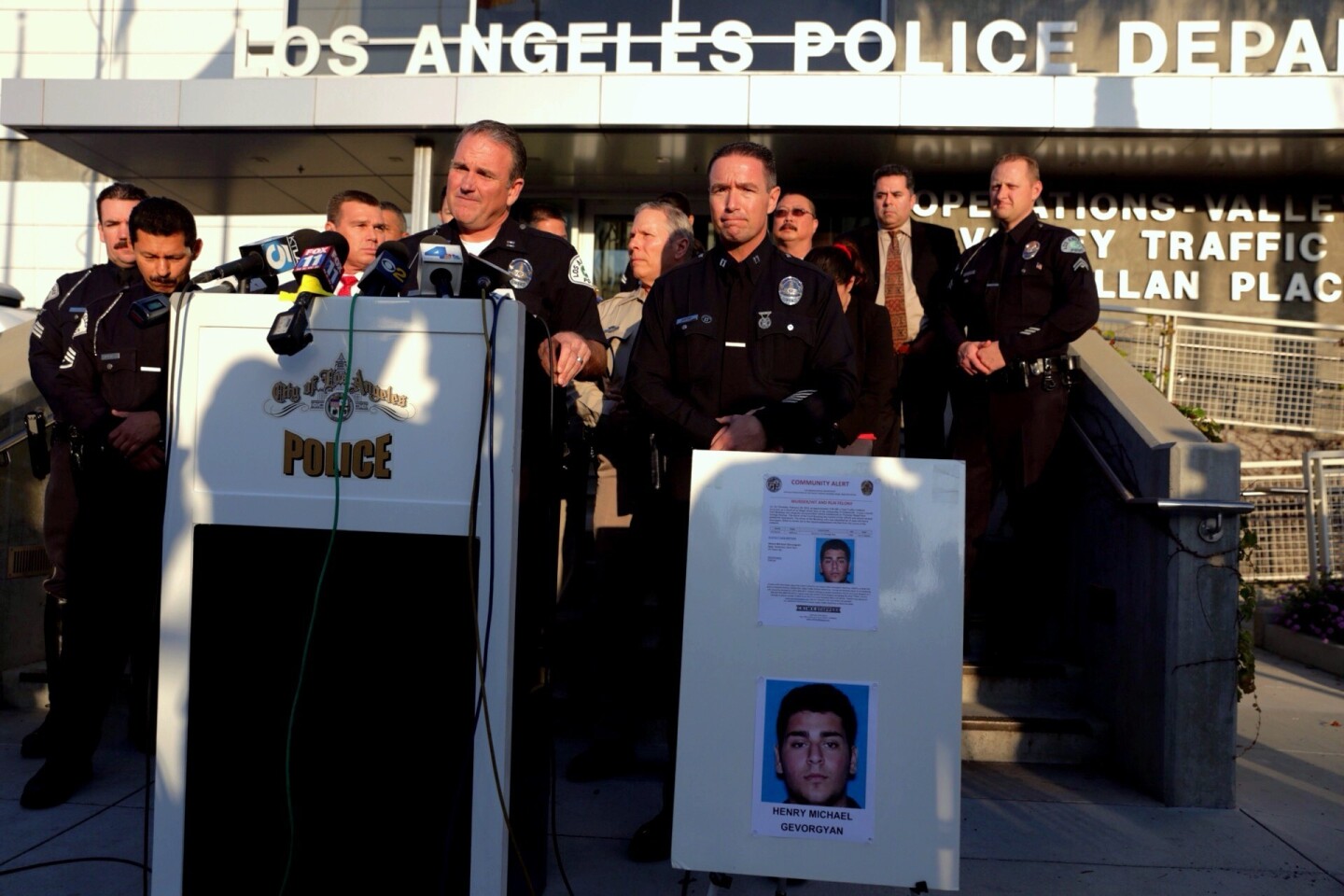 Los Angeles police announce a suspect in the Chatsworth fatal street race.
(Marcus Yam / Los Angeles Times)
Two pedestrians were killed by the driver of a Ford Mustang who fled the scene in Chatsworth, police said.
(Brian van der Brug / Los Angeles Times)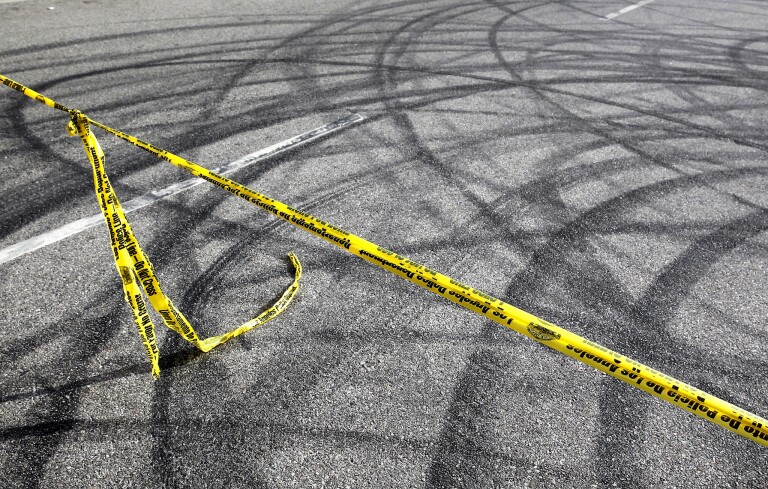 Skid marks crisscross the pavement at the scene where two pedestrians were killed in Chatsworth.
(Brian van der Brug / Los Angeles Times)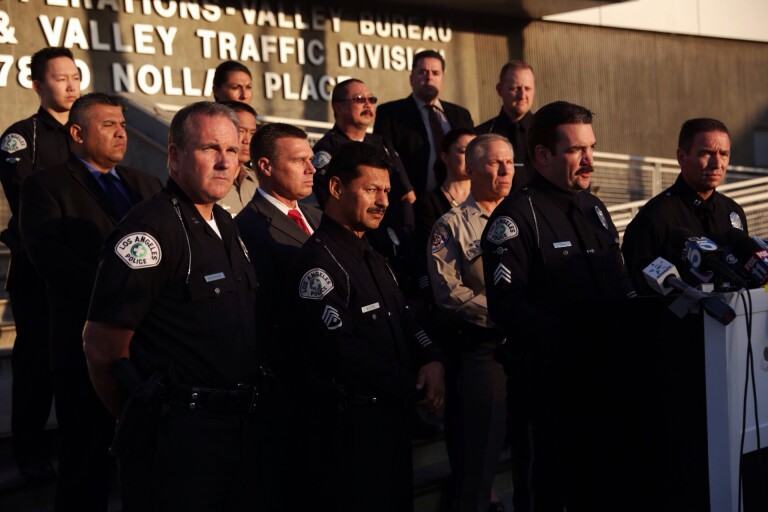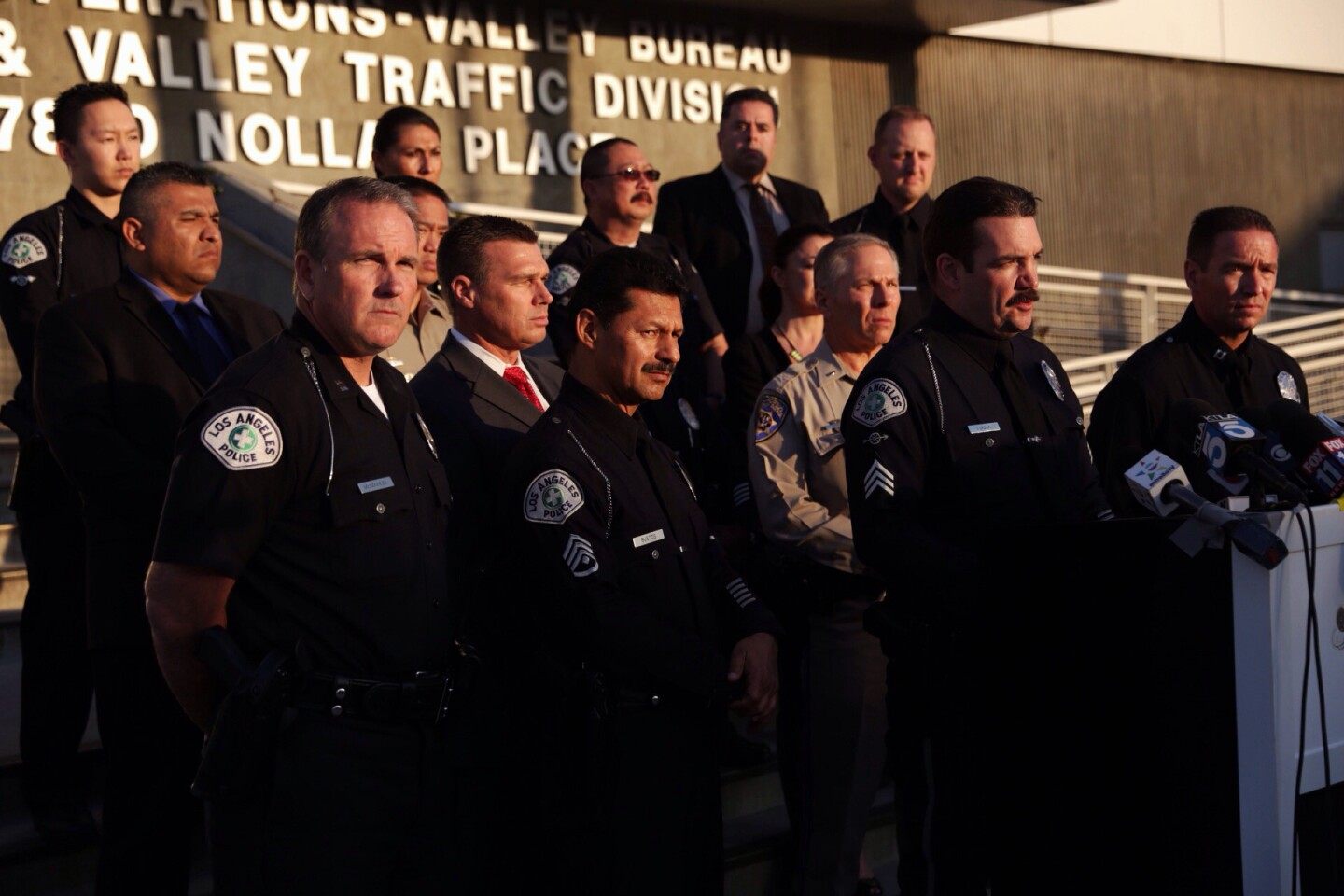 Authorities hold a news conference about the deadly crash that in Chatsworth.
(Marcus Yam / Los Angeles Times)
Police in Southern California have grown increasingly concerned about street racing-related incidents in recent months, after a spate of deaths were linked to illegal speed contests.
This year, a 36-year-old music teacher was killed when a suspected street racer lost control of his vehicle during a race on a busy Hawthorne thoroughfare. And in January, a driver who killed two people during an illegal street race in Chatsworth in 2015 was sentenced to 12 years in prison.
Law enforcement officials throughout Los Angeles County also met in April to discuss the formation of a countywide task force to combat street racing, since the issue normally hops from jurisdiction to jurisdiction as meet organizers constantly change the location of car rallies and sideshows.
The meeting took place just days after a fiery crash on the 5 Freeway left three people dead, including the son of a Los Angeles County sheriff's lieutenant.
The scope of the problem is difficult to quantify, as most law enforcement agencies do not keep data on street racing incidents the way they track other crimes such as homicides or robberies. But those who investigate street racing have said rallies were becoming more common, with drivers growing more aggressive toward police.
LAPD Sgt. Jesse Garcia, one of the agency's top experts on the street racing circuit, previously told The Times that the racing scene in the Los Angeles-area has grown more popular in recent years, drawing more attention from out-of-town car crews.
Drivers used to scatter in response to lights and sirens, according to Garcia, but now street racers are more likely to fight back when they see an officer in uniform.
"If a police car is going through, they jump on it, throw stuff at it, they kick it," he said.
Follow @JamesQueallyLAT for more Southern California news
Times staff writer Rosanna Xia contributed to this report.
ALSO
16-year-old girl at juvenile detention center in Fresno dies after medical emergency
Lifeguard secretly videotaped girls at aquatics center restroom, authorities allege
Bosnian Muslims in Southern California may not fit the stereotype but they feel the prejudice
---
UPDATES:
5:37 p.m.: This story was updated with additional context about street racing in Southern California.
3:09 p.m.: This story was updated with additional comments from the California Highway Patrol.
12:18 p.m.: This story was updated with additional information about the shooting.
This story first published at 10:22 a.m.
---
The stories shaping California
Get up to speed with our Essential California newsletter, sent six days a week.
You may occasionally receive promotional content from the Los Angeles Times.