Homicide detectives investigating suspicious death in Alhambra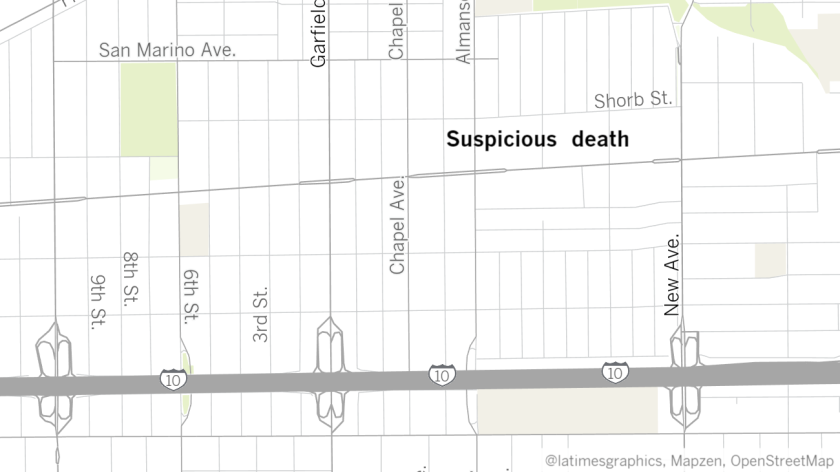 The corpse found in the backyard of an Alhambra house Thursday afternoon had a bloodied head, and the body was crammed between a concrete step and a water heater.
When investigators entered the house, they found close living quarters. The single-family home had been divided into eight small bedrooms, with three more in the garage.
Now, homicide detectives believe that one of the residents killed the man in the backyard because he suspected the victim was having an affair with his wife, Lt. John Corina of the Los Angeles County Sheriff's Department said Friday.
Alhambra police were called to the house in the 1200 block of South Sierra Vista Avenue at about 4:40 p.m. Thursday.
Someone initially called 911, reporting that a woman was in the backyard, authorities said.
It was "one of the residents, we think it's another roommate, who called and said, 'Hey, this person's lying in the backyard, bleeding from the head,'" Corina told reporters Thursday night.
The 55-year-old dead man was found face-down, his head bleeding badly. It was difficult to see his face since he was wedged in such a small space, authorities said.
A cardboard box had been placed over his head.
"We don't know if one of the residents did that, like a sign of respect just covering the body, or how it got there," Corina said.
The house was being rented to people of Chinese descent, four of whom were found at the residence Thursday night, authorities said. Those residents agreed to be taken to the Alhambra police station to be interviewed with the help of a Chinese translator, according to the Sheriff's Department.
Corina said Friday that investigators, after conducting interviews, believe the killing to be a "domestic situation."
Detectives believe the 51-year-old suspect killed the man then went to a nearby location to try to kill himself, Corina said. He survived the suicide attempt and was soon found by investigators.
The man was taken to a local hospital, where he is being treated for his injuries and was in stable condition Friday, Corina said. He is in police custody.
Corina said detectives have spoken with the suspect's wife.
"She's upset," he said.
The names of the suspect and the victim have not been released by authorities.
The joint investigation by the Sheriff's Department and Alhambra police is ongoing.
"We still have a lot of loose ends to tie up," Corina said.
Twitter: @haileybranson
---
UPDATES:
1:15 p.m. This article was updated with additional information from sheriff's Lt. John Corina about how the suspect and victim may have known each other.
6:41 a.m. This article was updated with additional information from sheriff's Lt. John Corina.
This article was originally published at 6:25 a.m.
---
For reporting and exclusive analysis from bureau chief John Myers, get our California Politics newsletter.
You may occasionally receive promotional content from the Los Angeles Times.