UC Berkeley reverses decision to cancel Ann Coulter visit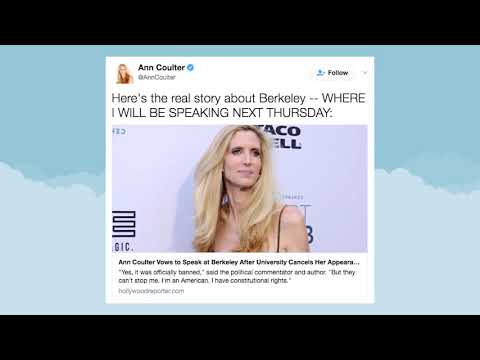 UC Berkeley has canceled Ann Coulter's speech, citing security concerns but she has vowed to give it anyway. (April 20, 2017) (Sign up for our free video newsletter here http://bit.ly/2n6VKPR)
UC Berkeley officials on Thursday reversed their decision to cancel conservative commentator Ann Coulter's appearance at the university, but have rescheduled it from next week to May 2, according to a statement from the university.
Coulter's speech on immigration will be held at an "appropriate, protectable venue," the university said.
The university did not disclose the location of the speech. But the university said it had advised Coulter's representatives and the Berkeley College Republicans, which organized the April 27 Coulter event, that the speaking engagement would take place next month.
"We have an unwavering commitment to providing for the safety and well-being of speakers who come to campus, our students and other members of our campus and surrounding communities," Chancellor Nicholas Dirks said in the statement. "While there may, at times, be tension between these paired commitments, we cannot compromise either."
But Thursday evening, Coulter tweeted: "I'm speaking on April 27th, as I was invited to do and have a contract to do."
She then tweeted that money has already been spent on airfare and hotels for herself and her crew for the original date, adding that "there are no classes at Berkeley the week of May 2."
According to the 2017 UC Berkeley academic calendar, May 1-5 is designated as a study and review week before final examinations.
The reversal comes a day after the university confirmed that it had canceled Coulter's speech due to safety concerns following several violent clashes between right- and left-wing protesters in the famously liberal city.
Coulter's original appearance was organized by the conservative outreach group Young America's Foundation, a campus political group BridgeUSA and the Berkeley College Republicans.
On Wednesday, UC Berkeley spokesman Dan Mogulof said campus police feared that some of the same extremist forces who caused problems during recent clashes would be out in force when Coulter was on campus.
Coulter attacked Berkeley's decision in a series of tweets, saying "no school accepting public funds can ban free speech."
Late Thursday, Harmeet K. Dhillon, a lawyer and the Republican National committeewoman from California, released a letter sent to UC Berkeley that indicates a lawsuit will be filed if the university does not allow Coulter's speech to go forward on April 27.
The letter says that the sponsoring groups "meticulously followed university protocol" in setting up Coulter's appearance, and that administrators' "actions violate fundamental principles of free speech, equal protection and due process guaranteed by the United States Constitution."
Dhillon writes that the university's counteroffer of May 2 was not good enough, in part because it would be in the middle of the day during a week when classes are not in session.
University of California officials have often been caught between left-wing activists who have tried to shut down appearances by conservative speakers and right-wing figures who have criticized them for allowing disruptive protests. University administrators have argued that their campuses should be able to tolerate the views of even far-right figures. And some in Berkeley charge that the most extreme protesters on both sides are outsiders provoking violence for their ends.
A February scheduled appearance at UC Berkeley by conservative provocateur Milo Yiannopoulos was canceled amid a violent protest on the campus. That sparked a national debate — in which President Trump took part — about the balance between the right to demonstrate and protecting free speech that some find objectionable.
There have been two other clashes in the city of Berkeley since then, including one Saturday in which 21 people were arrested.
In 2014, the campus faced a nearly identical situation when comedian and TV host Bill Maher was invited to be the keynote speaker at the winter commencement ceremony.
The Californians, a student group that helped organize campus events, invited Maher in August of that year but rescinded the invitation days after a Change.org petition calling Maher a bigot for on-air remarks about Muslims collected more than 1,500 signatures. Campus officials, however, stood by the invitation and allowed Maher to deliver the keynote address.
The UC Berkeley campus is known as the home of the Free Speech Movement. That's one reason conservative activists have used it as a setting for several recent rallies.
Twitter: VeronicaRochaLA
Twitter: @JeffLanda
Times staff writer Seema Mehta contributed to this report.
ALSO
'He didn't deserve this': Victims of Fresno shooter remembered
L.A. City Council candidate apologizes for video comments about Mexicans
26 charged in $40-million Southern California medical kickback scheme
---
UPDATES:
April 20, 9:05 p.m.: This article was updated with Coulter's reaction and the possibility of legal action.
This article was originally published at 2:50 p.m.
Sign up for Essential California for news, features and recommendations from the L.A. Times and beyond in your inbox six days a week.
You may occasionally receive promotional content from the Los Angeles Times.