Attorney convicted in drug scheme against PTA volunteer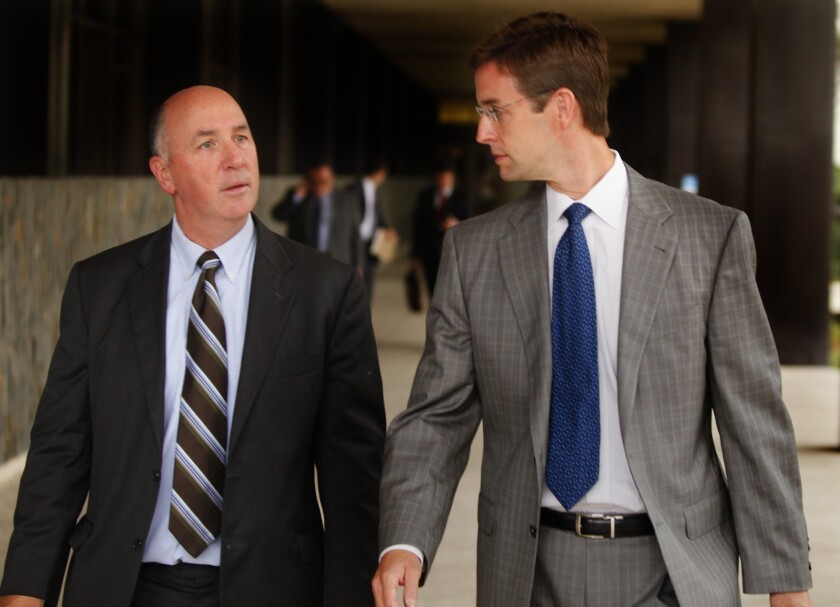 An Irvine attorney was convicted Wednesday of having a PTA volunteer falsely imprisoned in a drug bust that was part of a revenge scheme.
Kent Easter, 40, was convicted of one felony count of false imprisonment by deceit in a retrial of the case, the Orange County district attorney's office said. A judge declared a mistrial in Easter's first trial in 2013 after jurors reported that they were deadlocked 11 to 1 in favor of convicting.
During the previous trial prosecutors argued that Easter and his wife sought revenge because they felt the volunteer did not bring out their son quickly enough when they came to his grade school to pick him up.
Jill Bjorkholm Easter pleaded guilty to false imprisonment charges last year and was sentenced to one year in jail and three years of formal probation.
Kent Easter made a false 911 call in February 2011, saying that he saw Kelli Peters driving erratically and using drugs, with narcotics in her car. Officers found a bag of marijuana, pills and a marijuana pipe in the back seat of Peters' car.
Prosecutors say Easter drove to Peters' home and placed a bag of drugs and a used marijuana pipe behind the driver's seat.
In the previous trial. Easter's attorney, Thomas Bienert, portrayed his client as a trusting but weak husband who did whatever his wife told him to do and was duped into calling police to report that the PTA volunteer had drugs in her car.
Jill Easter was upset with the after-school volunteer after a 2010 disagreement in which she said Peters did not bring her son out quickly enough when she went to pick him up at Plaza Vista Elementary, prosecutors said.
After the incident, the Easters tried to get Peters fired, obtained a restraining order and filed a lawsuit against the volunteer, prosecutors said. Their efforts to get back at the volunteer came to a head with the fake drug bust, authorities said.
The Easters' DNA was found on the pills and pipe, and the volunteer was cleared of any wrongdoing.
Kent Easter faces a maximum sentence of three years in state prison. His sentencing date will be determined at a hearing in Santa Ana on Thursday.
Kent Easter has been an active member of the State Bar of California since 1998. Jill Easter was also admitted to the bar in 1998, but her license has expired.
For breaking news, follow @AdolfoFlores3.
---
The perils of parenting through a pandemic
What's going on with school? What do kids need? Get 8 to 3, a newsletter dedicated to the questions that keep California families up at night.
You may occasionally receive promotional content from the Los Angeles Times.