Q&A: Compton 1-year-old killed in crib: 'They shot my baby. They shot my baby'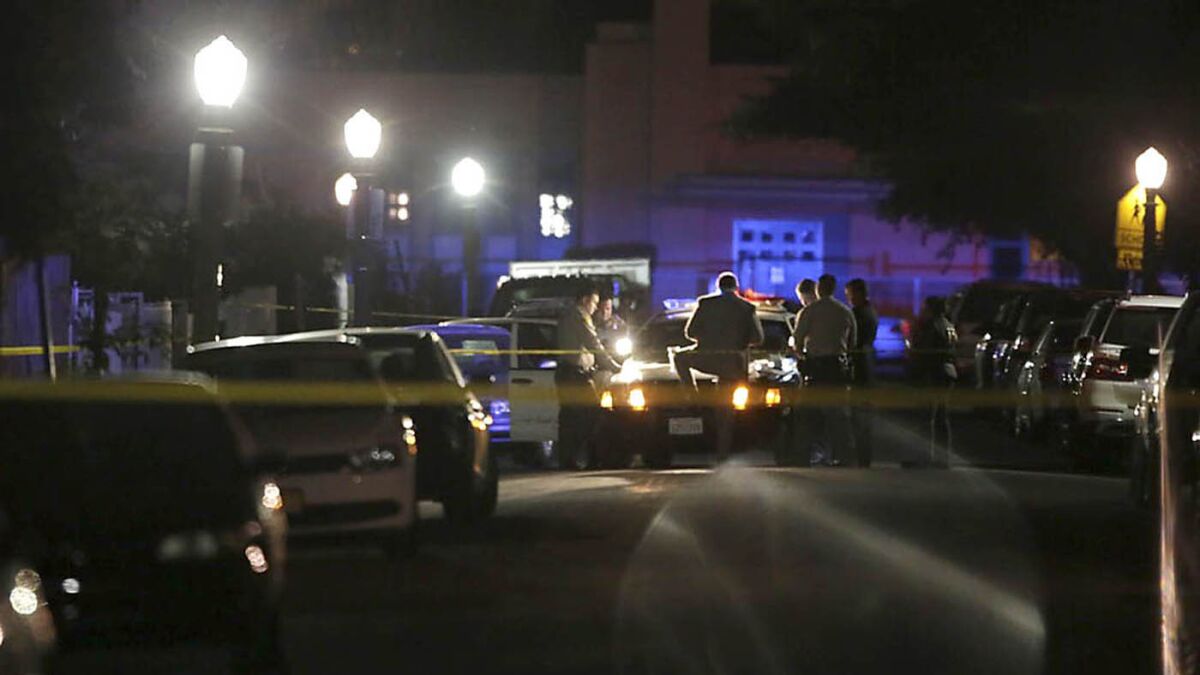 "They shot my baby. They shot my baby."
A witness to the shooting of 1-year-old Autumn Johnson heard those words moments after a gunman opened fire Tuesday evening outside the girl's home in Compton.
The shooting has roiled the community. Los Angeles County Sheriff's Department officials said emotions are running high among Autumn's family and deputies who responded to the shooting.
Here's what we know:
What exactly happened?
Authorities say a gunman got out of a car, walked up to the residence and fired in the direction of Autumn's home. She was in her crib when she was struck in the head.
Deputies who responded to the home near Holly Avenue and San Marcus Street took Autumn to St. Francis Medical Center in Lynwood in their patrol car, Los Angeles County Sheriff's Sgt. Ulysses Cruz said.
She was pronounced dead at the hospital.
Authorities said the gunman got into a dark-colored sedan and drove away southbound on Holly.
What do we know about the family?
Autumn and her parents lived in a converted garage behind the house.
Residents said they would see the parents walking Autumn in a stroller around the neighborhood.
Do we know a motive?
Detectives don't believe Autumn was the intended target. They were trying to determine what prompted the violence and whether it was related to a gang dispute, said Cmdr. Rod Kusch, who heads the sheriff's Major Crimes Bureau.
How dangerous is this neighborhood?
Compton has struggled with gang crimes and violence for generations. At its peak in 1991, Compton recorded 87 killings.
But the number of homicides has fallen considerably since then. During the first half of 2015, there were only 11 homicides. Many noted this turnaround when the movie "Straight Outta Compton" came out last year. By year's end, four more people were killed in the city of just under 100,000 residents, bringing the total homicides to 15.
Still, crime remains a high concern among residents.
Last year, the U.S. Department of Justice announced that Compton was one of a few new cities selected to join the Violence Reduction Network, a two-year initiative aimed at providing assistance to cities with chronic violence.
The site of Tuesday's shooting, about a block from Roosevelt Elementary School, is one of the more violent neighborhoods in L.A. County, according to crime data compiled by The Times.
During the last six months, Compton has had 475 violent crimes, including eight homicides, according to The Times' database.
How often are young children shot to death in L.A. County?
Shootings of young children are rare compared to all killings in L.A. County, with only 15 children younger than 1 year old less killed since 2000. (Autumn had her first birthday on Feb. 3.) The most recent was Dorian Ascensio, who was killed in September 2014 in El Monte.
Two of those infants -- Tieana English and Kylah Camara Witrago -- were in Compton.
A gunman got out of a car and opened fire at a Compton home, killing 1-year-old Autumn Johnson, Sheriff's Lt. John Corina said at a news conference Tuesday night.
How is Autumn's slaying reverberating?
"Compton has a bad reputation but things have been better around here," said Dan Martin, 53, lifelong Compton resident who walked over to the police tape line to see what was going on late Tuesday.
"It's wrong whether it's a baby or a man or anyone. We've had enough bloodshed around here don't you think?"
Audric Crenshaw, 47, of Carson was in Bible study at a church about two blocks from the shooting. About a dozen other people were in the weekly class at Kingdom Life Christian Fellowship.
Crenshaw didn't hear the gunfire but later learned of the girl's death.
"It's not surprising because it's the city of Compton, for its name," Crenshaw said with a sigh as he locked the doors of the stucco-walled church. "But it's surprising to me because it's a baby."
He said the proximity to violence did not make him fearful. "I put my faith in God, not what's in the streets."
James Queally, Richard Winton and Cindy Chang contributed to this report.
Join the conversation on Facebook >>
ALSO
The Homicide Report: A story for every victim>>
Southland sizzles with record-breaking heat
Man found shot to death in bullet-riddled car with Uber sticker in Lincoln Heights
FBI can't figure out how to unlock encrypted phone in San Bernardino investigation
---
Life is stressful. Our weekly mental wellness newsletter can help.
You may occasionally receive promotional content from the Los Angeles Times.