Judge rules ex-L.A. Times reporter must testify in corruption trial of former Sheriff Lee Baca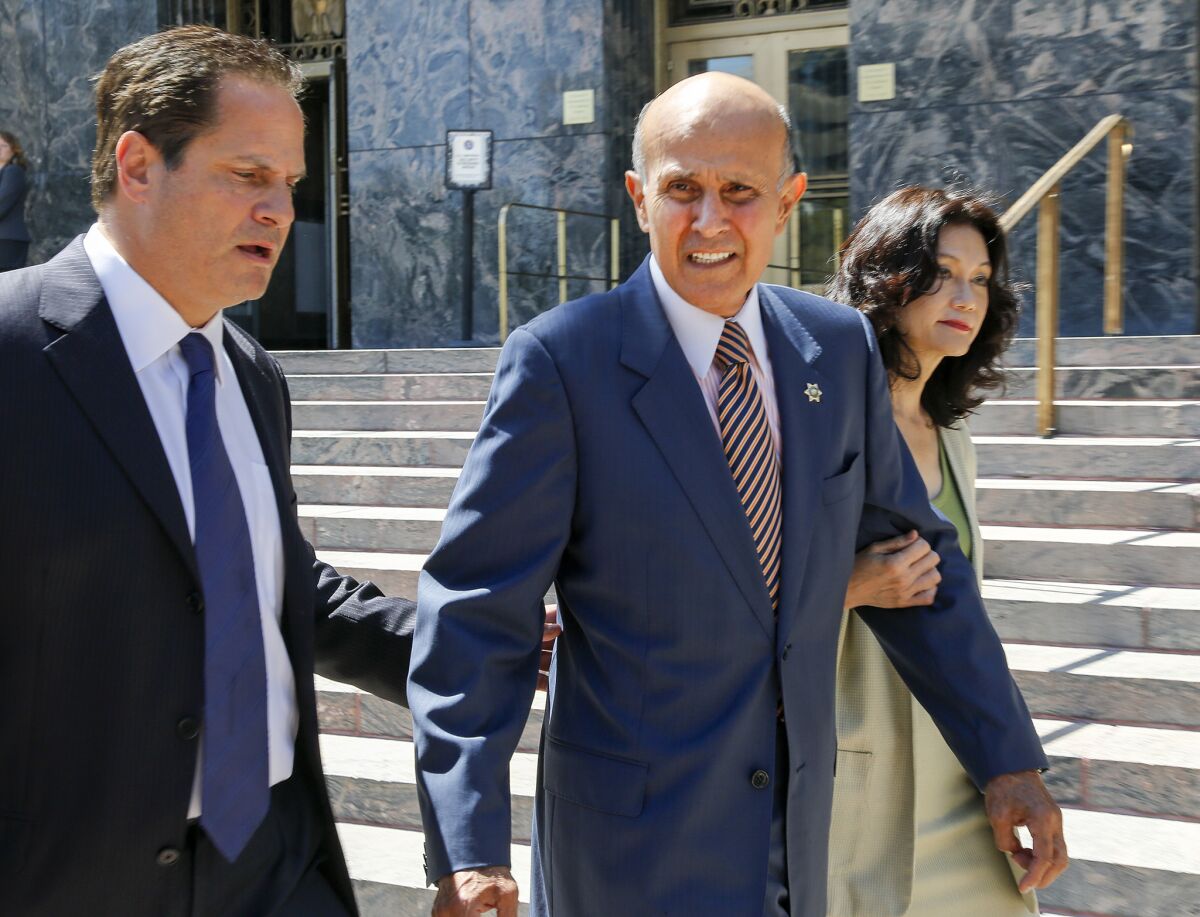 A federal judge ruled Thursday that a former Los Angeles Times reporter who interviewed then-Sheriff Lee Baca during an unfolding scandal over abuses in the county jails must testify in the former sheriff's corruption trial, which is scheduled to begin next week.
Prosecutors want the reporter, Robert Faturechi, to testify about a Sept. 29, 2011, article in which Baca described an FBI undercover sting and a visit that sheriff's investigators made to an FBI agent's home. They also want to ask Faturechi about statements he made on KCRW radio earlier this year.
Attorneys for Faturechi, who is now with the nonprofit news outlet Pro Publica, argued that the First Amendment protects him from testifying, in part because prosecutors could find other witnesses to establish similar facts.
U.S. District Judge Percy Anderson said the prosecution's need for disclosure outweighs Faturechi's 1st Amendment protection as a journalist. He noted that Faturechi's attorney has not argued that the interview with Baca was confidential or that the reporter would be reneging on a promise to keep the conversation off the record.
Faturechi's testimony will generally be limited to the content of the newspaper article and the radio appearance, but attorneys may be allowed to ask related questions, such as where he interviewed Baca.
"I'll decide when I hear them," Anderson said of what questions will be admissible.
Faturechi's attorney, Kelli Sager, said her client would take the stand, but she could not guarantee what questions he would answer.
"Anything that's not in the article, I can't make a representation of what Mr. Faturechi will do," she said at Thursday's hearing.
Baca, 74, is charged with obstruction of justice, conspiracy and lying in connection with a 2011 scheme to interfere with an FBI investigation into widespread abuses at the county jails.
Assistant U.S. Atty. Brandon Fox said that Faturechi's testimony will be relevant to both the obstruction and false statement charges.
Sager had argued that if an "offhand comment" is enough to compel a journalist to testify, government officials will confine themselves to prepared statements rather than giving spontaneous interviews.
In the 2011 article, Faturechi quoted Baca as saying that the investigators did not intend to intimidate the FBI agent when they visited her home. Baca also described other details of the encounter, which occurred several days before the article was published, noting that the agent directed the deputies' questions to her supervisors.
Prosecutors allege that Baca lied to them by saying that he was not aware until after the encounter that the deputies were planning to talk to the FBI agent or threaten to charge or arrest her — one of four false statements listed in the indictment against Baca. The two deputies were among other sheriff's officials, including Baca's former second-in-command, who have been convicted in the scheme to obstruct the FBI investigation.
Baca had initially agreed to plead guilty to lying to federal officials in exchange for a sentence of up to six months in prison. But Anderson threw out the deal, which he termed too lenient, and Baca elected to go to trial on new charges.
In February of this year, after he had left The Times and joined the nonprofit news outlet Pro Publica, Faturechi spoke about his interview with Baca on KCRW radio.
Faturechi told the host, Warren Olney, that Baca "acknowledged … he was aware and he sent these deputies to this FBI agent's home."
It appeared that Baca "later backtracked … on those statements in his interviews with the feds, but he told me this very clearly at the time," Faturechi said on the radio program.
Baca's attorneys want a UCLA psychiatrist to testify that the former sheriff, who was diagnosed with Alzheimer's disease earlier this year, was probably already suffering from the early stages of the illness in April 2013, when he made the alleged false statements to federal investigators.
Anderson said Thursday that he will probably allow some of the testimony. But he expressed concern that jurors could also use the information to evaluate Baca's behavior when the alleged obstruction scheme was taking place in 2011, before any evidence of mental impairment.
Anderson proposed addressing the issue by splitting the case into two trials — one for the obstruction of justice and conspiracy charges and another for the false statements.
Fox called the idea "creative" and said he would seriously consider it but wanted time to think through the implications and confer with Baca's defense team. Nathan Hochman, one of Baca's attorneys, said he also wanted more time.
Jury selection is set to begin Monday, when Anderson may also revisit his proposal to sever the case in two.
For more news on the Los Angeles Police Department, follow me on Twitter: @cindychangLA
---
UPDATES:
6:00 p.m.: This article was updated with additional details about the court hearing.
This story was originally published at 5:30 p.m.
---
Life is stressful. Our weekly mental wellness newsletter can help.
You may occasionally receive promotional content from the Los Angeles Times.