Motorcyclists arrested in beating of Lyft driver on Bay Area freeway
San Francisco police have arrested three motorcyclists and are searching for a fourth in connection with a brutal attack on a Lyft driver on U.S. Highway 101 that was recorded by passing drivers.
In a Facebook post announcing the arrests, the California Highway Patrol's Golden Gate Division said, "This case involved a complete disregard for public safety and a vicious attack on an innocent victim. We did not forget about this matter."
Investigators used the motorists' cellphone video, tips from the public and officers' knowledge of the suspects to identify them. Then, on Wednesday morning, San Francisco police served arrest warrants on Derwayne Johnson, 33; Gabriel Rodriguez, 25, and Jarrell Williams Jr., 19.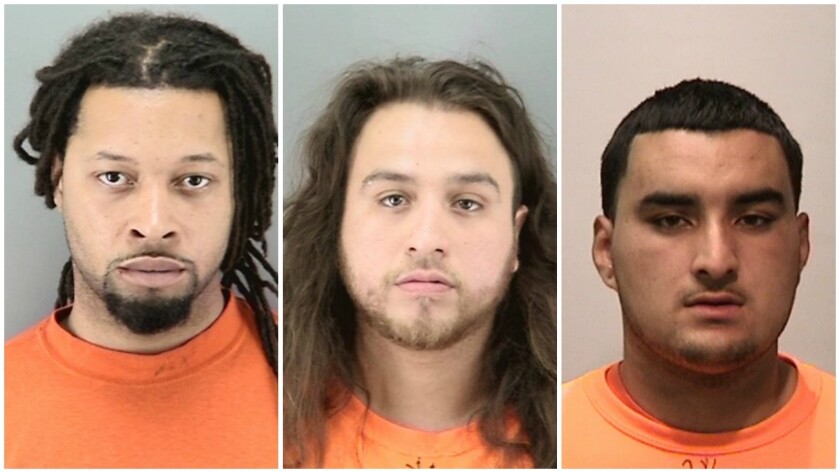 A fourth suspect, Quintrell Anderson, 21, remains at large, said CHP Officer Vu Williams.
On March 8, authorities said, the men were part of a group of 10 to 15 dirt bike and all-terrain-vehicle riders who harassed and assaulted the Lyft driver when he attempted to pass them as they shut down traffic near the freeway's Cesar Chavez Avenue exit to perform a "sideshow."
When the driver tried to pass them, they boxed him in, according to video of the incident. The riders then began to ram and punch the man's car.
"These guys don't have a lot of regard for public safety," Williams said. "They got no qualms about even riding on a sidewalk."
When the motorist exited his Toyota to confront the riders, they surrounded him and began to punch and kick him, authorities said.
By the time officers arrived, the riders were gone and the injured driver was being loaded into an ambulance. The attackers wore helmets and their bikes had paper plates, making it difficult to identify them, authorities said.
The driver suffered cuts and a broken leg. The latter injury was inflicted by Johnson, authorities said.
While the victim was lying bruised and bloodied on the highway, Johnson rode his dirt bike over the driver's leg, fracturing it, Williams said.
Johnson is being held on $1-million bail and was booked on suspicion of assault with a deadly weapon and mayhem, among other charges, Williams said. The other suspects face potential charges including assault with a deadly weapon, conspiracy to commit a crime, assault, battery, vandalism, possession of stolen property and possession of a controlled substance, officials said.
Officers searching their homes found guns and drugs, Williams said.
For breaking California news, follow @JosephSerna on Twitter.
ALSO
L.A. County reports 2017's first case of West Nile virus
'Kelly climbed that aerial ladder to heaven': Mourners recall L.A. firefighter who died in training accident
Think it's hot now? Just wait: Southern California's heat wave is just getting started
---
The stories shaping California
Get up to speed with our Essential California newsletter, sent six days a week.
You may occasionally receive promotional content from the Los Angeles Times.