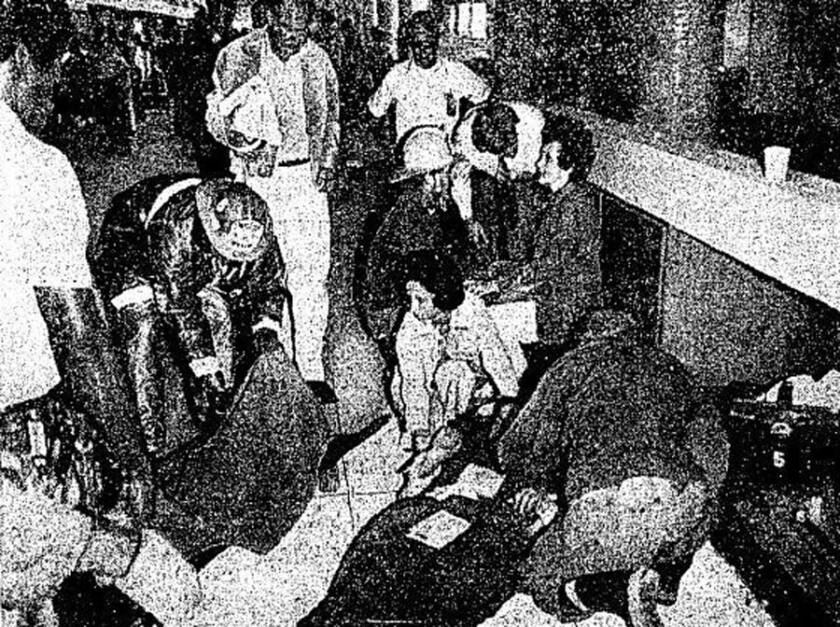 The deadly terrorist bombing at the Brussels Airport is a grim reminder of how Los Angeles' own airport has been targeted by terrorism over the years.
LAX was targeted in two elaborate terrorism bombing plots as well as two shooting incidents.
Here is a summary of those attacks from the files of The Times:
LAX "Alphabet Bomber"
Muharem Kurbegovic was convicted of first-degree murder for a 1974 bombing at LAX that killed three people and injured 36 others.
See the most-read stories this hour >>
The jury found the so-called Alphabet Bomber guilty on 25 counts of murder, arson, attempted murder, possession of explosive material and exploding a bomb.
He was associated with a group called Aliens of America and was called the Alphabet Bomber "because of his scheme to explode bombs at locations alphabetically to spell out Aliens of America 'until our name has been written on the face of this nation with blood,' " The Times reported.
China Airlines counter explosion
In 1980, a homemade explosive was set off at the China Airlines counter at LAX. It caused damage, but no one was hurt.
Millennium bomber
In 1999, there was a plot to blow up Los Angeles International Airport at the start of the millennium.
Ahmed Ressam left British Columbia in a rented Chrysler loaded with explosives, electronic timing devices, detonators, fertilizer and aluminum sulfate.
After he crossed by ferry to Port Angeles, Wash., an alert customs inspector, Diana Dean, noticed that he was agitated and asked other agents to search his car.
They found component parts of a bomb hidden in the trunk's spare tire well. Ressam was arrested and indicted and convicted after years of legal wrangling.
El Al attack
Protecting "soft targets" has long been an issue in Los Angeles. For years, experts have expressed special concern about LAX, saying the airport is vulnerable to truck and car bombs that could be detonated next to crowded terminals and sidewalks. Officials have said they have boosted security dramatically since 9/11.
But since then, the airport has been the scene of two violent incidents.
In 2002, a gunman attacked the El Al Israel Airlines ticket counter, killing two people and wounding several others before a security guard working for El Al shot him to death.
TSA attack
In 2013, a gunman roamed through a terminal with an assault-style rifle before killing a Transportation Security Administration officer.
The suspect, Paul Ciancia, allegedly targeted TSA employees in the attack — a signed, handwritten note found in a duffel bag he carried said he wanted to "instill fear into their traitorous minds," according to a federal affidavit written after the shooting. He is awaiting trial.
ALSO
Live updates: Terrorist attacks in Brussels
A look at some previous extremist attacks in Western Europe
Three Mormon missionaries from Utah are among the seriously injured
---