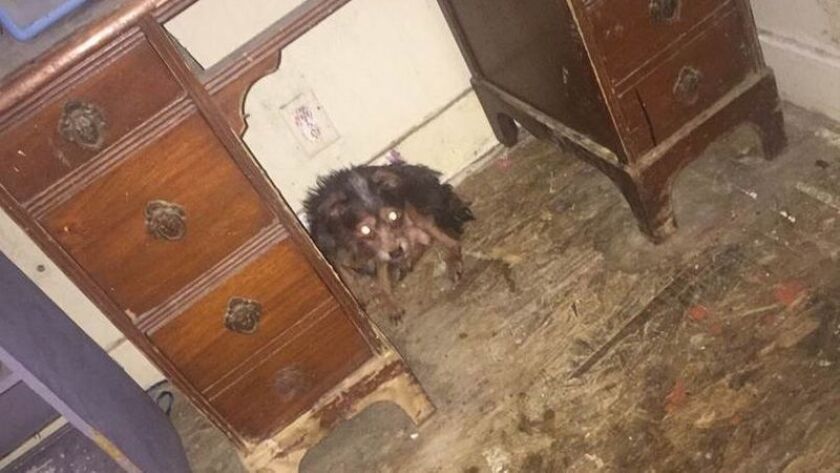 More than three dozen dogs found inside the home of a woman accused of dumping a plastic bag filled with seven puppies in a Coachella trash bin will soon be up for adoption.
Authorities said Deborah Sue Culwell, 54, had relinquished ownership of the 38 dogs authorities found living inside her home on 3rd Street in Coachella when she was arrested last week.
The dogs were discovered among filthy conditions inside the home, authorities said. Tile flooring inside was dirty and cracked, there were holes in the walls and one of the rooms had a couch so damaged that only its wooden frame, springs and a few mangled pieces of fabric were visible, according to official reports in the case.
The dogs are being cared for at the Coachella Valley Animal Campus in Thousand Palms and will be put up for adoption or sent to other rescue organizations this week, according to the Riverside County Department of Animal Services.
Culwell is charged with seven felony counts of animal cruelty and seven misdemeanor counts of abandoning a dog after she was seen on video dumping a plastic bag filled with seven puppies in a Coachella trash bin on April 18, authorities said. She has not yet entered a plea, according to Riverside County Superior Court records.
The 3-day-old puppies were discovered in a clear bag by a man rummaging through a dumpster behind the Napa Auto Parts store at 49251 Grapefruit Blvd. The man placed the bag near the entrance of the store, where another man discovered it and took it inside, authorities said.
Surveillance video released by authorities showed a woman in a tank top and short skirt pulling up behind the store in a white Jeep Wrangler. Carrying the bag in one hand, she opened the lid of a receptacle used for recycling, peered inside and then closed it. She then tossed the bag atop an open, full trash bin next to it and drove away, authorities said.
Afternoon temperatures in Coachella that day were in the mid-90s, according to the National Weather Service.
Animal Services spokesman John Welsh said the bag containing the puppies was tied shut, and the animals had no ventilation.
Authorities said the puppies were from two separate litters. Officials don't plan to try to reintroduce the pups with their mothers at this time. One of the puppies died, but the rest are being cared for by a foster volunteer.
"The woman who has graciously dedicated many hours and a fair amount of her own money toward these abandoned puppies is doing a great job," said Dr. Allan Drusys, the county's chief veterinarian. "We don't want to interrupt her wonderful work with the two mothers, especially since time has passed and the mothers may reject the pups at this stage."
Twitter: @Hannahnfry
---