Stanford kicks out student as fallout from college admissions scandal grows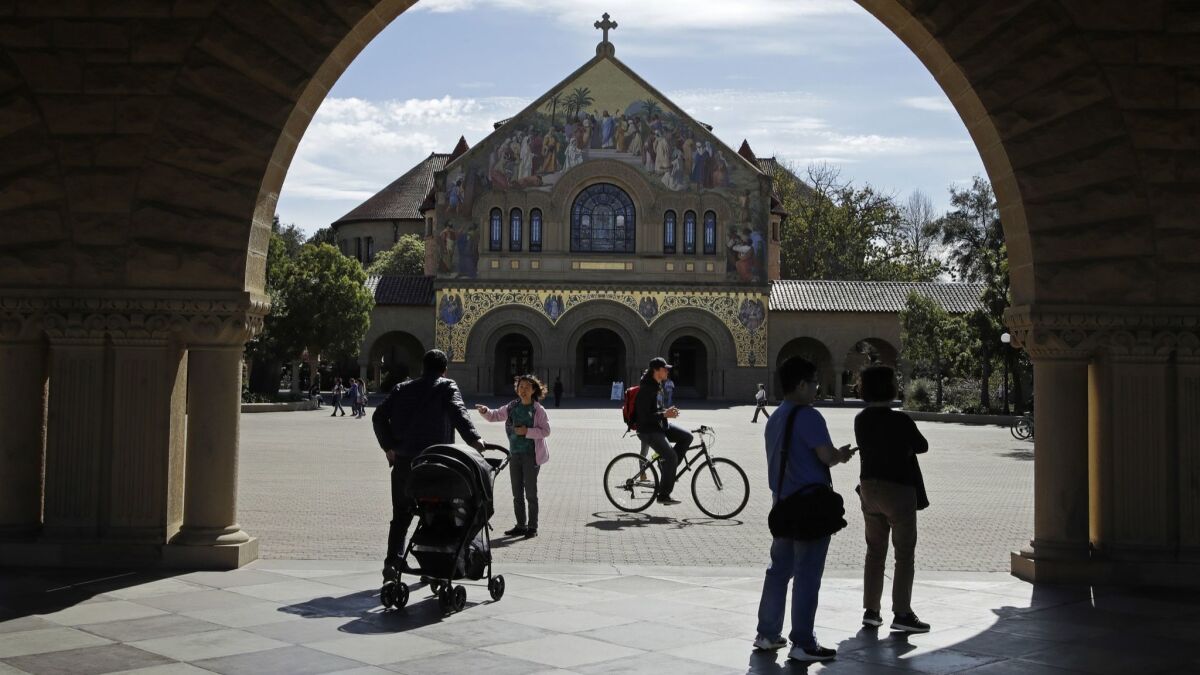 Stanford University has kicked out a student whose application allegedly contained false information as fallout continues from the sweeping college admissions cheating scandal that has ensnared top universities across the country.
In a short statement posted on its website last week, the university said the student's admission had been rescinded after officials confirmed that some of the material in the student's application was not true.
The student has not been publicly identified, but the university says the person "is no longer on Stanford's campus."
The university also revoked credits the student earned while enrolled, a move that experts say is not unusual.
The majority of college applications include an affirmation statement that students sign declaring that all information is factually true and honestly presented. It never pays to lie on an admissions application because those misrepresentations, if not caught immediately, could catch up with a student in the future, said Mark Sklarow, chief executive of the Independent Educational Consultants Assn.
Full coverage: Dozens charged — including Hollywood actresses — in college admissions scheme »
If a university finds out at any point during someone's college career that the student lied on an application, the school can rescind admission. If the person has already earned a degree, it can be revoked, Sklarow said.
"What most people don't know is if a college finds out a year later or four years later that you lied on your application, they can withdraw the offer of admission," Sklarow said. "Nothing that happened while you're on campus will count. They'll never release a transcript. You're gone."
It is not clear what information was inaccurate on the Stanford student's application. The university previously said the student had not received a recommendation from disgraced sailing coach John Vandemoer — who pleaded guilty to a charge of racketeering conspiracy in connection with the scheme — and had no affiliation with any Stanford athletic team.
The student was identified by a $500,000 contribution made to Stanford from a nonprofit, known as the Key Worldwide Foundation, run by Newport Beach college admissions consultant William "Rick" Singer after the cheating scandal came to light last month. The contribution was made several months after the student was admitted to the university, according to school officials.
The student is not named in court documents, which outline allegations against 50 people who have been charged in the federal investigation. That group includes parents, athletic coaches at several universities and Singer, who admitted to running the scam that catered to wealthy clients looking to cheat on their children's college entrance exams or to gain admission for their kids by faking athletic credentials.
Prosecutors allege that Singer instructed parents to donate funds to a fake charity he had established as part of the scheme. Most of the parents paid at least $200,000, but some spent up to $6.5 million to guarantee their children admission to top universities, authorities said. Parents were then able to deduct the donation from their income taxes, according to the Internal Revenue Service.
Some of those payments were funneled to individual coaches, while others were sent to specific athletic programs, authorities have said.
Vandemoer was fired from Stanford last month after news of his role in the scheme was made public. Prosecutors said Vandemoer agreed to hold open admissions spots at the competitive university, which admits less than 5% of its applicants, for two students falsely portrayed as competitive sailors in exchange for payments to the school's sailing program.
The students ultimately did not enroll at Stanford, but the indictment states the program received payments totaling $270,000.
The Stanford discipline case comes on the heels of a similar decision made two weeks ago by Yale. In that instance, it was the first known case in which a student's involvement in the far-reaching scheme had resulted in a rescinded admission.
Twitter: @Hannahnfry
The stories shaping California
Get up to speed with our Essential California newsletter, sent six days a week.
You may occasionally receive promotional content from the Los Angeles Times.