L.A. takes next step toward clamping down on developer donations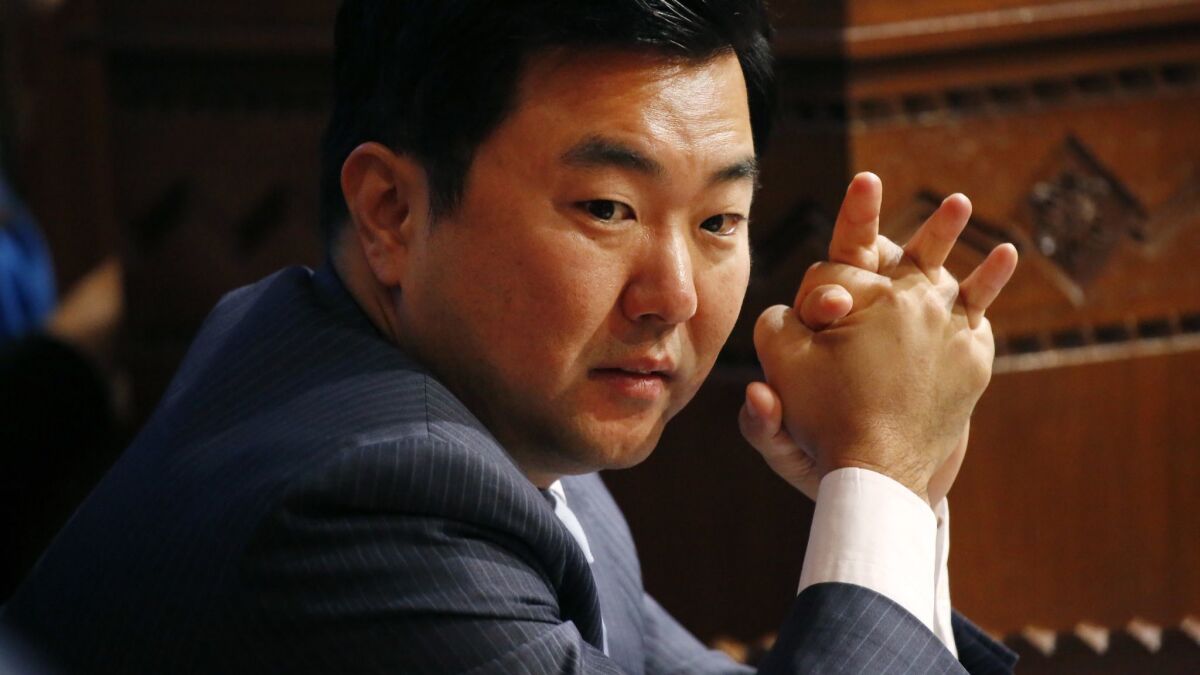 Los Angeles officials took a tentative step Wednesday toward clamping down on political donations from real estate developers, as a City Council committee pressed forward with plans to ban donations from people seeking City Hall approval for their building projects.
Committee members voted to recommend that the city attorney draft two versions of the proposed ban. The drafts would have to return to the council later for final approval. The recommendation now heads to the full council for another vote.
The decision to explore two versions of the proposal leaves some important details — such as exactly who the ban will ultimately cover — still to be decided at City Hall. The move comes less than two months after the Ethics Commission, whose members are appointed by L.A. elected officials, endorsed a proposed ban.
The idea had languished at City Hall before FBI agents raided the offices of Councilman Jose Huizar in November. Others at City Hall, including Councilman Curren Price and aides to Huizar and Council President Herb Wesson, are also being scrutinized by investigators, according to a federal warrant filed last year.
No one has been arrested or publicly charged in the probe, but the ongoing investigation has focused new attention on long-simmering concerns about a "pay-to-play" culture in city government.
In the last decade, more than $1 million in fines have been levied on developers — roughly half the total amount of Ethics Commission penalties in that period, according to a staff report.
"This is an opportunity at a moment when Angelenos are concerned about how business is done in our city government," said Michele Sutter, director of the advocacy group Money Out Voters In, speaking up in favor of the proposed restrictions on developer donations. "These measures will not only address that perception, but they will also change the reality."
The Ethics Commission had recommended banning political donations from a wide array of people tied to real estate projects up for city approval, including property owners, company executives, subcontractors expected to make $100,000 or more, and anyone on the "project team," which could include architects, engineers, attorneys and consultants.
Such donors would also be barred from fundraising or "bundling" political donations from other people, another way that they could try to win influence at City Hall.
The ban would kick in once an application is turned in to the city and last until a year after the project has gotten a specific approval.
Members of a council committee focused on elections backed that proposal Wednesday, sending it along to the full council. They also decided to forward another set of recommendations from Councilman David Ryu and other council members that would ban donations from a somewhat narrower group of potential donors.
Under that proposal, the donation ban would apply to property owners — including the principals of any legal entity that owns the property — that are pursuing city approval for development projects that would build or add more than 4,000 square feet of residential floor area or 15,000 square feet of commercial floor area.
Ryu said he wanted the city attorney to weigh in on which proposal would be more likely to stand up in court.
"Reform can and must be made," he told the committee.
Some observers have cautioned that banning campaign contributions from real estate developers may simply spur them to pour their money into independent expenditure committees, which can raise unlimited amounts to promote causes or candidates. In some L.A. council races, independent spending has rivaled that of the campaigns themselves.
"I have little doubt that this is going to radically increase spending on independent expenditures," said political consultant Michael Soneff, who is not currently working with any L.A. city candidates. "I don't think this is the be-all-end-all for ending developer influence on the City Council."
No one spoke up at length Wednesday against the proposed ban on developer donations. In the past, some real estate developers have argued that the city should instead focus on reducing the power of council members over planning decisions, so that developers do not need to woo politicians to win approval for their projects.
The proposed rules from the Ethics Commission would also ban any donations from businesses and other groups, only allowing political contributions from individuals. The move, billed as a way to increase transparency, would require voter approval. It follows repeated cases in which donors have exceeded city contribution limits by giving money through business entities.
Both proposals forwarded by the council committee would also impose new restrictions on who can make "behested payments" — donations solicited by politicians for charitable or governmental causes.
In addition, the Ethics Commission proposal would lower the minimum threshold for reporting such donations from $5,000 to $1,000.
The committee also asked for the Ethics Commission to hold additional meetings to discuss the proposed restrictions with nonprofits and with campaign treasurers.
The stories shaping California
Get up to speed with our Essential California newsletter, sent six days a week.
You may occasionally receive promotional content from the Los Angeles Times.