Dumb Starbucks: Store can't use protected name, real company says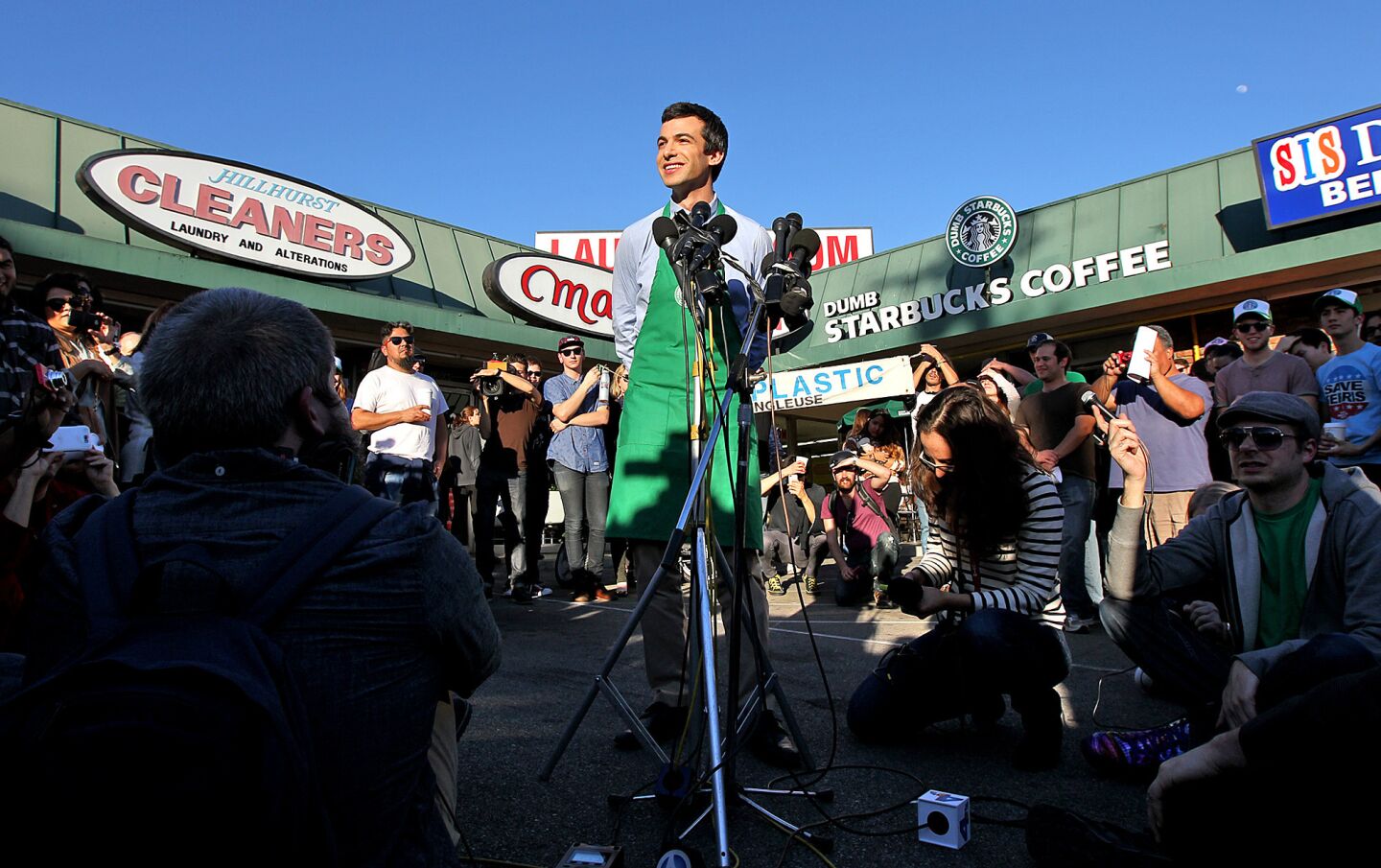 Comedian Nathan Fielder held a tongue-in-cheek news conference outside his Dumb Starbucks store in Los Feliz.
(Christina House / For The Times)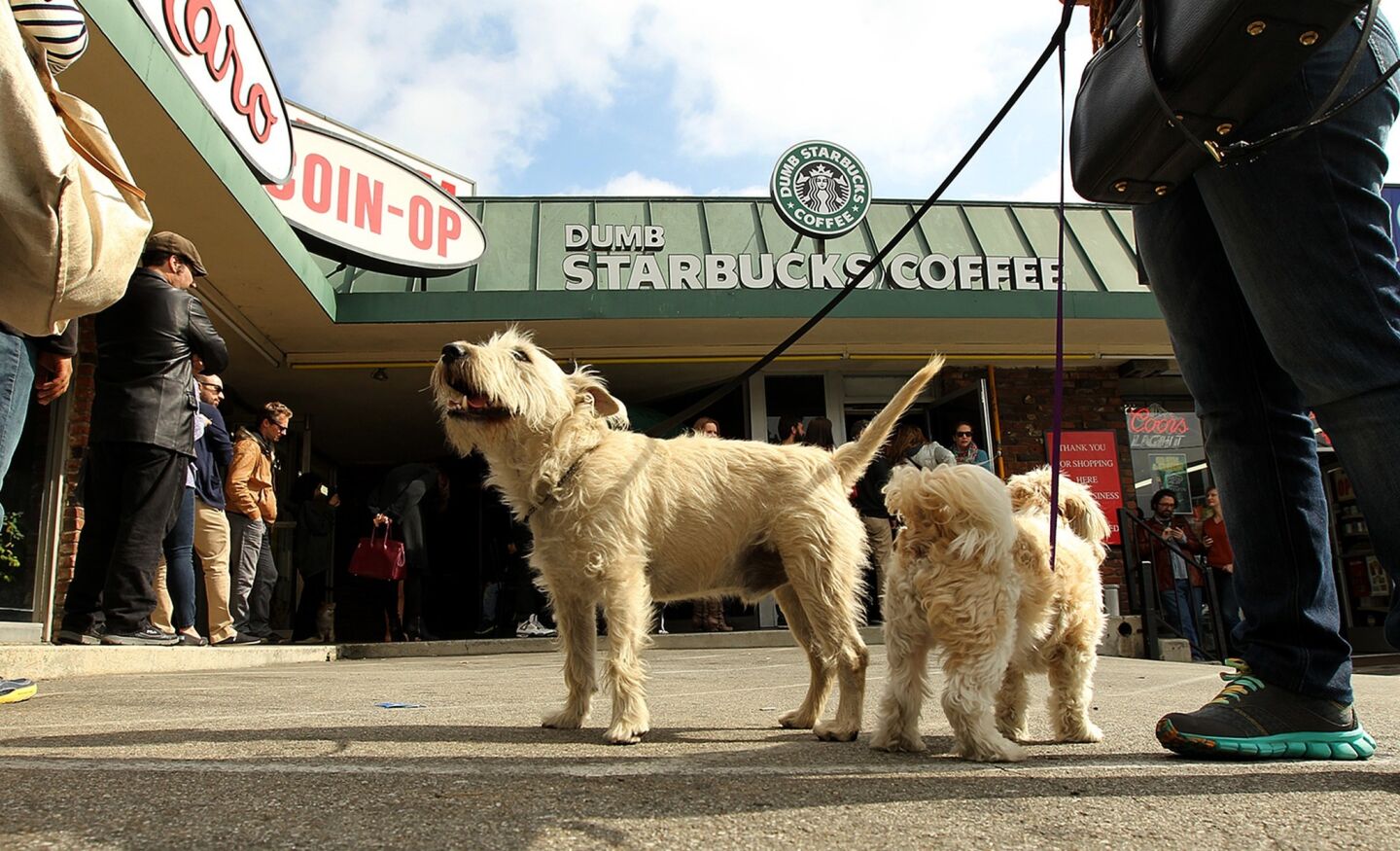 People wait in line, some for hours, for free coffee at Dumb Starbucks in a Los Feliz strip mall.
(Christina House / For The Times)
Jeffrey Eyster, left, and Kimmie Fadem check out their photo while Alexander Walter poses for a photo by Kaori Walter in front of the Dumb Starbucks logo.
(Christina House / For The Times)
A menu lists many items at Dumb Starbucks, but the two workers there Sunday were serving only iced coffees and lattes -- free of charge.
(Christina House / For The Times)
Cup sizes are displayed for patrons at Dumb Starbucks. Starbucks is aware of the parody and is "looking into it," a company spokeswoman says.
(Christina House / For The Times)
Music CDs are displayed at Dumb Starbucks. Its website says the mock store is an art gallery where the coffee is considered the art.
(Christina House / For The Times)
Starbucks is looking into a parody store that mocks the Seattle coffee giant with fake green and white cups and a full menu.
"Dumb Starbucks," which the company said is not affiliated with actual the Starbucks, quietly opened Friday in Los Feliz and drew lines of people looking to grab a free cup of coffee or a selfie in front of the store.
"We are evaluating next steps and while we appreciate the humor, they cannot use our name, which is a protected trademark," said Zack Hutson, a spokesman for the company.
PHOTOS: Customers line up for Dumb Starbucks
A list of frequently asked questions pegs the legality of the mock store to "parody art" — an art gallery where the coffee is considered the art.
The store looks nearly identical to a typical Starbucks location -- though it lacks the free Wi-Fi -- with tumblers and CDs, including "Dumb Jazz Standards," on display.
Drinks are served in cups that mock the company's logo, while pastries are pulled from display cases straight from their Vons packaging. The menu features such offerings as Dumb Iced Coffee, Dumb Frappuccinos and Wuppy Duppy Latte.
But only iced coffees and lattes were available — free of charge — to promote the new business, an upbeat barista told customers Sunday after apologizing for the wait. Just two workers staffed the busy store, and merchandise was being delivered throughout the afternoon.
"They're definitely not serving at Starbucks' pace," joked customer Jeffrey Eyster, 43, who hadn't even made it to the door after about an hour in line.
As word of the shop spread on social media, curious customers came to snap selfies in front of the sign or photos of the line of people wrapped around the small strip mall. Those who cut to avoid a several-hour wait were promptly shamed out of line.
Rumors about the store's origin — a marketing ploy, an art installation or perhaps the work of a comedian — percolated through the crowd.
"It's a ballsy move on their part," said Ilya Khramtsou, 24. "It feels like they're sticking it to the company. Everybody drinks Starbucks coffee like zombies."
"She drinks it every day," he said, laughing as he motioned to his girlfriend, Alisa Bazhenova, 24.
The couple stopped by to snap a quick photo but decided not to stay once they saw the line.
Those who did wait in line Sunday said they came for the novelty, assuming it would be shut down before the weekend was over.
"It's a very L.A. thing," said Connor Sweeney, 24. "We'll see how long it lasts."
Maro Ishimoro, who owns a salon next door, said people were lined up early, even before the shop had opened for the day. He saw a film crew there a few days ago but wasn't sure what was happening.
"What's going on? What is this, coffee?" an incredulous neighbor asked patrons, poking his head inside the store and turning to stare at the crowd. "There's coffee right there," he said, pointing to a bar next door.
Those looking to wait in line can find the shop — for now — at 1802 Hillhurst Ave.
Twitter: @Sam_Schaefer
---
The stories shaping California
Get up to speed with our Essential California newsletter, sent six days a week.
You may occasionally receive promotional content from the Los Angeles Times.