County soil testing finds widespread contamination near former Exide plant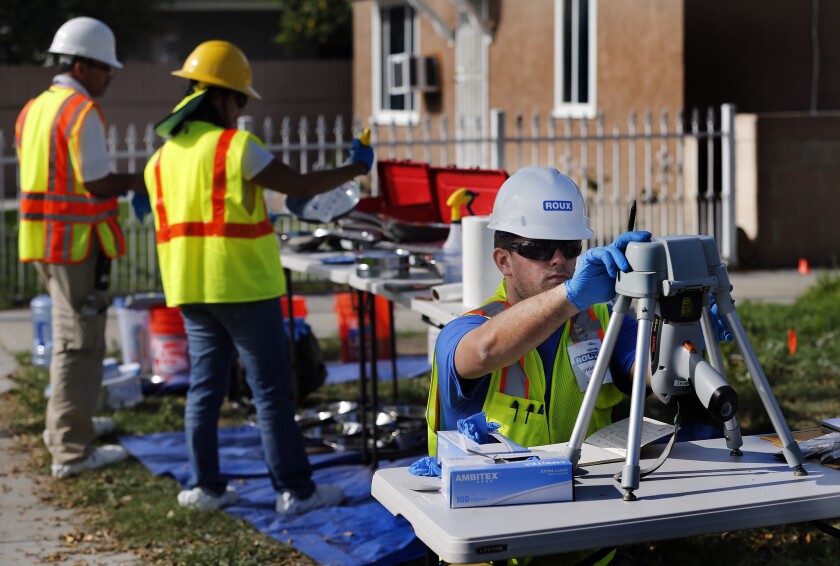 Los Angeles County public health officials who tested the soil outside 500 homes in the area surrounding the now-closed Exide battery recycling plant in Vernon found all but eight have levels of lead that will require cleanup.
The findings came in a report released Tuesday by the county's Department of Public Health to the Board of Supervisors.
The county test results mirror the findings of separate tests by the state, which have found that 99% of homes where soil was tested were in need of cleanup.
NEWSLETTER: Get essential California headlines delivered daily >>
After complaints by residents about the slow pace of state testing and cleanup, the county launched its own testing.
Interim Director of Public Health Cynthia Harding said the 12 county teams had tested about 50 homes a day between Feb. 29 and March 9, using special equipment that allowed the testing to be done in the field.
Of the homes tested, 45 had lead levels in the soil that qualified as hazardous waste, county officials said. An additional 179 had lead levels that exceeded the federal residential action level and 268 were below that level but above the level the state has identified as requiring cleanup.
The county teams are also testing soil at the Dorothy Kirby Center, a county lockup for juvenile offenders in Commerce, but those results are not yet available, Harding said.
Supervisor Hilda Solis likened the county's efforts to push for remediation to a David and Goliath fight.
See the most-read stories this hour >>
"I feel as if we're David, and we're up against some very big lobbying guns up there," she said.
The state Department of Toxic Substances Control is overseeing the cleanup of properties contaminated by the battery recycling plant, which was closed more than a year ago under a deal with federal prosecutors. Community groups had complained of pollution from the facility for years.
County public health nurses have been visiting the homes found to have elevated lead levels to give them information about blood testing and ways to minimize the health impacts, Harding said.
Twitter: @sewella

ALSO
Intruder bludgeons woman with frozen turkey in San Francisco home robbery, police say
Man who allegedly posed as Uber driver is charged with sexual assault and kidnapping
Opening day brings joy, frustration to residents near Dodger Stadium and fans
---
The stories shaping California
Get up to speed with our Essential California newsletter, sent six days a week.
You may occasionally receive promotional content from the Los Angeles Times.