Temperatures soars into 90s as Southern California heat wave continues
USC students Pat Corcoran and Alexandra Plzak enjoy the warm weather on campus Tuesday as temperatures reached a record 87 degrees in downtown Los Angeles.
(Francine Orr / Los Angeles Times)
Los Angeles City firefighter Harold Kim cools down after battling a house fire in 90-degree heat Tuesday.
(Wally Skalij / Los Angeles Times)
Blakey Olsen of Laguna Beach practices yoga in front of the Broad Contemporary Art Museum as temperatures set a record at 87 degrees in downtown L.A. on Tuesday.
(Allen J. Schaben / Los Angeles Times)
A man carries a surfboard at sunset at El Porto beach on Monday in Manhattan Beach.
(Patrick T. Fallon / For The Times)
Basilios Papaioannou of West Hollywood builds a drip castle in the sand at Venice Beach.
(Katie Falkenberg / Los Angeles Times)
People play football and climb on the rock jetty at Venice Beach.
(Katie Falkenberg / Los Angeles Times)
Boys play in the ocean at Venice Beach.
(Katie Falkenberg / Los Angeles Times)
Ariel Rhone uses an umbrella for shade near the Venice boardwalk on Monday.
(Katie Falkenberg / Los Angeles Times)
Venetia Taylor of New York enjoys the afternoon reading a book at the Ace Hotel rooftop pool on Broadway Street in Los Angeles
(Barbara Davidson / Los Angeles Times)
Dan Charcoal, who is vacationing in Southern California from Maui, golfs on Zuma Beach during a hot winter day Monday.
(Wally Skalij / Los Angeles Times)
Dilip Ray performs jumping jacks during his daily workout at Warner Park in Woodland Hills. Warm temperatures and high winds are expected today.
(Mel Melcon / Los Angeles Times)
Holly Di Renzo gives her daughter Bella, 4, left, and son Dante, 3, a push, as they ride on the swings at Lost Canyon Park in Simi Valley.
(Mel Melcon / Los Angeles Times)
Feet dangle from a lifeguard tower along PCH in Malibu during a hot winter day Monday.
(Wally Skalij / Los Angeles Times)
On a warm, windy afternoon a woman heads to her car after shopping at the 99 Cents store in Simi Valley.
(Mel Melcon / Los Angeles Times)
Cedric Laheurte places an Oscars "floaty" in the swimming pool as warm weather is in store for the annual Oscars nominee luncheon today at the Beverly Hilton Hotel.
(Al Seib / Los Angeles Times)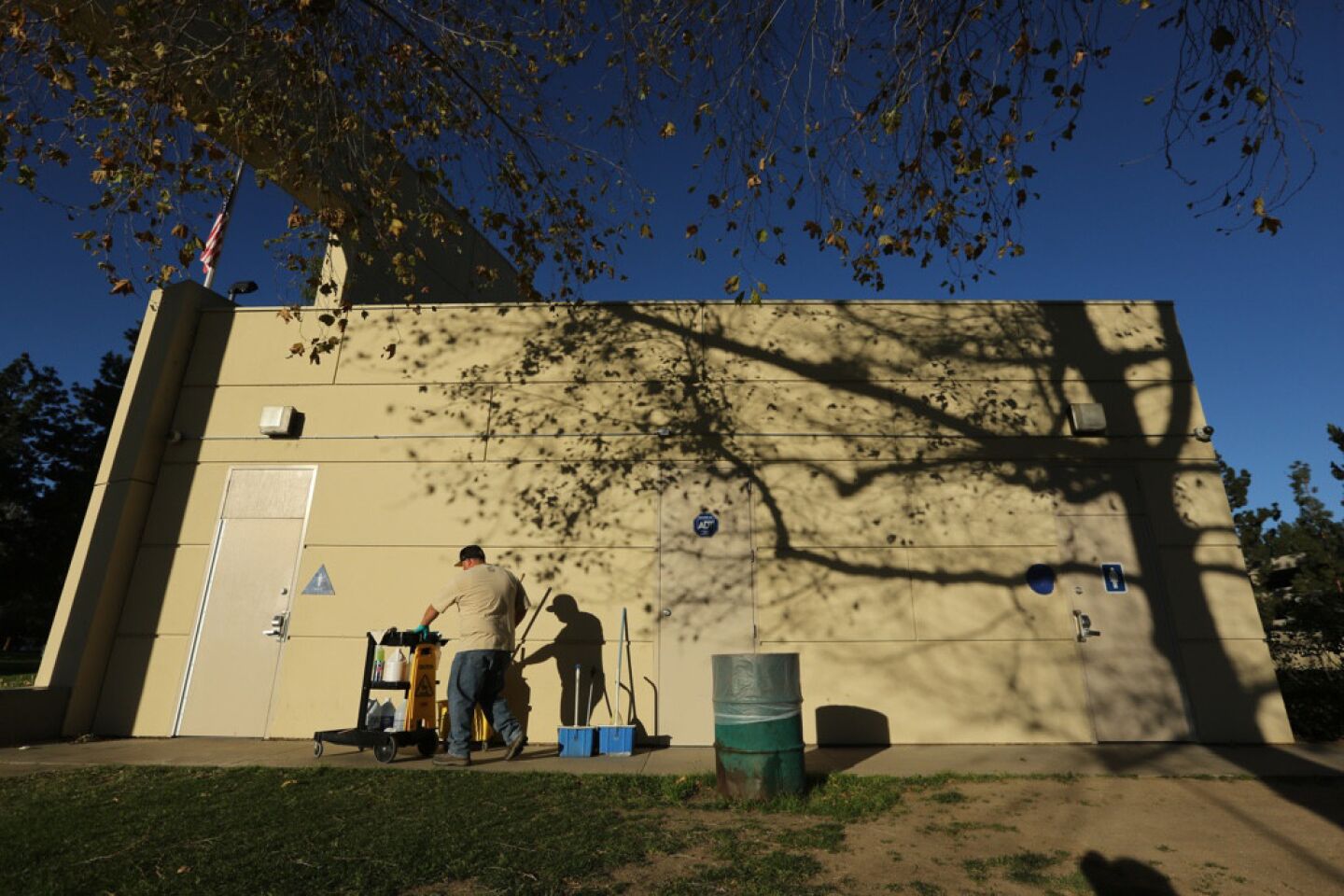 Strong winds and high temperatures have fire crews on alert. Above, David Castro works at Warner Park in Woodland Hills on Monday.
(Mel Melcon / Los Angeles Times)
Winter? What winter?
It may be February, but Southern California will maintain its summer-like sizzle for much of this week, with just a brief visit by clouds and possible rain, according to forecasters.
Temperatures soared into the 90s in some parts of the L.A. Basin on Monday. Downtown Los Angeles set a new record for the day at 89 degrees. Records were also set in Long Beach, at UCLA and in Oxnard, among other places.
Lakewood hit 92 degrees, while Rossmoor and Lomita hit 91. Santa Ana hit 93 degree.
The heat was being felt at the Grammy Awards, which are scheduled for tonight.
"Some folks are walking into the carpet tent with faces glistening from sweat after getting out of limos and waiting in the hot sun to go through security," the Associated Press reported. "Ladies are discreetly pulling powder puffs out of clutches to pat the sheen away."
Temperatures across the Southland are expected to remain near or above record highs — and well above average — through Tuesday before cooling slightly then climbing right back up over the weekend, said Stuart Seto, a weather specialist with the National Weather Service in Oxnard.
Join the conversation on Facebook >>
For Tuesday, forecasters have predicted an 89-degree high in Long Beach, breaking a record of 85 degrees set in 1977.
Burbank and Woodland Hills could see thermometers hit the low 90s this week.
A south-moving low-pressure system is expected to bring a sudden drop in temperatures of 10 or more degrees throughout the region on Wednesday and could bring a tenth of an inch of rain and up to a quarter-inch of rain in the mountains, Seto said. That system also will bring cloudy skies.
"But it's going to be very fast and short-lived," he said. Even the relatively cooler days will be at or above average, Seto said.
As the National Weather Service's forecast put it: "This is a pretty run-of-the-mill storm.… Nothing to get too excited about."
By this weekend, the high pressure will return and bring the heat right back with it.
The winter heat wave comes courtesy of resilient high pressure, coupled with gusty offshore winds, according to Seto.
Though it is still too early to say whether this will be a record-breaking warm February, "we're up there," Seto said.
Last year, California experienced its warmest winter on record.
From Feb. 1 to 14 last year, the average daily high temperature for downtown Los Angeles was 78.3 degrees — the warmest for that period since 1921, Seto said. This year, for the same time period and location, the average daily high was 77.4 degrees, he said.
It is common for Southern California to get Santa Ana winds and periods of high temperatures lasting a few days, but this winter's high pressure and hot weather have stuck around for an unusually long time, Seto said.
Though heavy rainfall and cooler temperatures were expected as a result of a strong El Niño, the high pressure in Southern California has pushed storms to the north, keeping Southern California hot and dry, he said.
"As far as Southern California is concerned, it's really hurting us," Seto said.
One El Niño expert said that although there is indeed a strong El Niño in effect, it has different characteristics from previous strong events.
FULL COVERAGE: El Niño in California >>
Kevin Trenberth, a climate scientist at the National Center for Atmospheric Research in Colorado, said the current El Niño can be called one of the strongest on record if it is measured only by the warmth in the eastern tropical Pacific.
"But most El Niños also feature a cooling in the western tropical Pacific that is largely absent," Trenberth said in an email.
As a result of this absence, the temperature difference along the equator is "much less than in previous super El Niños, and the reversal of the normal trade winds is nowhere near as strong" as the El Niño of 1997-98, which dumped double the average amount of rain in Los Angeles and San Francisco.
Trenberth said the current El Niño "peaked in terms of sea temperature anomalies" in November, a month or two earlier than most events.
Even so, Trenberth said, it's still possible that Southern California might experience some El Niño activity later this month.
"So all is not yet lost," he said.
For more Southern California news, follow @haileybranson / Google+
ALSO
Three women found dead in Hawaiian Gardens home
Detectives investigating crash that killed a jogger in Walnut
Police search for driver after pedestrian killed in Boyle Heights hit-and-run
The stories shaping California
Get up to speed with our Essential California newsletter, sent six days a week.
You may occasionally receive promotional content from the Los Angeles Times.