More than 80 gang members and associates indicted in joint LAPD-FBI takedown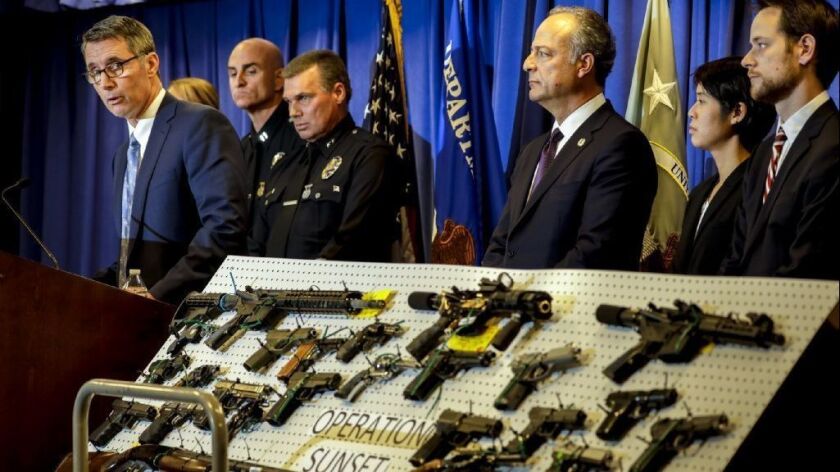 Dozens of suspected gang members and associates were charged with federal racketeering, gun and drug violations Wednesday, marking the end of long-running investigations targeting street gangs in South L.A. and the San Fernando Valley, authorities said.
Twenty-five members of the Vineland Boys and 11 members of Florencia 13 were arrested in raids carried out around Los Angeles. Most of the remaining defendants were already incarcerated, though a few remain fugitives, authorities said.
In total, 81 people were indicted, U.S. Atty. Nick Hanna said at a downtown news conference.
The racketeering indictments allege the gang members were involved in overt acts of violence and drug trafficking. Alleged drug dealers who were allowed to operate in Vineland Boys' territory were also among those caught in Wednesday's sweeps.
"This indictment reaches from the street … to shot callers," said Paul Delacourt, the assistant director in charge of the FBI's Los Angeles field office.
More than 80 gang members and associates were indicted in a joint LAPD-FBI operation, authorities announced Wednesday.
In the Florencia 13 case, federal investigators said the gang, which operates under the control of the Mexican Mafia, was actively attempting to smuggle narcotics into several California state prisons. The lead defendant in that case, Leonel Laredo, is accused of directing the gang's actions from a federal prison cell in Texas.
The indictment also accused the gang of turning several residences in South L.A. into havens for gambling, prostitution and weapons sales, known as "casitas."
LAPD Deputy Chief Kris Pitcher said the Vineland Boys, an offshoot of the notorious 18th Street gang, had been terrorizing the eastern portion of the San Fernando Valley for more than a decade. The gang was severely damaged by law enforcement raids after some of its members were linked to the shooting deaths of two Burbank police officers in 2003, but it regained its footing in recent years, officials said.
"Unfortunately, a new generation of gangsters has come of age and tried to revive the organization's control of trafficking through violence," Hanna said. "This takedown will provide significant relief to the law-abiding residents of the east San Fernando Valley."
Pitcher said nearly 4,000 grams of methamphetamine and 54 firearms were seized from the Vineland Boys during the arrests Wednesday morning.
---
The stories shaping California
Get up to speed with our Essential California newsletter, sent six days a week.
You may occasionally receive promotional content from the Los Angeles Times.