San Francisco D.A. George Gascon considering challenging Jackie Lacey in L.A. race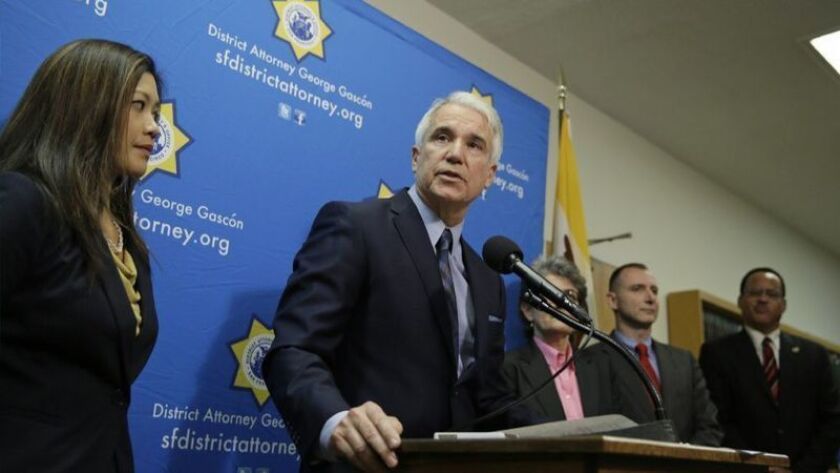 San Francisco Dist. Atty. George Gascon announced Friday that he is considering challenging Jackie Lacey in next year's election to become Los Angeles County's top law enforcement official, setting the stage for a possible face-off that could have far-reaching implications for the largest local prosecution office in the nation.
"This is a big decision for me and it is one I will ultimately be making in consultation with my family, but I am both proud and humbled that so many Angelenos have encouraged me to bring a data-driven vision of public safety and racial equity back to my hometown of Los Angeles," Gascon said in a statement.
Gascon, appointed in 2011, is known as one of the more progressive district attorneys in the nation, popular among criminal justice reform advocates for embracing statewide initiatives to reduce mass incarceration.
"While the one-size-fits-all strategy to prosecution is politically safe, in San Francisco we've proven that there are alternatives that yield better results for community safety and fairness, and that don't devastate budgets and entire generations of brown and black men," he said in the statement.
Gascon has held several community meetings in the Los Angeles area to discuss criminal justice issues in recent months, said two people with knowledge of this thinking.
A number of social justice advocacy groups critical of Lacey have also approached Gascon and asked him to consider running in the 2020 election, including the Real Justice political action committee, which played a role in a number of attempts to get progressive prosecutors elected throughout California in 2018.
"The second he announced he wasn't running in San Francisco," people began contacting Gascon about challenging Lacey, according to one source who spoke on the condition of anonymity.
A number of other factors are weighing heavily on Gascon's decision. He does not have a residence in Los Angeles County, and his mother is suffering from a serious illness. However, she resides in the Los Angeles area and he has roots in the city, having served as assistant chief for the Los Angeles Police Department earlier in his career. He has also noted in the past that continuing to work in the public sector could limit his potential to provide for his family.
Gascon has made headlines over a number of reform initiatives. He recently announced plans to launch a program that would allow prosecutors to make charging decisions in some cases without knowing the race or background of the suspects and victims, a move aimed at reducing the potential for implicit bias in prosecutions. He also pledged to automatically clear 9,300 marijuana-related convictions eligible for relief under Proposition 64.
Lacey announced a similar initiative in April, saying her office would automatically dismiss or reduce some 50,000 marijuana-related convictions dating back decades in what's become a growing movement to offer a clean slate to Californians hamstrung by their past. She was recognized recently for a program she implemented to divert mentally ill offenders from the county jail.
A veteran prosecutor, Lacey has served as district attorney since 2012. She announced her reelection bid this year and has already garnered endorsements from political heavyweights, including Los Angeles Mayor Eric Garcetti, U.S. Reps. Adam B. Schiff (D-Burbank) and Ted Lieu (D-Torrance), Long Beach Mayor Robert Garcia and four members of the county Board of Supervisors.
In a statement Friday, she said she was proud of her record "fighting for justice for all in L.A. County," touting her opposition to private prisons, her advocacy to reform the cash bail system and her efforts to automatically expunge marijuana-related charges.
"My values are shaped by growing up as an African American woman in South L.A., where we witnessed everything from poverty, to gang violence, to tensions between police and community, to the Watts riots," she said. "Anybody who wishes to run for office has the right to run, and I am looking forward to having a wide-ranging dialogue with the voters about the great things we have accomplished in the D.A.'s office."
She has come under fire in recent years by activists who have criticized her office's seeming reluctance to prosecute police officers for misconduct or excessive force. The district attorney's office has not prosecuted a Los Angeles officer for an on-duty shooting since 2000, long before Lacey was elected.
Lacey rejected the recommendation of former LAPD Chief Charlie Beck when she decided not to file charges against an officer who shot and killed a homeless man at Venice Beach. Late last year, Lacey did file manslaughter charges against L.A. County Sheriff's Deputy Luke Liu for the fatal 2016 shooting of an unarmed man at a Norwalk gas station.
Two other local prosecutors have announced their intentions to run. Deputy Dist. Atty. Richard Ceballos, who has worked as a prosecutor for nearly three decades and is assigned to the office's organized crime and hate crimes units, announced his bid in March. Joseph Iniguez, a 33-year-old prosecutor who works out of the Alhambra courthouse, announced his plans to run the following month.
alene.tchekmedyian@latimes.com
Twitter: @AleneTchek
---
The stories shaping California
Get up to speed with our Essential California newsletter, sent six days a week.
You may occasionally receive promotional content from the Los Angeles Times.