L.A. begins crackdown on Hollywood Hills 'party houses'
The L.A. city attorney's office is going after two homes reportedly known for raucous parties. (Sept. 21, 2017)
It's one of the worst-kept secrets of living in the Hollywood Hills.
Many of those raucous parties hosted above the glittering lights in those midcentury boxes of glass and beams are not hosted by people who actually live in the upscale canyons and hillsides.
Rather, homeowners and property managers rent out their homes to short-term guests who throw events flowing with booze, loud music and hundreds of attendees.
Residents have been complaining about the problem for years. But critics say the parties have gotten worse in recent years — especially with the rise of short-term rentals. There have been angry public hearings, neighbors collecting evidence against out-of-control partiers and calls for tougher laws.
Now City Hall is getting involved.
The Los Angeles city attorney's office is now looking to turn down the volume on two Hollywood Hills homes reportedly known for loud, late-night parties.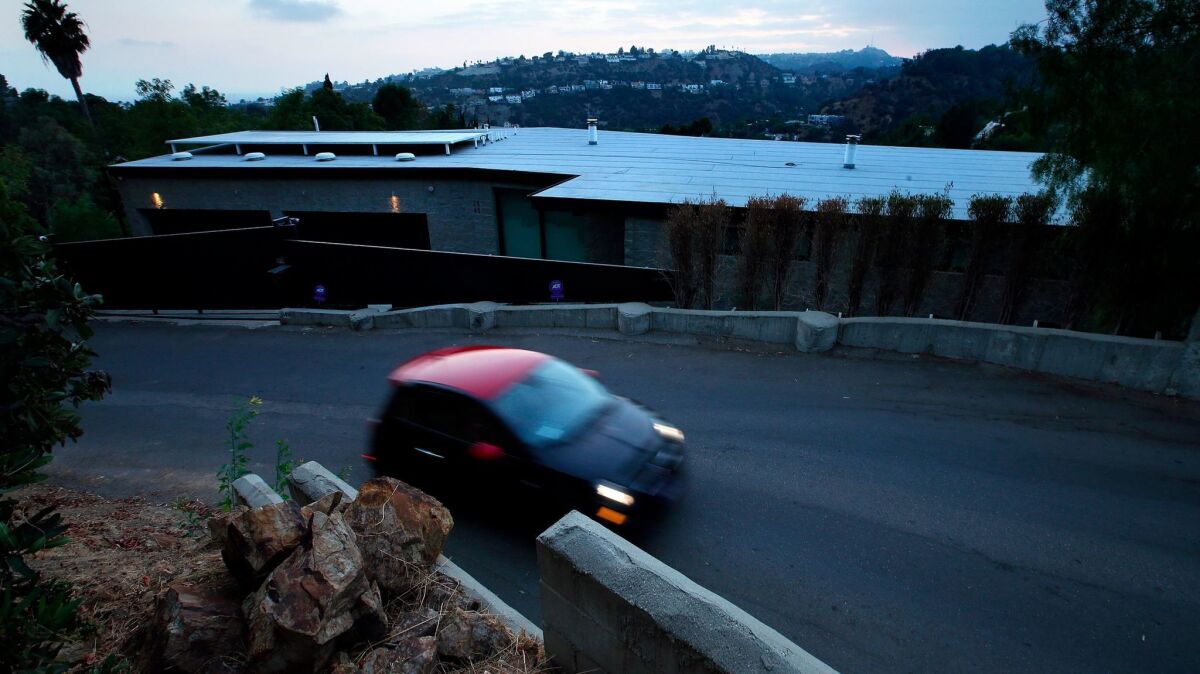 In a pair of criminal complaints filed Tuesday, City Atty. Mike Feuer has charged the owner of a single-family home in the 7800 block of Electra Drive and the property manager of a home in the 2600 block of La Cuesta Drive with multiple misdemeanors related to maintaining a public nuisance.
"It's completely unacceptable for residential homes to be rented out every few weeks for massive parties that attract hundreds of guests, blast music throughout the night and block streets, disrupting peace and quiet in our neighborhoods," Feuer said in prepared statement.
Perhaps the most high-profile party-palace landlord was Danny Fitzgerald, the owner of four properties on Weidlake Drive in the Dell neighborhood near the Hollywood Reservoir. The address hosted numerous bacchanals that were publicized on social media from 2012 to 2015.
Neighbors reported seeing a caged lion at one party and an elephant at another. The biggest of the homes was used to film a Playboy TV show about swingers.
The partying at those properties eventually quieted down after both the city attorney and building and safety division sent Fitzgerald notices in the summer of 2015, officials said.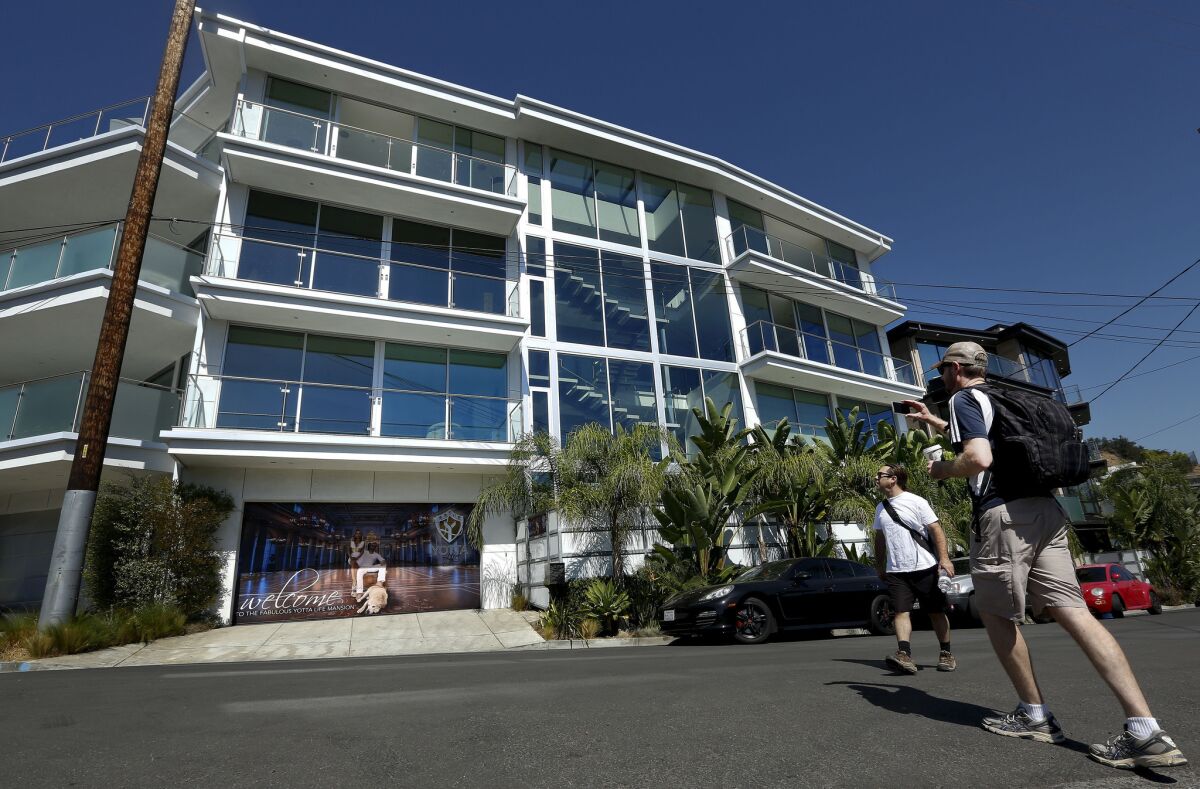 The latest offenders, however, have ignored similar notices, officials say.
In May 2016, Feuer's office sent the owner of the home on Electra Drive, Kamran Younai, 46, a cease-and-desist letter requesting that he stop allowing short-term rentals that hosted large parties and music.
Officials even met with Younai that September, Feuer's office said. Despite the meeting, at least a dozen other large parties have occurred there, officials said.
"All we want to do is have a peaceful existence," said Felicia Present, who lives across the street from Younai's property.
Neighbors there say they've worked to gather evidence that the home remains a nuisance. They've photographed hundreds of guests flowing into the home and the many cars that clog the neighborhood's narrow streets. They've also recorded the thundering bass that causes neighboring homes to vibrate.
Younai did not immediately return a request for comment Wednesday, but the property manager of the La Cuesta Drive estate, Rose Garcia, 43, said neighbors were too sensitive.
"It's like if anyone talks in the pool area or sneezes, complaints are filed that have no validity," Garcia said.
The property had a history of complaints before it was sold in November (the city attorney's office said the current owner is a "Belgian princess.") Garcia said she could recall only one visit from police since the property changed ownership and said there was no party going on at the time.
"It's sort of an inherited issue," she said. "It's really disheartening and strange."
Both Younai and Garcia are scheduled to be arraigned on Oct. 6. Younai faces 16 misdemeanors, including 10 counts of maintaining a public nuisance after receiving a written notice, and six counts of engaging in illegal short-term rentals. If convicted, he faces up to eight years in jail and $16,000 in fines.
Garcia is charged with 10 misdemeanors including seven counts of maintaining a public nuisance after receiving a written notice, two counts of permitting the emission of loud and raucous noise through an amplifying device and one count of excessive noise. If convicted, she faces up to three years in jail and $7,000 in fines.
Of course, complaints about loud parties in the Hollywood Hills are not new.
In 1924, The Times published a front page story about a revolt by Laurel Canyon residents after a wild birthday party got out of hand.
Members of the Laurel Canyon Improvement Association, the paper reported, demanded the city prosecutor file charges against the homeowner and party guests.
The prosecutor vowed to take action to "discourage such affairs in the future."
For breaking California news, follow @JosephSerna on Twitter.
ALSO
Teen stumbles on wallet loaded with $1,500 in cash, then makes a fateful decision
Topless carwash raises cash for deputies wounded in gun battle at Rastafarian pot farm
Man who killed Fox executive having an affair with his wife gets 11 years in prison
---
UPDATES:
5 p.m.: This article was updated with additional reporting on a 1924 incident.
The stories shaping California
Get up to speed with our Essential California newsletter, sent six days a week.
You may occasionally receive promotional content from the Los Angeles Times.