John Duran cedes mayor's position in West Hollywood amid #MeToo controversy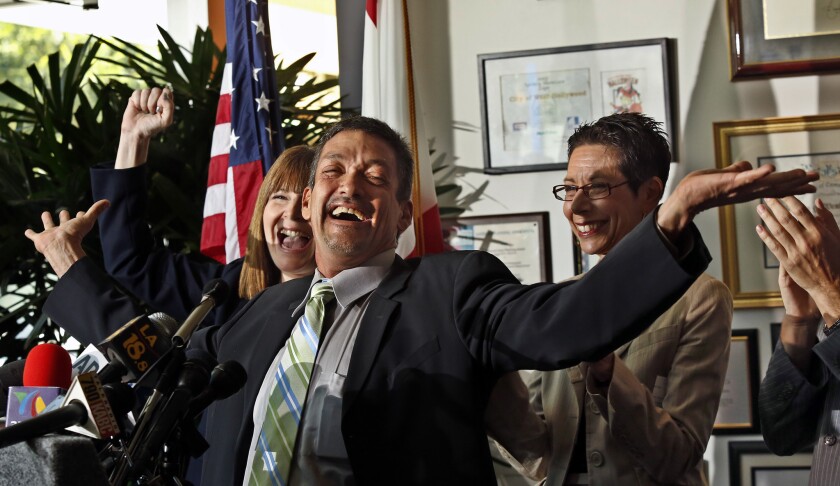 Amid sexual harassment allegations and growing calls for his resignation, West Hollywood Mayor John Duran said Monday that he would relinquish the title of mayor.
Duran cited health issues for his decision. He recently was hospitalized with blood clots and said he is on doctor's orders to slow down and rest.
In West Hollywood, the mayor's position is a largely ceremonial position that rotates annually among council members. Duran had two months left in his term and said he would cede the gavel to Mayor Pro Tem John D'Amico.
Duran will not resign from the City Council, and his term expires in November 2020. In a Facebook statement, he said that he is still recovering but "will be back as feisty as ever very soon."
Allegations against Duran have roiled West Hollywood, with protesters packing City Council meetings to call for his ouster. Duran has been reelected after scandals before, but many residents say times are different in the new #MeToo era, and his colleagues on the City Council have called him a distraction.
Three current or former members of the Gay Men's Chorus of Los Angeles have accused Duran of crude sexual comments and unwanted touching.
The accusations come three years after the city paid $500,000 to settle a sexual harassment lawsuit brought by Duran's former council deputy, whom Duran said he hired after meeting on the gay meet-up app Grindr and having sex with him.
Duran also has faced criticism for having worked in the past as an attorney for Ed Buck, a prominent white Democratic donor under investigation connected to the deaths of two black men in his West Hollywood home. Duran is not representing Buck in regard to the men's deaths.
City Atty. Michael Jenkins said state law does not allow the council of a general-law city to remove one of its members.
The City Council on Monday was set to consider a report by Jenkins on how it could deal with Duran. Jenkins said the council could strip Duran of his title as mayor, restrict city-funded travel, remove him from council subcommittees, deny him expense reimbursements for city-related business and censure him.
Duran said the accusations involving members of the Gay Men's Chorus involve interactions from his private life away from City Hall and became an issue with his council colleagues last month because of politics. West Hollywood voters go to the polls Tuesday, and three council incumbents are up for reelection.
"I think this was very carefully orchestrated to happen a month before the election," Duran said. "West Hollywood politics is blood sport.
"People in West Hollywood know me. They love me, and they hate me. I've been around 30 years in this city. Despite the bad headlines, I get reelected because more people love me than don't."
Duran has been unapologetic for his bawdy humor, saying it is just part of who he is as a gay man who lived through the sexual revolution.
In a radio interview with KNX-AM (1070), he said: "Let's face it, I'm the only, I think, sexually active member of the City Council. I don't want to, you know, besmirch my colleagues, but, I mean, I don't think any of them are having the level of activity I am. That's part of the price I pay for just being an out gay man in West Hollywood who's very sexually active."
Duran's accusers from the Gay Men's Chorus include members Jason Tong and Brian Phillip Nichoalds, who said Duran slipped his hand in their waistbands without permission, and Joey Firoben, who said Duran made sexually charged comments before a performance in 2015.
In an interview with The Times, Firoben said that Duran, whom he did not know well, made a crass and violent comment about wanting to have sex with him in front of other members.
Firoben said Duran offered a sarcastic apology later and repeated the statement, saying, "I guess it was just more my fantasy than yours."
"I was willing to talk it out with him and have an adult conversation … but that did not happen," Firoben said. "If that happened, I would feel no need to report that claim."
On Monday, Duran said "a crude remark four years ago does not equal sexual harassment."
"We have a different remembrance of what was said," Duran said. "I think I said, 'Joey, you're too tightly wound. You need to get laid.' Whatever it was, I apologized. He accepted my apology."
Firoben said Duran was mocking his accusers and unfit to lead the city.
Duran said that "some of these young millennials who are 25 years old are popping up, wanting to take down the old bull John Duran."
"Welcome to the party," he said. "I'm glad you found a target. But you might want to work with me to take on actual homophobes and actual enemies like the KKK and Donald Trump, rather than take on make-believe issues where there are none."
Twitter: @haileybranson
---
The stories shaping California
Get up to speed with our Essential California newsletter, sent six days a week.
You may occasionally receive promotional content from the Los Angeles Times.