Amid #MeToo movement, West Hollywood residents want mayor to resign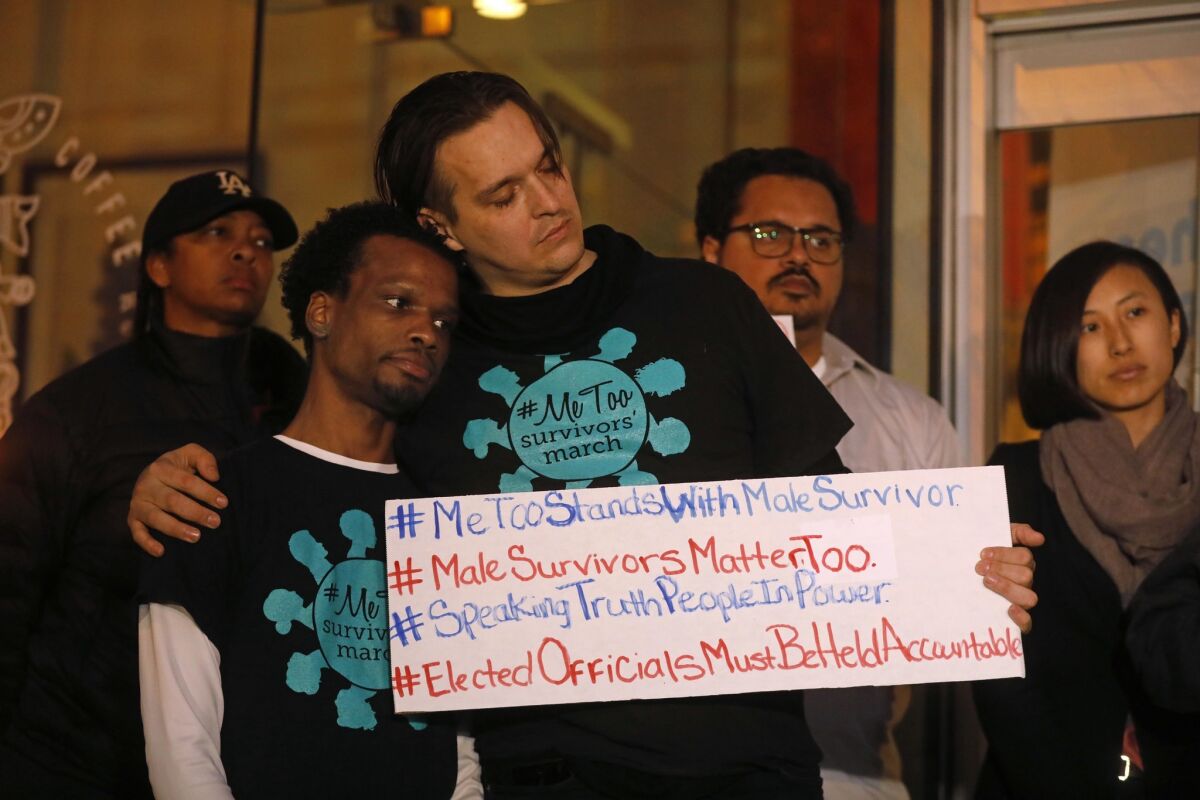 Some of the protesters were affiliated with the #MeToo movement. Others with Black Lives Matter and LGBTQ groups. Many were simply West Hollywood residents who were fed up with all the drama.
They showed up at a packed West Hollywood City Council meeting Tuesday because of two scandals: the recent sexual harassment allegations against Mayor John Duran and the deaths of two black men in the West Hollywood apartment of white Democratic donor Ed Buck — a man for whom Duran worked as an attorney for several years. Overwhelmingly, the crowd called for Duran to resign.
"Lately, I have been exhausted, and I have been embarrassed," Tai Sunnanon, a West Hollywood resident, told the council. "I have to defend this city with relatives and friends who live out of state because we have not sought the proper due justice to two black men who have died in our neighborhoods. I am also exhausted and embarrassed by a mayor who uses gay and sexual liberation as a front with undue and unnecessary behavior that is really unbecoming of this city."
Three current or former members of the Gay Men's Chorus of Los Angeles have accused Duran, the group's longtime board chairman, of crude sexual comments and unwanted touching.
The accusations come three years after the city paid $500,000 to settle a sexual harassment lawsuit brought by Duran's former council deputy, whom Duran hired after meeting on the gay meet-up app Grindr and having sex with him. Duran was reelected after that scandal, but now many residents say times are different in the #MeToo era and that Duran is a distraction and liability.
Duran refuses to resign, saying he has a crass sense of humor born of the gay liberation movement but that he is not a harasser. He said the outcry is "driven by the current mood of the country rather than the rule of law and due process."
Duran has said that if a person does not want a sexual advance, he or she must definitively say no.
"I flirt. I crack dirty jokes. I often say things that make some cringe. But I do not threaten or physically assault anyone," Duran wrote in a lengthy Facebook statement Tuesday night.
He added: "It is the sin of Salem. Admit that you are a witch — and you will be an ostracized pariah separated from the community. Deny that you did it — and we will burn you at the stake publicly and impose a sentence without investigation or verdict."
Duran has been hospitalized for several days with blood clots. When a friend read his statement at the City Council meeting, the audience booed.
Some accused Duran of mocking his accusers. Over the weekend, he tweeted: "In my hospital room with 4 gay men exhibiting bawdy gay humor to the delight of all. #knowthyself"
And in an interview last week with the WeHo Times, Duran said of Jason Tong, a chorus member who accused him of putting two fingers in his waistband before a concert: "He's a skinny Korean kid with pimples on his cheek … Look at this guy. It's just not happening."
Duran apologized for that comment, saying he is not racist and that his family is both Latino and Asian.
The City Council has been trying to determine what it can do. City Atty. Mike Jenkins said state law does not allow the council of a general-law city to remove one of its members.
On Tuesday, council members asked staff to place an item on the agenda for the next meeting that lays out possible options, such as ending a mayor's term early, censure or restricting city-funded travel.
Duran is serving his fourth term as mayor, a largely ceremonial position that rotates annually among council members.
The city soon will move its spring municipal elections to November to align with general elections. As part of the transition, the council on Feb. 4 agreed to extend the mayor's and mayor pro tem's terms by four months. Duran's term as mayor therefore would have ended in September instead of May.
On Tuesday, the council rescinded that decision. A new mayor will be installed May 20. Duran's term as councilman will end in 2020.
Council members Lindsey Horvath, John D'Amico and Lauren Meister last week called on Duran to resign.
John Heilman, the only councilman who had not publicly addressed the allegations, on Tuesday said, "I think it's important to move forward with somebody else in charge."
Heilman said Duran had done good work on behalf of the city, the LGBTQ community and people living with HIV and AIDS but that "those contributions … are in no way an excuse for misbehavior."
"People within the LGBT community have a right to be free from sexual harassment; they have a right to be free from being hit upon by somebody in power," he said.
On Tuesday, protesters also said they were disturbed that Duran had worked as an attorney for Ed Buck.
The 2017 death of Gemmel Moore, 26, who died of a methamphetamine overdose, and the January death of 55-year-old Timothy Dean, whose cause of death has not been released, have prompted homicide investigations by the Los Angeles County Sheriff's Department. Authorities said Buck was present for both deaths in his Laurel Avenue apartment.
Family and friends of the dead men have accused Buck of preying on vulnerable black men for sexual gratification.
Buck has not been arrested or charged in either case, and Duran is not representing Buck in regard to the deaths.
Jerome Kitchen, 30, who said he was Moore's godbrother, said the City Council is "complicit with this culture of sex crimes."
"They think that if they make the city a beautiful place, if they talk about infrastructure and they have these lavish events, they can neglect their obligation to keep the city safe."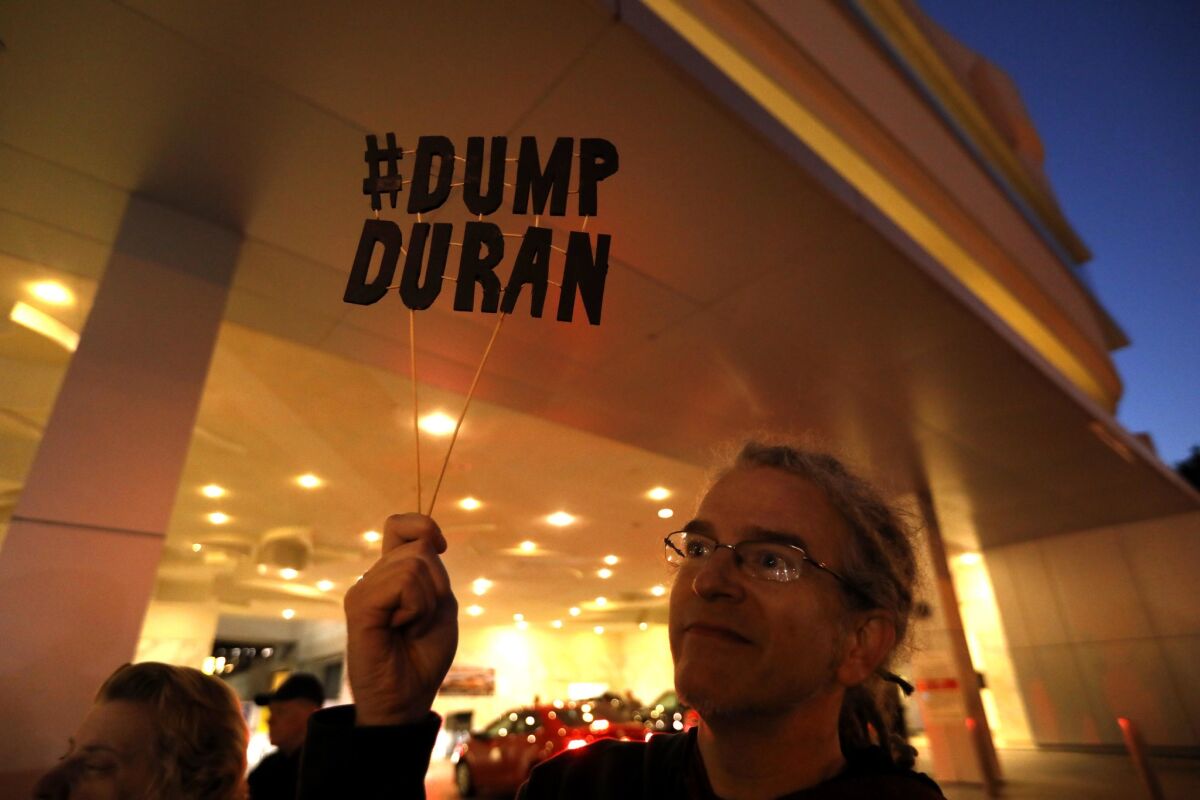 ---
The stories shaping California
Get up to speed with our Essential California newsletter, sent six days a week.
You may occasionally receive promotional content from the Los Angeles Times.