Search for new L.A. Unified superintendent takes initial step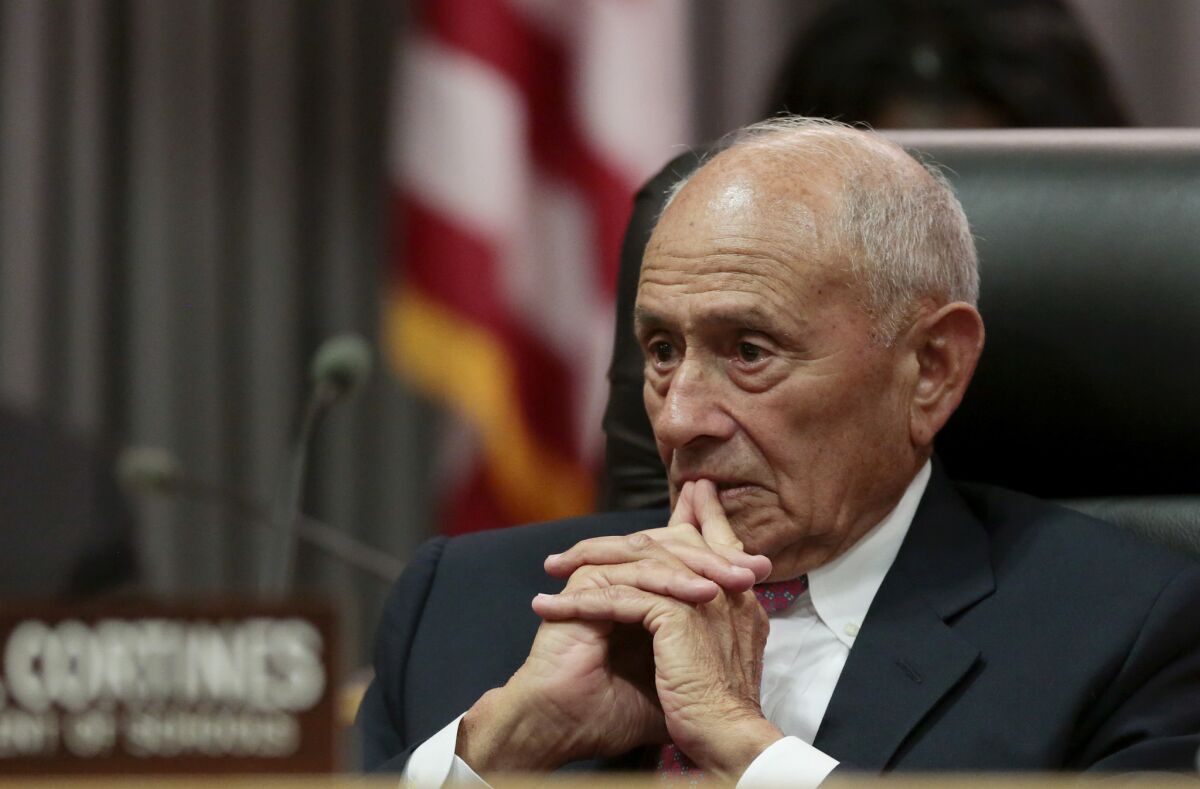 The Los Angeles Board of Education is taking its first steps toward launching a search for a new superintendent, a process that has been on hold for the past nine months.
After meeting behind closed doors late into the evening Thursday, the seven-member board directed staff members to start looking for companies qualified to conduct the search for its next leader.
Supt. Ramon Cortines came out of retirement in October to take the reins of the nation's second-largest district after his predecessor, John Deasy, resigned under pressure. The 83-year-old Cortines agreed to a contract that runs through June 2016, but he has said he'd prefer to leave by the end of this year.
Comfortable with the direction of the Los Angeles Unified School District under Cortines, the board said it was been waiting for newly elected members to be seated before beginning the months-long search process. But board president Steve Zimmer said the delay was also part of an effort to get the district back on track.
"We had to approach this from a sense of stability," Zimmer said, adding that Cortines helped the district mend a malfunctioning student records system, balance a budget challenged by structural deficits and worked out a contract agreement with teachers that avoided a possible strike.
With the start of another school year just weeks away, school board members are under pressure to forge ahead with the search for a new leader of the 650,000-student district.
Zimmer said the school board expects to vet and hire a search firm by mid-September.
The lengthy search process — one that includes setting the selection criteria for the new superintendent and gathering public input — could take seven to eight months, according to board member Richard Vladovic.
That timetable means that students entering school in August will be gone or finishing up the year before the next superintendent arrives at the district.
Vladovic said the board feels a sense of urgency but wants to conduct an extensive search that's transparent and gives a say to parents, teachers and others.
He said the board also has to do some soul searching of its own.
"We need to know where we're steering the ship, have a destination in mind, before we hire a captain to get us there," Vladovic said.
The school board has largely relied on Cortines to quietly guide the district as it decides how to move forward after Deasy's high-profile tenure.
Deasy's resignation last year followed a series of missteps including a failed $1.3-billion effort to provide iPads to all students that became the target of an FBI investigation, the troubled rollout of a new records system that put students at risk of not graduating on time and frequent conflicts with school board members and the teachers union.
Interested in the stories shaping California? Sign up for the free Essential California newsletter >>
Some analysts say that those missteps may have cost two incumbent board members--Tamar Galatzan and Bennett Kayser--their seats after their opponents tied them to the iPad project.
Galatzan, a Deasy supporter, lost to teachers union-backed retired principal Scott Schmerelson, while Kayser was defeated by charter school co-founder Ref Rodriguez.
The two new members join a board that will have to find common ground in selecting a leader who is not only a capable administrator but whose ideology reflects their goals for the district.
Deasy championed a set of changes that included supporting the growth of charter schools and using test scores as a factor in teacher evaluations. Supporters said his hard-charging approach toward those goals was necessary, but critics said he was unwilling to compromise.
Twitter: @zahiratorres
ALSO
7 homes lost as Northern California fires rage on
Hundreds in Long Beach will be without power until Friday evening
Lifeguard attacked at Venice Pier had asked group to stop smoking, supervisor says
---
The stories shaping California
Get up to speed with our Essential California newsletter, sent six days a week.
You may occasionally receive promotional content from the Los Angeles Times.