Dump truck in fatal crash with LAPD cruiser passed last inspection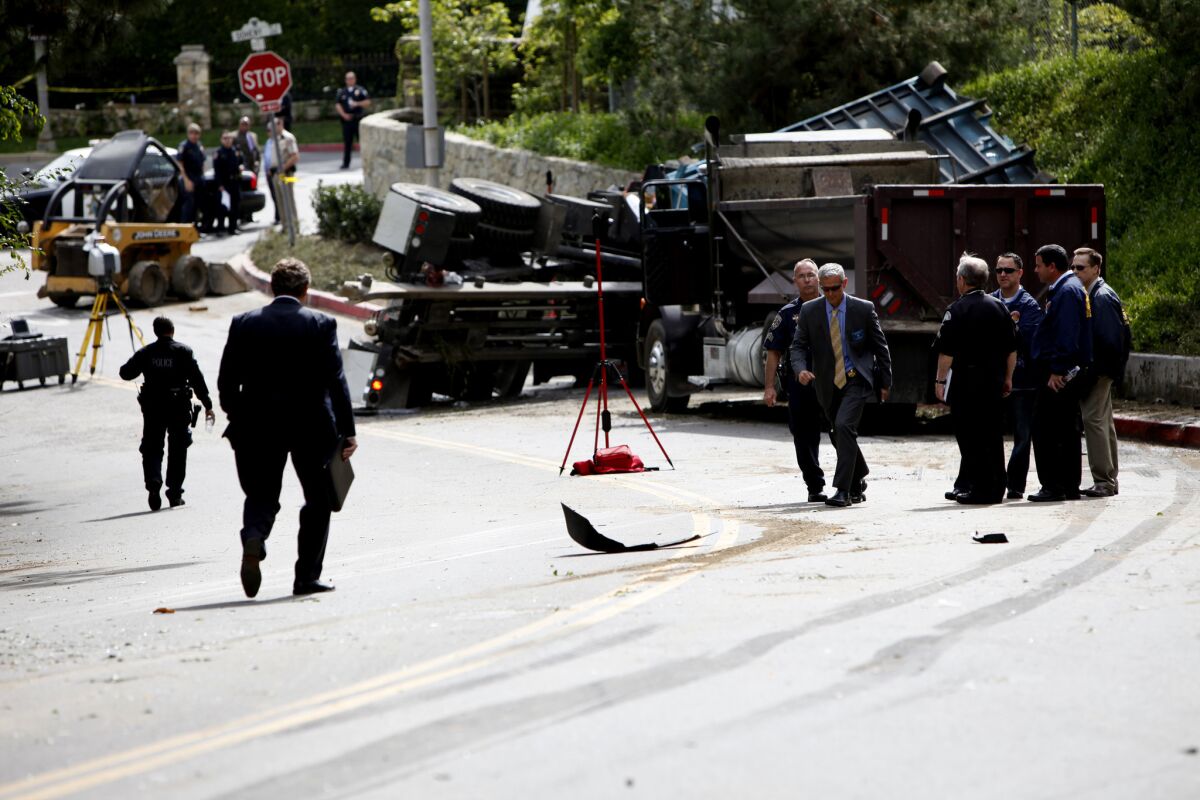 A dump truck that collided with a Los Angeles police cruiser last week in Beverly Hills, killing one officer and injuring another, was up to date on its required inspections and did not have any recent violations, California Highway Patrol records show.
The truck – a 1994 Kenworth big rig – was last inspected by CHP officers from the Commercial Vehicle Section at the truck's terminal on July 31, 2012, records show.
Last week, the truck skidded down Loma Vista Drive near Robert Lane before it tipped on its side and spilled a small excavator it was carrying, colliding with the police cruiser Officer Nicholas Lee was driving in the opposite direction, LAPD officials said.
PHOTOS: Funeral services for LAPD Officer Nicholas Lee
Lee, 40, was pronounced dead at the scene. He was a 16-year veteran of the LAPD and was honored in a memorial Thursday. His rookie partner was injured but has since been released from the hospital.
In 2010, the truck was cited for the condition of its brakes, but no similar problems were found when it was inspected again two years later, records show. The truck changed owners after that inspection and was modified to become a roll-off truck that can carry large trash dumpsters, CHP officials said.
Beverly Hills city officials said it was not immediately clear if the truck was going to or coming from a Beverly Hills address. The city contracts with Sun Valley-based Crown Disposal for its solid waste management, including construction and demolition debris. Company officials told The Times on Thursday that the truck involved in the crash was not theirs.
The CHP's multidisciplinary accident investigation team is leading the probe into the crash, officials said. Authorities said that their initial investigation points to a mechanical failure with the dump truck – possibly a brake failure. Skid marks trace the truck's path before the crash and a runaway truck ramp is nearby.
The impact was so severe that it crushed Lee's car, leaving it a mangled piece of metal that authorities described as "almost unrecognizable even as a vehicle, let alone a police car." Rescuers had to remove the top of the car to extricate the officers.
Police and CHP officials said they plan to review any video footage available and dismantle both the truck and patrol car to analyze the vehicles.
Twitter: @josephserna
---
The stories shaping California
Get up to speed with our Essential California newsletter, sent six days a week.
You may occasionally receive promotional content from the Los Angeles Times.