Homicide suspect filmed himself during running gun battle that wounded LAPD officer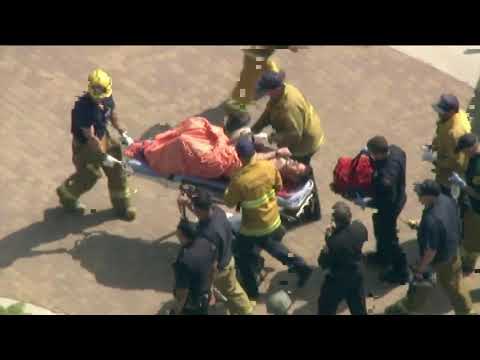 A Los Angeles police officer and a suspect were shot in El Segundo early Thursday, authorities said. (KTLA)
A homicide suspect who exchanged shots with Los Angeles police during a running gun battle in El Segundo on Thursday filmed at least part of the encounter on a cellphone while he ran from officers, according to a source familiar with the investigation.
The shootout left a SWAT officer wounded and the suspect gravely injured and terrorized the neighborhood, where residents described bullets whizzing by and loud bursts of gunfire.
The gunman, who has yet to be publicly identified, was shouting into the phone that was pointed at him, according to the source, who spoke on condition of anonymity because he was not authorized to discuss the ongoing investigation into the shooting.
"They coming at me," the man said on the video, according to the source. "I'm gonna die today."
KABC-TV showed a clip of what the station said was the video, which it said was posted on Facebook Live. A separate still image shows the man holding a gun to the camera.
Josh Rubenstein, a spokesman for the Los Angeles Police Department, said investigators were "looking at various pieces of video evidence" as part of their inquiry into the shooting. He declined to elaborate.
The officer was struck in the hip and was expected to recover from his injuries, Chief Charlie Beck told reporters after visiting him at the hospital. The officer was described as a 20-year veteran of the LAPD whose wife, who was at the hospital with him, is also an LAPD officer.
Beck said the gunman was shot multiple times.
The events leading up to the shooting began in South L.A., where officers were serving one of four warrants as part of an investigation into a March 31 killing, Beck said.
At some point, Beck said, officers noticed one of the homicide suspects driving a blue vehicle. The vehicle took off, with the police in pursuit.
Law enforcement officers stand outside the emergency entrance at Harbor-UCLA Medical Center where an LAPD officer was transported after being shot in El Segundo.
(Wally Skalij / Los Angeles Times)
The scene is cordoned off where an LAPD officer and a suspect were wounded during a shooting in El Segundo.
(Jay L. Clendenin / Los Angeles Times)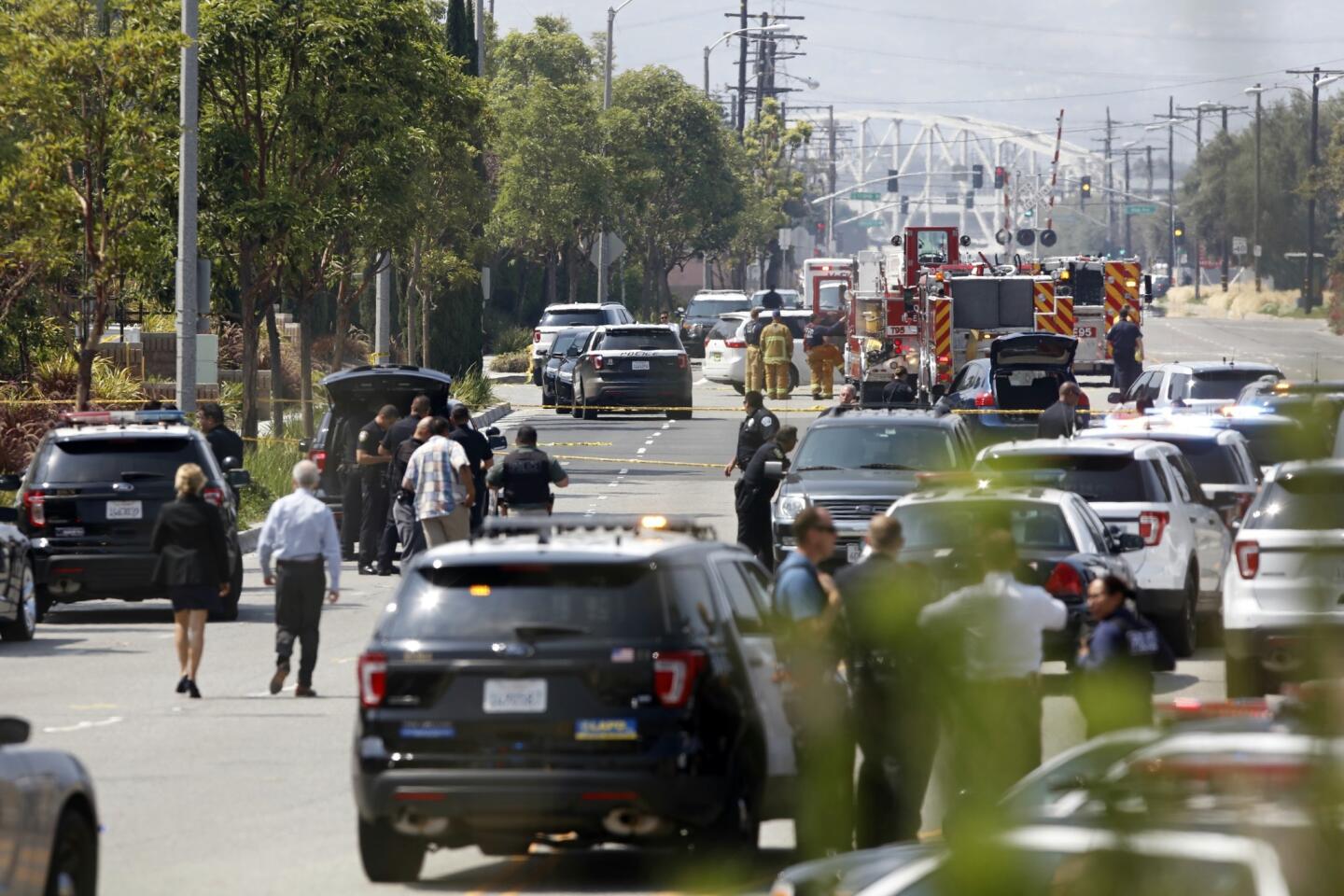 An LAPD officer and a suspect were wounded during a shooting in El Segundo. The shooting took place near Aviation and El Segundo boulevards during a multi-agency task force stakeout of a homicide suspect, said Tony Im, a spokesman for the Los Angeles Police Department.
(Jay L. Clendenin / Los Angeles Times)
The chase wound its way down to El Segundo, where police said the suspect bailed out of the car with a handgun and ran through an apartment complex near El Segundo and Aviation boulevards as he exchanged gunfire with the officers and was shot.
Beck said multiple officers were involved in the gun battle, including some from Hawthorne who had joined the car chase. Investigators were examining three separate scenes where shots were fired.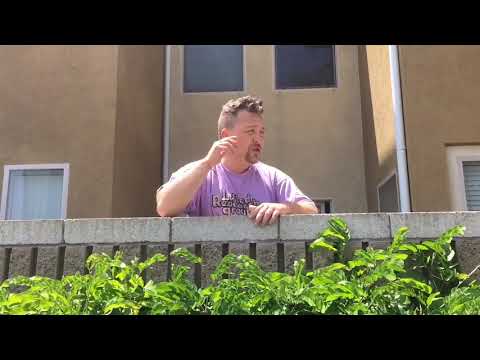 Shannon Isom describes hearing gunfire from officer-involved shooting in El Segundo. (Jay L. Clendenin / Los Angeles Times)
Neighbors said they heard helicopters, then sirens followed by at least 15 gunshots. One resident, Jeff Parisse, said he stepped out to his balcony when he first heard the helicopters buzzing overheard, hoping to film them.
Soon after, two bullets whizzed by the 55-year-old's head and struck a wall of his home. Parisse said his instincts kicked in and he dropped down to his deck. Later, he said he realized how close he was to getting hit — but he still wasn't fazed.
"I have a dangerous hobby," he said. "It didn't bother me."
His neighbor, Katty Wu, who was playing at home with her two kids and didn't hear gunshots, was left more stunned.
"He could have been killed," she said.
Anthony Samadani, who lives at the Three Sixty at South Bay housing complex, near where the shooting took place, was at home with his 2-year-old child and mother-in-law when he got an email from the building's management saying it was under lockdown.
Twenty-nine minutes later, another email came: "Confirmed report of shooter in custody; one officer down and being treated."
The union representing rank-and-file officers said the shooting was a "somber reminder that police work is inherently dangerous and deadly."
"We are thankful that our officer is expected to make a speedy recovery," the Los Angeles Police Protective League said in a statement. "Every day, Los Angeles police officers risk their lives to keep our community safe."
kate.mather@latimes.com Twitter: @katemather | alene.tchekmedyian@latimes.com Twitter: @AleneTchek | hailey.branson@latimes.com Twitter: @haileybranson
ALSO
Investigation underway in Burbank after South Pasadena police involved in shooting
L.A. police shoot and kill man armed with gun during confrontation in Westlake
Arkansas couple detained after dead toddler found in back seat of car near Sacramento
Pregnant woman charged in boyfriend's death after book fails to stop bullet in YouTube stunt
---
UPDATES:
7:15 p.m.: This article was updated to include that KABC-TV broadcast a clip of the video.
6:55 p.m.: This article was updated with details about the suspect filming himself.
3:50 p.m. This article was updated with a statement from the Los Angeles Police Protective League and minor rewriting throughout.
12:40 p.m. This article was updated with new information from Chief Beck and a resident.
11:45 a.m. This article was updated with more information about the officer's condition and details from neighbors.
11 a.m. This article was updated with information about traffic.
This article was originally published at 10:40 a.m.
Sign up for Essential California for news, features and recommendations from the L.A. Times and beyond in your inbox six days a week.
You may occasionally receive promotional content from the Los Angeles Times.