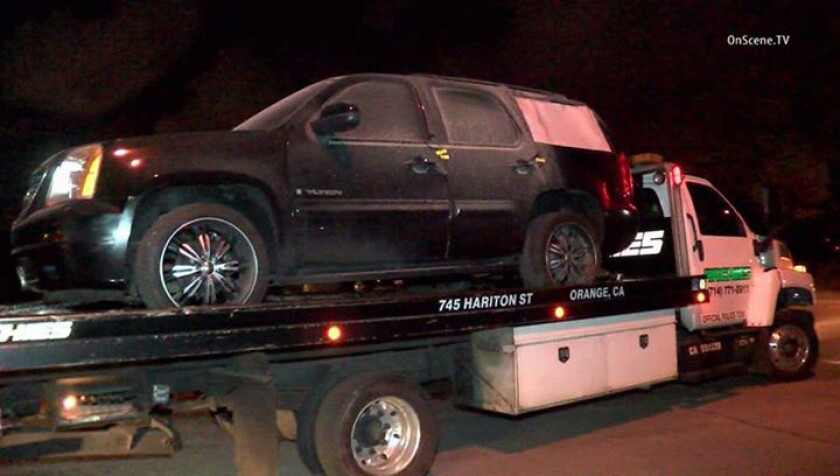 Two of the three men whose bodies were found in a burning vehicle in Orange County died of gunshot wounds, authorities said Wednesday.
The three bodies were found Nov. 9 after a burning black SUV lurched to a stop on a sidewalk in the 500 block of East Oakmont Avenue in Orange, just north of Chapman University. The driver's seat was empty, police said.
Both the front passenger, Edgar Berrelleza-Soto, a 26-year-old from Orange, and the right rear passenger, Antonio Medina, 19, of Avondale, Arizona, succumbed to gunshot wounds, said Lt. Fred Lopez of the Orange Police Department.
Interested in the stories shaping California? Sign up for the free Essential California newsletter >>
The third man – Fernando Meza, 20, of Phoenix – was found in the left rear passenger seat but the cause of his death remains under investigation, Lopez said.
The deaths are being investigated as a triple homicide. Police are still trying to pinpoint a motive and no suspects have been identified.
Investigators said last week that surveillance video of the incident shows a person bolting from the burning vehicle shortly before it came to a stop. The video was not publicly released, and police did not say if the person was a suspect.
The burned sport utility vehicle was registered out of the Inland Empire, but Lopez said the vehicle changed hands several times.
Neighbors along Oakmont Avenue and nearby Shaffer Street helped douse the blaze with a garden hose and fire extinguishers.
In addition to the Orange Police Department, the Orange County district attorney's office is conducting a parallel investigation, Lopez said.
Anyone with information is asked to contact the Orange Police Department at (714) 744-7444.
For breaking news in California, follow @MattHjourno.
---