Ex-Miramonte teacher pleads no contest to lewd acts, gets 25 years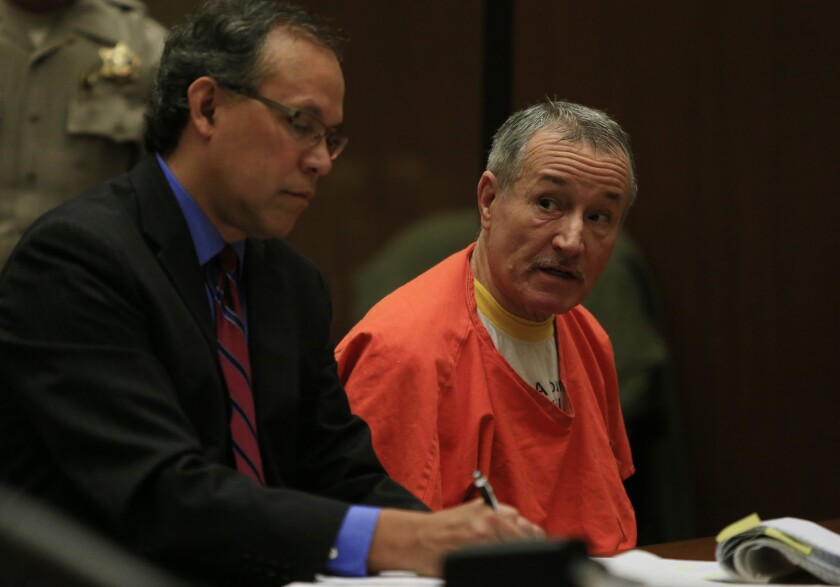 Former Miramonte teacher Mark Bendt was sentenced to 25 years in prison Friday after pleading no contest to 23 counts of lewd conduct with young students at his school.
Berndt was arrested in January 2012 after a South Bay drugstore photo technician alerted authorities to images of children blindfolded, some with tape over their mouths, on film Berndt left at the store for processing.
He received the 25-year prison sentence in exchange for the no contest plea. The parents of several of Berndt's victims were to speak before the judge Friday morning.
PHOTOS: Parent uproar over sex-abuse claims
"The last thing Mr. Berndt wants to see was those 23 children walk to that witness stand," his attorney, Manny Medrano, said in explaining the plea during Friday's hearing.
A teacher at Miramonte Elementary for three decades, Berndt was charged with 23 counts of lewd conduct involving allegations that he spoon-fed semen to blindfolded children as part of what he purportedly called a "tasting game." He also was accused of placing cockroaches on their faces.
The case was brought to a conclusion after all those involved agreed it was essential to avoid having children testify in court.
Using the more than 400 photos, authorities spent months tracking down Berndt's former students and conducted dozens of interviews. Ultimately, it was DNA from Berndt's saliva and a spoon and container with semen found inside a bin in his classroom that led prosecutors to bring charges.
When the L.A. Unified School District learned of the investigation, he was fired. But Berndt contested his dismissal and the district agreed to pay him $40,000 to drop his appeal.
The allegations stunned the unincorporated community of Florence-Firestone, one of the poorest in Los Angeles County, and led to a series of responses by Los Angeles Unified.
During the investigation, it came to light that there had been previous complaints against the longtime teacher.
A female student reported that Berndt had tried to fondle her in September 1993, but not enough evidence emerged to pursue charges at the time, authorities said. And two former students, now adults, also came forward, saying they had reported that Berndt appeared to touch himself inappropriately during class.
ALSO:
Buried bodies identified as members of missing McStay family
Homicide not ruled out in deaths of twins whose ventilators failed
WeHo Halloween burning death was accidental, sheriff's probe finds
stephen.caesar@latimes.com
richard.winton@latimes.com
---
The stories shaping California
Get up to speed with our Essential California newsletter, sent six days a week.
You may occasionally receive promotional content from the Los Angeles Times.