San Diego police shoot man who reportedly slit his own throat and then came at them with a knife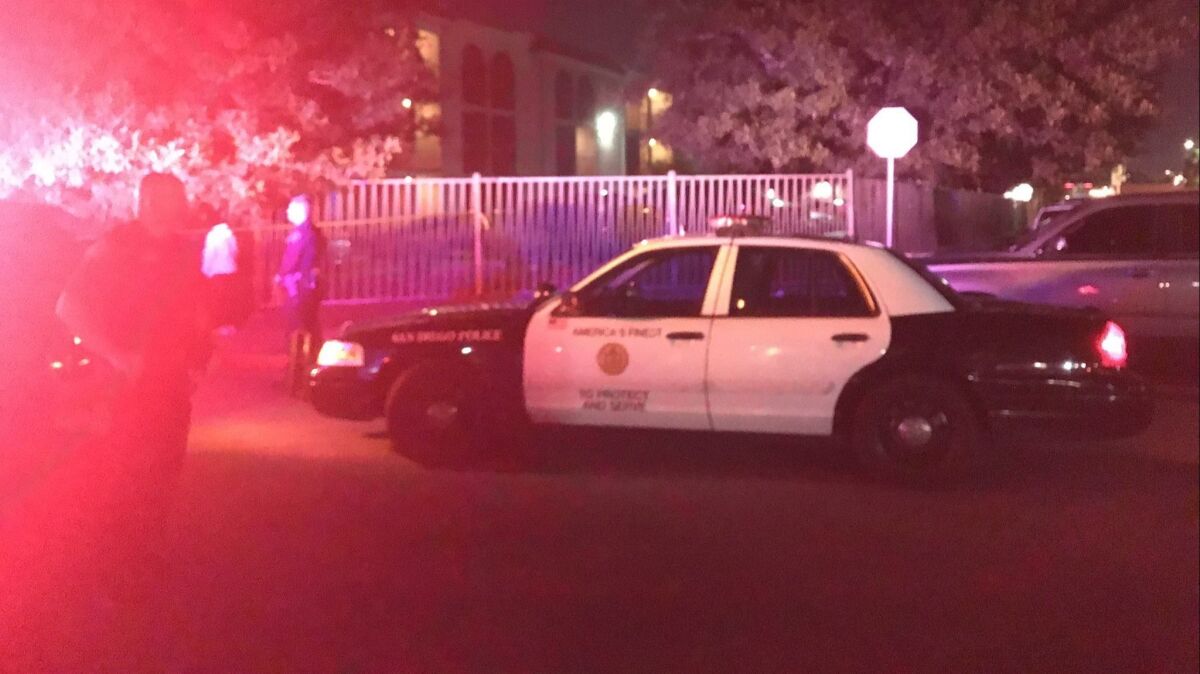 San Diego Union-Tribune
Reporting from SAN DIEGO —
A San Diego police officer shot and gravely wounded a 23-year-old man Thursday night inside a Midway District apartment, police said.
Before officers got to the apartment, the man's family reported that he'd slit his own throat and needed emergency medical help, according to police. When a family member let three officers inside and led them to a back bedroom, the man allegedly pulled a knife out of his jacket pocket and went toward them, police said.
One officer fired at him from close range, striking him at least once in the chest area, San Diego police Capt. Tom Underwood said. The man was taken to a hospital with life-threatening injuries. His name was not released.
The incident began shortly after 9:45 p.m. at an apartment on Cauby Street, just south of Midway Drive and west of Rosecrans Street.
A person believed to be the man's father told police dispatchers that his son had cut his throat with a knife and needed medical attention, and that family members had disarmed him, police said.
"[Three] officers arrived within a couple minutes [and] they were directed inside by a family member to the subject," Underwood told reporters at a news briefing early Friday. "The subject produced a knife from his pocket [and] advanced toward the officers."
One of the officers shot the man in the upper torso from two to three feet away, Underwood said.
"The suspect went down almost immediately, first aid was rendered, medics were on scene almost immediately, and the subject was transported to the hospital with at least one gunshot wound," Underwood said.
The captain said he was unable to confirm the family's initial report that the man had slit his own throat. It was unclear if he'd threatened his father or any other family members, Underwood said.
The officer who shot the man has been with the San Diego Police Department for six years, police said. The officer's name was not released.
San Diego Union-Tribune staff writer Pauline Repard contributed to this report.
Riggins writes for the Union-Tribune.
---
The stories shaping California
Get up to speed with our Essential California newsletter, sent six days a week.
You may occasionally receive promotional content from the Los Angeles Times.