When her third-grade classroom burned in the Camp fire, one Paradise teacher took students into her home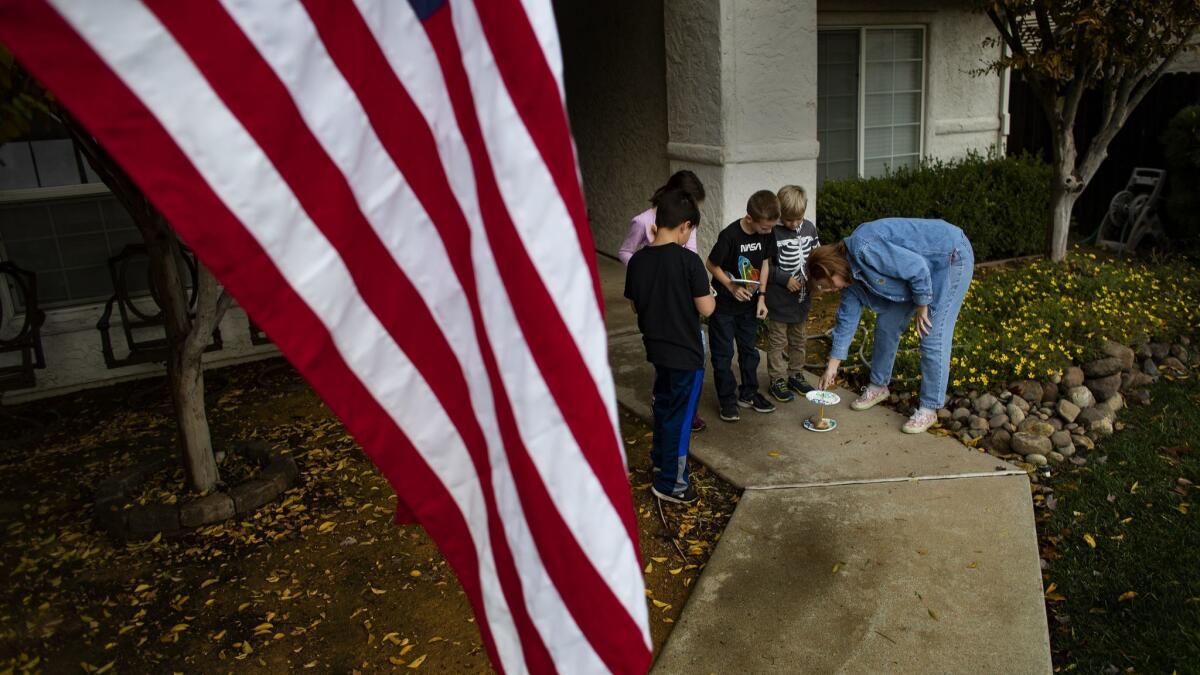 Sheri Eichar spent the summer decorating her third-grade classroom at Children's Community Charter School in Paradise, Calif., like a beach resort.
She painted the walls a sand-colored beige and decorated her bulletin boards to look like the ocean. The school didn't have a library, so she held a huge fundraising drive, ordered hundreds of books and set up beach chairs in the kids' new reading space.
It's all gone now. The kindergarten through fourth-grade wing of the school, like so much else in Paradise, was destroyed by the Camp fire on Nov. 8.
Of Eichar's 24 students, 20 lost their homes. Eichar, who lives in nearby Chico, wanted to be there for her students, so a few days after the fire changed everything, she invited them to her house and started holding classes.
"Everyone was really scattered and isolated, and I just thought those children need normalcy and the parents need an opportunity to go stand in a FEMA line," Eichar said. "Their lives are gone. The only thing I know how to do is teach. That's what I'm doing."
School started this week for some 5,000 students from Paradise, Magalia and Concow who were displaced by the fire, including Eichar's charter school, which will have classes in a Chico gymnasium until a more permanent space is found.
Administrators have rushed to set up makeshift classrooms for several rural school districts. Students are attending classes in borrowed spaces across Butte County, including in churches and storefronts in the Chico Mall. School officials have said they didn't know how many students would show up.
Of the six charter schools in the area, one was severely damaged and two were destroyed.
"Starting school after the fire was a top priority for our charter schools so that we could restore a sense of normalcy for our students during this challenging time.… While the road to rebuilding is long, we are grateful to have friends and partners to lean on," Casey Taylor, executive director of Achieve Charter School, said in a statement Monday.
On the day of the fire, Eichar was driving up from Chico when she saw smoke and called a colleague who told her the fire was six miles away in Concow, seemingly far enough removed to be of any concern in Paradise.
Eichar had picked up two students — a third-grader and a fifth-grader — on her way to work when another colleague called to tell her classes had been canceled. She told the two students they were going to quickly run by the north Paradise campus so she could get her computer to work on report cards and would just return to her house in Chico.
When they arrived on campus, they heard an explosion, probably a propane tank. Burning leaves and sticks started falling onto the lawn.
"Get in the car!" Eichar screamed at the kids. They made it out of Paradise before the whole town caught fire.
That was Thursday. The following Monday, she opened her three-bedroom home to her students, "who just walked through the door like it was the most natural thing in the world," Eichar said.
"They just lined right up on the couch and the La-Z-Boy and just put their hands in their lap and looked at me like, 'Let's go,'" she said.
They did math in the kitchen, and when she cooked meals for the kids, Eichar used it as an opportunity to teach fractions. They jogged around the block for recess. They read "Charlotte's Web" in the living room.
They even had a class pet: Eichar's 11-year-old black Lab, Shadow Bear, "who just thinks he's died and gone to heaven, having all these children pet him."
Eichar gave spelling tests over Facebook Live, and students' parents snapped photos of the tests and sent them to the teacher over Messenger. She was able to write notes like "Good job!" on the photographs.
"They love routines," Eichar said last week. "That's what kids need."
The children have been very matter-of-fact when they tell her what they've been through, she said. One boy said there were flames on both sides of his family's SUV that day, and when they got stuck in traffic, his dad drove them out of Paradise on the bike path.
"There have been a few tears, but mostly it's, 'Mrs. Eichar, my home is gone. There's only ashes there now,'" she said. "All you can do is hug them and tell them, 'I'm sorry your home is ashes, but I'm so glad you're safe.'"
Eichar has averaged about 15 students each day in her house. She said the kids enjoyed getting back together so soon after the fire.
"I think I'm the most grateful because being idle is when you go dark," she said. "What could be better than spending your day with 8-year-olds?"
Twitter: @haileybranson
Sign up for Essential California for news, features and recommendations from the L.A. Times and beyond in your inbox six days a week.
You may occasionally receive promotional content from the Los Angeles Times.