Former Pasadena police spokesman gets a year in prison for firearms violations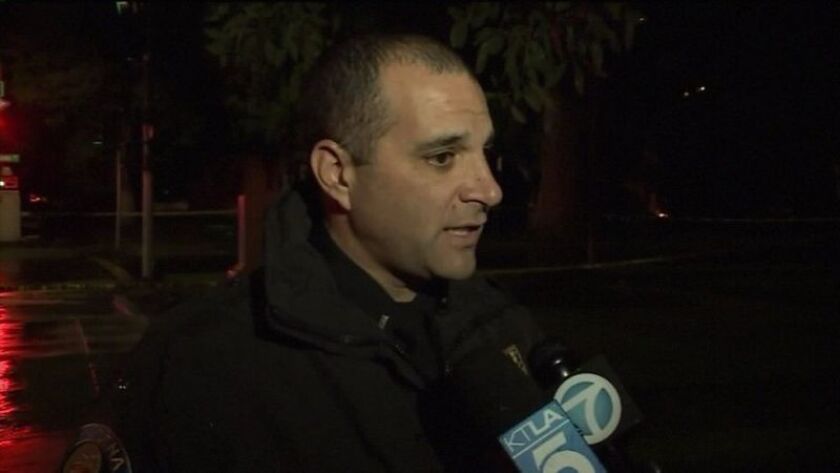 A former Pasadena police lieutenant was sentenced Monday to a year and a day in federal prison for illegally dealing more than 100 guns across Southern California and making false statements on government paperwork during a gun sale.
U.S. District Judge Stephen V. Wilson also ordered Vasken Gourdikian, who once served as the police agency's spokesman, to pay a $10,000 fine, according to the U.S. attorney's office.
Wilson didn't believe that Gourdikian's claims of being "a hobbyist who got out of control" were credible, saying that the transactions were a way for him to make money, the U.S. attorney's office said.
"Mr. Gourdikian's side business of selling off-roster firearms violated federal law and endangered the public," U.S. Atty. Nick Hanna said in a statement. "Police officers are permitted to purchase off-roster weapons for their own use and protection, but the law was not designed to give officers a lucrative second career as unlicensed firearms dealers flooding our communities with weapons not available to the general public."
Gourdikian pleaded guilty in September to one felony count each of engaging in the business of dealing in firearms without a license and making a false statement during the purchase of a firearm.
Mark Werksman, an attorney representing Gourdikian, said the crimes amounted to mere regulatory violations.
"He could've had a license, by paying a $30 fee, but didn't get one because he didn't think he needed it," Werksman said. "Each transaction involving the sale of a firearm was done lawfully and through a federal firearms licensee, and to a person who was qualified to buy a firearm.… But the gun laws are serious and have serious consequences."
Dozens of people, including former Pasadena police colleagues, wrote letters to the judge supporting Gourdikian. Prosecutors had requested a 30-month sentence, while Gourdikian's defense attorneys had asked for no prison time.
In his plea agreement, Gourdikian, 49, admitted to selling at least 108 firearms without a license from March 2014 to February 2017. Several of those firearms were "off roster" handguns — firearms that sworn police officers are eligible to purchase but are otherwise not directly available to the public from licensed dealers.
Gourdikian also admitted to submitting erroneous information when buying a Smith & Wesson pistol at a Brea gun shop in 2014, according to the plea agreement. Gourdikian claimed that he was the buyer when, in fact, he was purchasing it for an unnamed person who retrieved the gun in Ontario, according to court documents.
He advertised his weapons and arranged purchases through Calguns.net, an online forum for gun enthusiasts, according to court papers.
Prosecutors said Gourdikian, who joined the Pasadena police force in 1994, leveraged his position as an officer in his dealings. As a cop, he was allowed to purchase more than one handgun in a 30-day period, and he secured special waivers from Pasadena's police chief that allowed him to bypass the state's mandatory 10-day waiting period that civilians must obey.
alene.tchekmedyian@latimes.com
Twitter: @AleneTchek
---
The stories shaping California
Get up to speed with our Essential California newsletter, sent six days a week.
You may occasionally receive promotional content from the Los Angeles Times.