Nearly three dozen illegal weapons found in home of LAPD officer accused of unlawful sex with teen cadet, sources say
Dozens of firearms found in the home of a Los Angeles police officer accused of having sex with a teenage cadet are illegal to own in California, three law enforcement sources said Monday.
Investigators seized more than 100 firearms, including "assault rifles" and inert grenades, when they searched Officer Robert Cain's Rancho Cucamonga home last week, hours after he was arrested in connection with the sex crime, sources with knowledge of the investigation have said.
On Monday, three sources confirmed that at least 35 of the weapons had been illegally modified and are not legal to own under California law. There is no indication that Cain was selling the weapons, according to two of the sources.
The sources spoke on the condition of anonymity because they were not authorized to discuss the case.
Cain, 31, was arrested on suspicion of having sex with a 15-year-old cadet last week, according to jail records. He remains free on $75,000 bail and is assigned to his home, according to the Los Angeles Police Department.
Beck has said detectives are attempting to determine if there are other victims. On Monday, two sources told The Times investigators found text messages on Cain's phone that allegedly suggested he engaged in sex with another minor before the current accusations came to light. One of those sources said the alleged incident would probably have occurred years ago.
Investigators do not have evidence of any additional victims, but Cain himself allegedly made the suggestion in a text message sent to the cadet he is accused of having sex with, the sources said.
Detectives also found sexually explicit messages between Cain and the cadet, according to one of the sources. The source also said Cain and the 15-year-old are suspected of having sex in his personal vehicle.
Officer Tony Im, an LAPD spokesman, said he could not comment on the number of illegal weapons found or the text messages allegedly sent by Cain.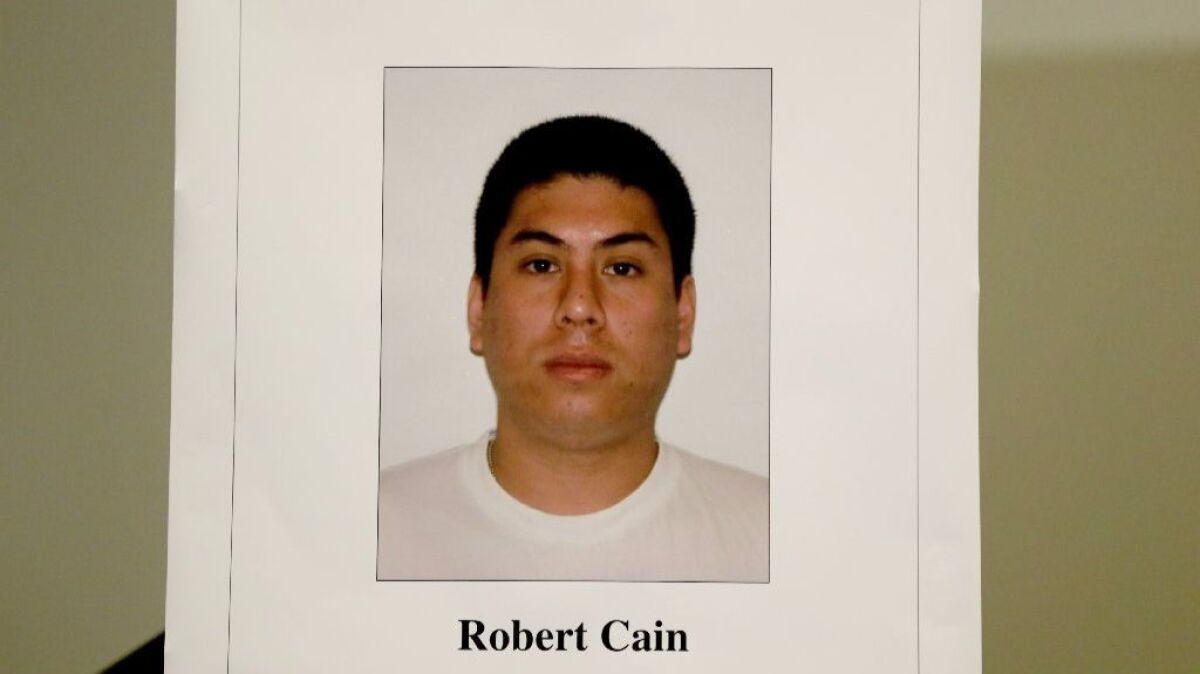 The accusations against Cain surfaced as part of a larger investigation into the thefts of police cruisers, stun guns, police radios and other equipment that were allegedly carried out by a ring of cadets assigned to the LAPD's 77th Street and Pacific divisions.
Seven cadets have been arrested in connection with the thefts. Police Chief Charlie Beck said last week that the alleged victim in Cain's case was one of the cadets accused of taking part in the thefts.
Charges have yet to be filed against Cain or the cadets, according to a spokesman for the Los Angeles County District Attorney's Office.
Im said he did not know if the department had presented cases to the district attorney's office regarding the sex crime allegations or the thefts of LAPD property.
The cadet program has been suspended at Pacific and 77th Street divisions, and Beck has ordered a "top-to-bottom" review of the department's signature youth initiative. City Councilman Mitchell Englander has called for a separate investigation into all LAPD youth programs.
Matt Johnson, president of the Los Angeles Police Commission, also said he will direct the civilian board's inspector general to review the cadet program, including its oversight, and the mechanisms the LAPD uses to secure and track its equipment.
The investigation into the cadet scandal is ongoing, but Beck has said he does not believe any other officers committed criminal behavior.
It remains unclear if Cain has an attorney. No one answered the door at his home on Friday.
A 10-year veteran of the LAPD, Cain was assigned to the equipment room at 77th Street Division. Beck has said Cain probably knew of, and may have even helped facilitate, the thefts of LAPD cruisers and equipment.
Los Angeles Times Staff Writer Kate Mather contributed to this report.
Follow @LACrimes & @JamesQueallyLAT for crime and police news in California.
---
Life is stressful. Our weekly mental wellness newsletter can help.
You may occasionally receive promotional content from the Los Angeles Times.