Ex-L.A. County sheriff's deputy at center of jail scandal is given six months in prison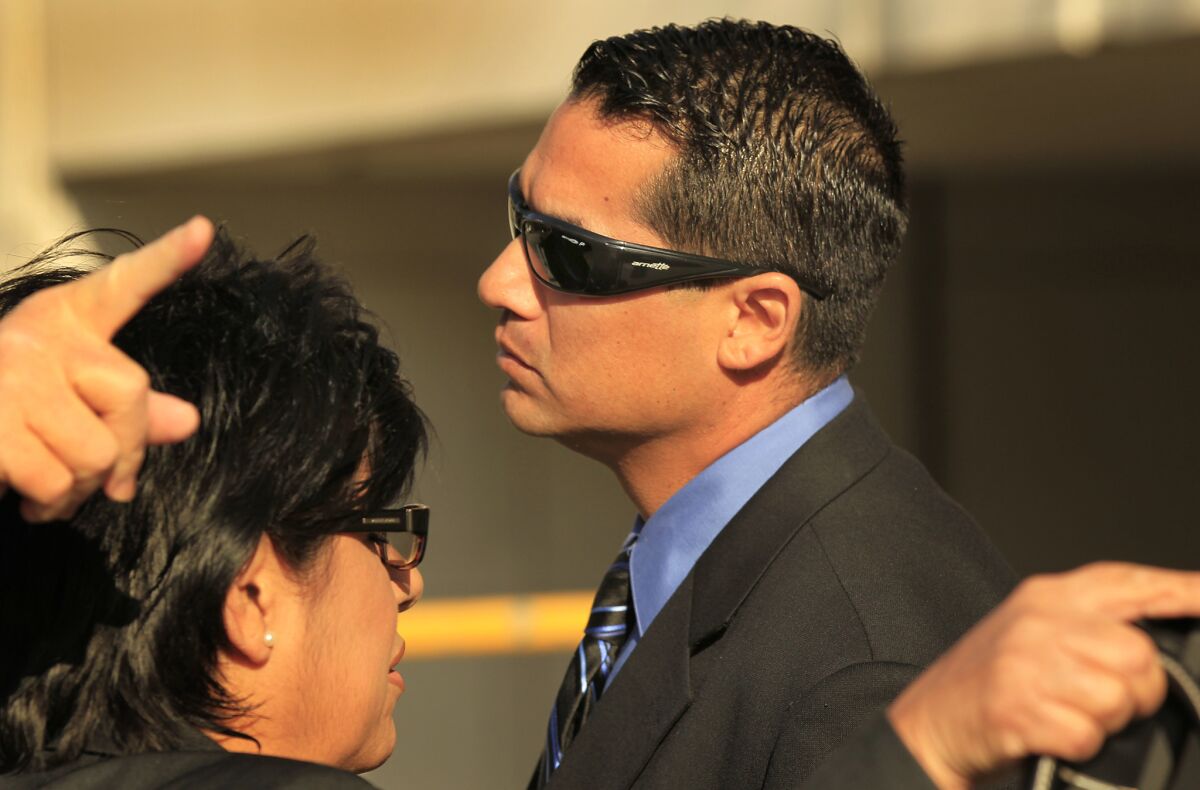 A former Los Angeles County sheriff's deputy at the center of the jail scandal that rocked the department and led to the conviction of 21 agency officials, including the former sheriff, was sentenced Monday to six months in federal prison.
Gilbert Michel was the first to be charged in the wide-ranging FBI investigation into misconduct and corruption in the jails after he was caught in a sting operation smuggling a cellphone to an inmate in return for a $1,500 bribe.
In sending Michel to prison, U.S. District Judge Percy Anderson rejected a request from prosecutors that he spare Michel time behind bars. The request for leniency stemmed from a plea agreement prosecutors struck with Michel, in which he pleaded guilty to the bribery charge and agreed to testify against other sheriff's officials in subsequent trials.
See more of our top stories on Facebook »
Anderson did go more lightly than he could have, setting aside sentencing guidelines that called for Michel to be sent away for 24 to 30 months. But the government's recommendation that Michel be given just four months of home detention was not amenable to the judge, who has handled many of the cases stemming from the FBI investigation and come down harshly on other sheriff's officials who were convicted.
After Michel offered a tearful apology for taking the bribe — a crime that he said he "will forever regret" — Anderson said the misconduct had been "a gross abuse of the public's trust."
"The defendant's actions were symptomatic of a department where abuse of inmates was rampant, unchecked and corruption went all the way to the top," Anderson added.
The August 2011 discovery of the cellphone by sheriff's officials exposed the FBI's secret investigation and disrupted the bureau's plans to carry out a more ambitious plan — Operation Blue Line — targeting corruption inside the Sheriff's Department.
The discovery, prosecutors later alleged, also set into motion a conspiracy to frustrate the FBI probe. As a result, several sheriff's officials were convicted of obstruction of justice or other charges, including former Sheriff Lee Baca, who recently pleaded guilty to lying to federal authorities and awaits sentencing.
In January 2012, Michel pleaded guilty to bribery as part of the deal with prosecutors in which he was required to cooperate with federal investigators. In a series of interviews with the FBI from late 2011 to early 2013, he described incidents of unprovoked assaults by deputies against inmates, including some that he was personally involved in, according to FBI internal documents reviewed by The Times.
Interested in the stories shaping California? Sign up for the free Essential California newsletter »
Some of the assaults punished inmates accused of rape or other violent crimes against women, Michel said. Other times, deputies would squeeze an inmate's fingers until he flinched, then claim the inmate had started the altercation. Often, the incidents would not be reported or deputies would falsify reports, Michel told investigators.
Michel said he was among the deputies who felt he had to be "one notch" more aggressive than the inmates. If a deputy treated inmates well, other deputies called him or her "Deputy Love," Michel told agents.
Michel, who resigned from the Sheriff's Department soon after the cellphone was found, was not charged with crimes relating to his admitted uses of excessive force.
Outside court on Monday, he told reporters that the six-month sentence was "totally fair and justified," and that he wanted to apologize to the county's taxpayers for what he had done.
"I made the wrong choices, so I'm truly sorry," he said.
Michel decried the culture of the Sheriff's Department and what he called the arrogance of jail deputies, which he said led to the abuse.
"We thought that we ran the jail," he said. "It was our jail. It wasn't anyone else's jail. And we controlled the jail. It's a little arrogant to think that you own that. You don't. The people of Los Angeles County own that jail."
Federal prosecutors used Michel as a witness in some of the criminal cases that arose from the jails investigation.
In 2014, testifying in one of the obstruction of justice trials, the disgraced former deputy described a culture among jailers guarding the high-security floors of the county's detention facilities that led to excessive force and frequent coverups. He matter-of-factly recounted incidents in which he said he and at least five other sheriff's employees brutalized inmates on the third, or "3,000," floor of Men's Central Jail, then falsified reports to legitimize their actions.
Michel described beating inmates unprovoked, slapping them, shooting them with a Taser gun and aggressively searching them to pick a fight — something he learned "on the job."
He said he would huddle with other jail guards to get their stories straight and write up reports with bogus scenarios justifying the brutality. If the inmate had no visible injuries, he wouldn't report the use of force, he said.
He did all this with impunity, knowing that even if inmates reported the abuse it "wouldn't go anywhere," he testified. If they were to put it in writing and drop it in a complaint box, it was his fellow deputies who opened that box too, he said.
After Michel accepted a bribe from the undercover FBI agent to smuggle the cellphone into jail, federal agents had planned to use the deputy as a key player in a wider undercover operation. Called Operation Blue Line, the plan was to rent a warehouse, spread the word that it was full of narcotics and hire corrupt deputies from the jails to moonlight as guards. Included in the budget was $10,000 for bribes and kickbacks, according to an internal FBI memo reviewed by The Times.
Investigators hoped that Michel would recruit his coworkers to guard the warehouse if he were enticed with additional bribes, the memo said. The deputies lured into the purported drug enterprise would then be used to get information about abuses in the jails.
Two days after it was greenlighted by headquarters in Washington, Blue Line came to an abrupt halt. Sheriff's officials had found the cellphone and traced the phone back to the FBI.
ALSO
Some Stanford graduates protest during Sunday's commencement ceremony
Orange County religious and community leaders decry Orlando violence, urge unity
Man found with weapons before L.A. pride parade has history of gun charges, records show
Times staff writers Cindy Chang and Victoria Kim contributed to this report.
For more federal court news in Los Angeles, follow me on Twitter: @joelrubin
---
UPDATES:
6:09 p.m.: This story was updated with additional quotes from Gilbert Michel and details about Operation Blue Line.
This story was originally published at 10:34 a.m.
---
The stories shaping California
Get up to speed with our Essential California newsletter, sent six days a week.
You may occasionally receive promotional content from the Los Angeles Times.