Windstorm downs trees, power lines, will continue through Wednesday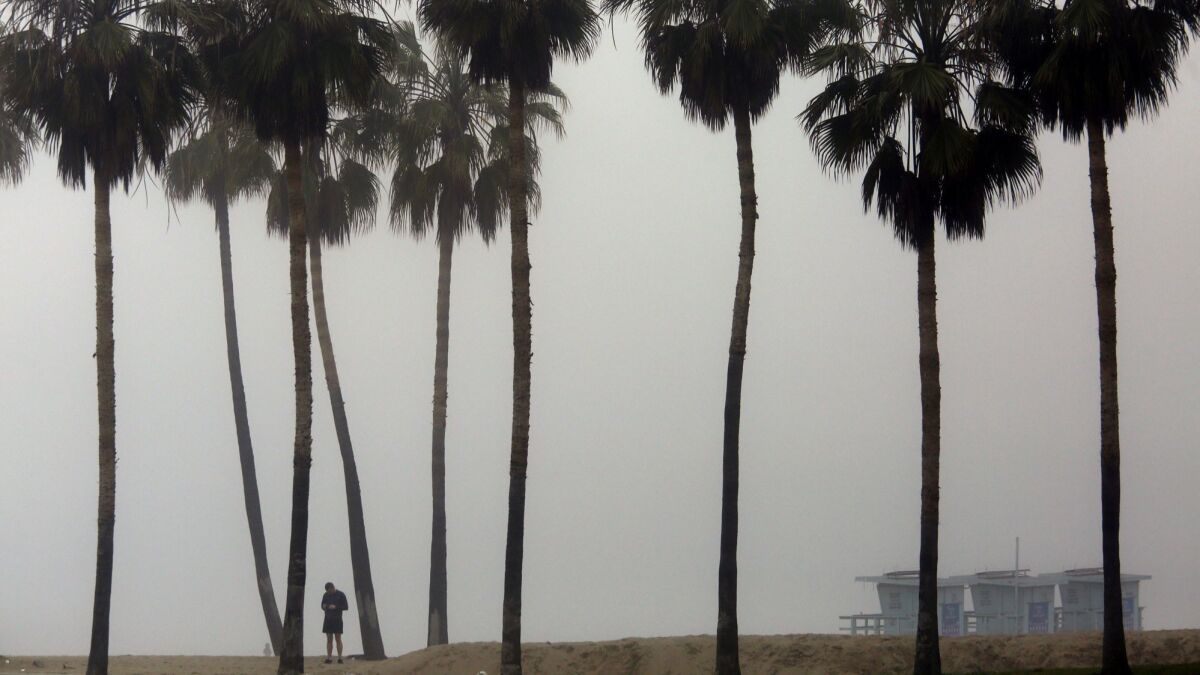 A windstorm that buffeted Southern California on Monday, causing minor damage, was expected to continue at least another day, creating the potential for downed branches, trees and power lines.
The National Weather Service issued wind advisories across Los Angeles County that will stay in effect until noon Wednesday in most areas.
The wind is expected to reach its peak Monday night along the Interstate 5 corridor, with speeds of 25 to 40 mph, gusting to 60 mph in wind-prone areas, said National Weather Service meteorologist Kathy Hoxsie.
The San Fernando and Santa Clarita valleys can expect winds of 20 to 35 mph, gusting to 55.
The Los Angeles coastal areas from Malibu to Long Beach, and Downtown L.A. will have winds of 15 to 30 mph with gusts of 45 mph, Hoxie said.
Advisories will be in effect in those areas until noon Wednesday.
Meanwhile, a cold front that moved into the San Gabriel Mountains Sunday night plunged snow levels to as low as 3,500 feet near the Grapevine, with 55 mph gusts.
Winds were expected to subside sooner in the San Gabriel Valley, where the advisory is set to expire at noon Tuesday, and the Antelope Valley, where the advisory was scheduled to end at 9 p.m. Monday.
The wind conditions will make driving difficult, especially for trucks, Hoxie said.
"In the canyons you can be driving along and the wind is not bad, but when you reach where the canyon empties, you get a much stronger gust," Hoxsie said.
Residents should also secure umbrellas and canopies in their yards.
"Anything that can get blown around is certainly a hazard," she said.
On Monday, trees came tumbling down amid the high winds in areas including Inglewood and La Mirada, City News Service reported. A tree fell onto a home in Los Feliz and brought power lines down, but no injuries were reported.
The Los Angeles Department of Water and Power responded to three power outages Monday, spokeswoman Mia Rose Wong said. Power was restored Monday night after an outage in the Valley Glen-Van Nuys area. Smaller outages in the Hollywood Hills and Brentwood were still being worked on, Wong said.
Along the L.A County coast, a beach-hazards statement, warning of high tides and surf and rip currents, will be in force through Tuesday morning. Surf of 3 - 6 feet could cause minor flooding in some areas, Hoxie said.
---
The stories shaping California
Get up to speed with our Essential California newsletter, sent six days a week.
You may occasionally receive promotional content from the Los Angeles Times.