Solana Beach dives deeper into single-use plastics ban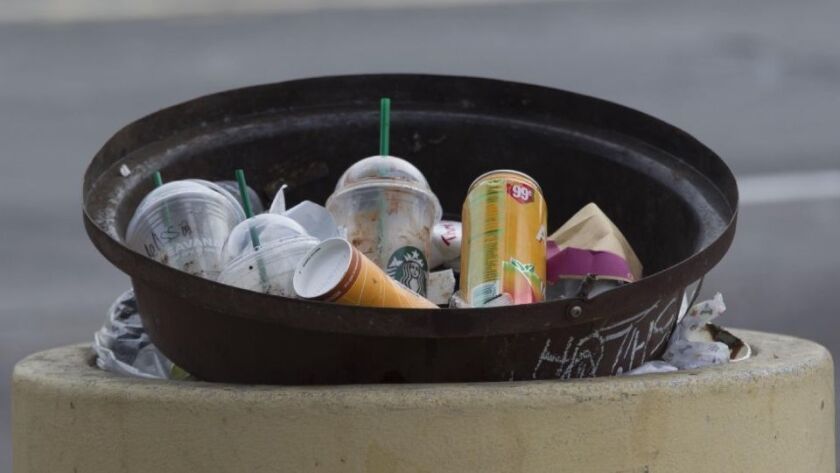 Reporting from San Diego —
Solana Beach, one of the first cities in the state to ban single-use plastic bags and polystyrene food containers, has some new targets.
Disposable plastic straws, stirrers, spoons, forks and knives would be prohibited at restaurants, coffee shops and other vendors under a proposal by the City Council.
Single-use plastic beverage bottles such as the ubiquitous 16-ounce clear polyethylene water container would also be off-limits at all city events and on city properties where fountains and other hydration sources are available.
"The city has long been the leader in environmental stewardship," Assistant City Manager Dan King said in a presentation to the council.
The proposal from the city's Climate Action Commission, which was formed in 2015, would take that stewardship to a higher level.
Research shows only about 9% of the world's plastic is recycled, commission member Mary Yang told the council. About 12% is incinerated, and the rest accumulates in landfills and elsewhere in the environment. Islands of plastic trash float in the oceans.
Plastic is not biodegradable. It eventually breaks into small particles known as microplastics that work their way into the food chain.
The production of plastic bottles also consumes large amounts of energy and oil, creating greenhouse gases and other negative environmental effects.
An increasing variety of low-cost alternatives made of wood and other biodegradable materials are available in stores and online.
Plastic use is "a worldwide problem," said James Wang, a member of the Encinitas Environmental Commission.
"By setting a precedent, you are doing the right thing and letting other cities know what is the right thing to do," Wang said, adding that he hopes Encinitas will follow suit.
Solana Beach is a leader in a state known as the front-runner in environmental responsibility.
Assembly Bill 1884, which Gov. Jerry Brown signed into law in September and goes in effect in 2019, prohibits restaurants from providing customers with single-use plastic straws except upon request. Another bill introduced this year, Senate Bill 1335, prohibits nonrecyclable and noncompostable takeout food packaging at state parks, beaches, colleges and fairgrounds.
Solana Beach council members agreed to take the restrictions further. An update and draft ordinance prepared by the city staff could be ready for consideration early next year.
"We do have to be part of the solution," Councilwoman Lesa Heebner said. "It's really scary what's happening to this planet."
Residents and businesses such as grocery stores need to be part of the process, she said, so that they are fully informed of any changes.
"Outreach is important," said Councilman Peter Zahn, a commission member.
Solana Beach was the first city in San Diego County to ban single-use plastic bags in 2012. It was first to ban polystyrene takeout food containers in 2015.
This year, it also became the first city in the county to adopt a community choice energy program, which allows residents to purchase a higher percentage of their electricity from renewable sources.
philip.diehl@sduniontribune.com
Diehl writes for the San Diego Union-Tribune.
---
The stories shaping California
Get up to speed with our Essential California newsletter, sent six days a week.
You may occasionally receive promotional content from the Los Angeles Times.