Battery, bits of wire tie Long Beach man to O.C. blast that killed ex-girlfriend, FBI says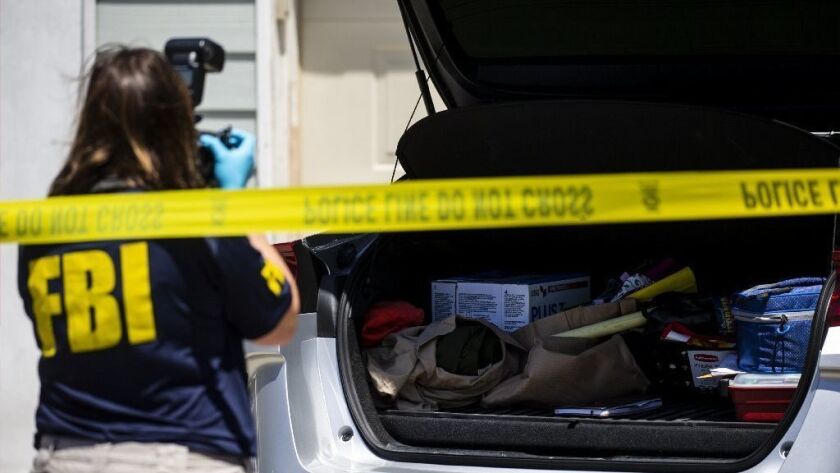 The recovery of a destroyed battery and bits of wire led federal investigators to charge a 59-year-old Long Beach man in a deadly bombing that claimed the life of his ex-girlfriend last year, authorities said Monday.
Stephen Beal, 59, was charged late last week with making a device that exploded inside the Magyar Kozmetika spa in Aliso Viejo in May, killing 48-year-old Ildiko Krajnyak and injuring two others, authorities said during a news conference Monday.
Beal was arrested without incident by FBI agents late Sunday morning. He and Krajnyak had dated for about two years, but their relationship collapsed months before the deadly explosion.
The two had opened the spa together during their relationship and decided to remain business partners despite the end of their romantic pairing. Beal was still paying monthly rent on the property where the spa operated at the time of the bombing, records show.
The surviving victims told investigators they saw Krajnyak opening a cardboard box shortly before the explosion, according to an affidavit charging Beal with one count of malicious destruction of a building causing death.
"This was a horrific intentional attack that killed an innocent woman and severely injured two others who will live with the physical and emotional scars for the rest of their lives," U.S. Atty. Nick Hanna said in a statement. "We will do everything we can to obtain justice for these victims and hold the perpetrator accountable."
Beal had been a person of interest since the outset of the investigation. A search of his home and vehicle in May turned up two complete improvised explosive devices, two cardboard tubes, batteries, a nine-volt battery connector, 130 pounds of explosives and precursors, two handguns and a shotgun. He was charged with one count of possessing an unregistered destructive device at the time, but the charge was ultimately dropped. At the time, he told investigators that he built model rockets, court records show.
Authorities said Monday that they recovered parts of the explosive device, including a destroyed battery and pieces of wire. A forensic analysis showed there were "no meaningful differences" between those bits of wire and wiring found in a homemade explosive device recovered at Beal's home. In the days before the explosion, Beal also purchased a battery and several cardboard boxes consistent with those used in creating and shipping the device that exploded at the spa, authorities said.
Hanna, who described the device as a "very powerful bomb," also said investigators linked traces of chemicals found in Beal's car to the explosion. Residue found in the car was consistent with chemical compounds that would have been found "if Beal's vehicle was used to transport" an explosive device, according to the affidavit.
Krajnyak and Beal broke off their relationship in early 2018. During a trip to Portugal, she told Beal that she was in a relationship with another man, and Beal later told investigators he was left feeling "hurt and betrayed," according to the affidavit.
Beal spoke with investigators at least three times in the wake of the blast, once driving to an Orange County Sheriff's Department building without being prompted, the affidavit said.
Several of Krajnyak's friends also told investigators that she had been threatened by her boyfriend, whom they described as "jealous, controlling and possessive." None of them named Beal, but identified him in a picture, authorities said.
Beal is expected to appear in federal court in Santa Ana on Monday afternoon. It was not immediately clear who was acting as his defense attorney.
Beal's wife, Christine, died in 2008. The Los Angeles County coroner's office listed the manner of her death as "undetermined" but pointed to pancreatitis, electrolyte imbalance and chronic lead intoxication as factors. She was 48.
Court records show Beal filed a claim to obtain a $21,225 payout from his wife's life insurance policy, which was denied at least once. It's unclear whether Beal's claim was ever processed, though court records show he declared bankruptcy in 2009.
After the Aliso Viejo explosion, the Long Beach Police Department reviewed Christine Beal's death. On Monday, department spokeswoman Arantxa Chavarria said detectives "could not find any evidence of foul play."
Times staff writer Richard Winton contributed to this report.
Follow @JamesQueallyLAT for crime and police news in California.
---
The stories shaping California
Get up to speed with our Essential California newsletter, sent six days a week.
You may occasionally receive promotional content from the Los Angeles Times.