V. Stiviano granted exemption to care for foster children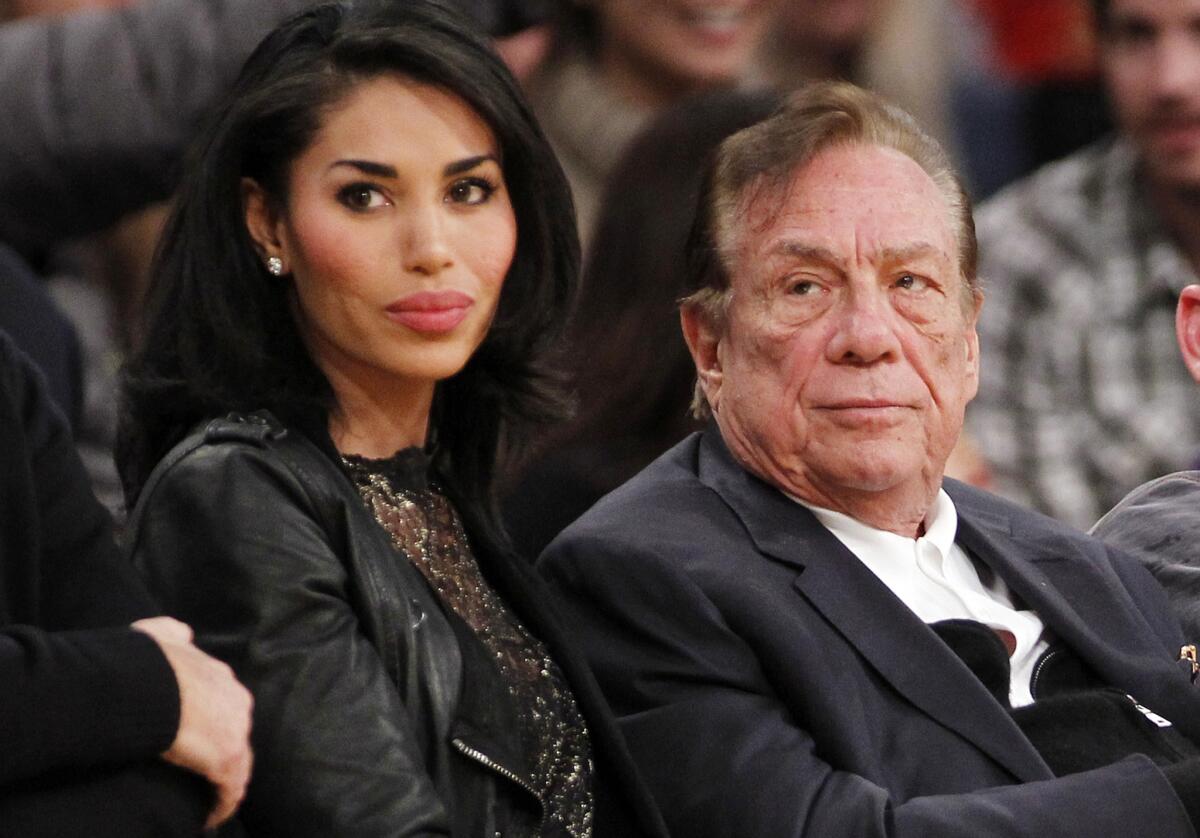 New details emerged Wednesday about the life of V. Stiviano, the woman behind the recordings of Donald Sterling making racially charged remarks that have landed him in a firestorm, with her attorney offering more information about the children she is hoping to foster and downplaying her criminal record.
The two boys Stiviano is trying to adopt through the county's Department of Family and Children Services — 12 and 13 in age — are special-needs children who are "distant" relatives, attorney Mac Nehoray said.
Stiviano's attempts at adoption come amid revelations about criminal convictions in her past, sometimes under aliases. She was charged with driving under the influence in 2012 and eventually entered a no contest plea to reckless driving, for which she was sentenced to probation and community service, according to court records. She also has been arrested twice on suspicion of petty theft, in 2002 and 2004, both under the name Monica Gallegos. She pleaded no contest and was sentenced to probation, and was ordered to stay away from the sites of her arrest -- a mid-Wilshire Ross Dress for Less store and an Old Navy on Santa Monica's third street promenade.
Nehoray noted the two petty theft convictions were expunged from her record after she completed probation. He said the cases were "things that happened a decade ago," he said. "She was only 19, 20."
The attorney said the DUI charge was erroneous because his client had been speeding, but not under the influence. He confirmed she was also arrested on a separate occasion for drug possession, but said that charges were dropped because it resulted from a misunderstanding.
"They thought she had drugs when they searched her purse and then when they had the pills tested, it turned out to be vitamins," he said.
An official who has reviewed child welfare records said Stiviano was granted an official exemption on April 21 from state rules that would otherwise bar people with certain criminal convictions from caring for foster children. She has been involved with the boys for a number of years, and monitors believe they have a healthy relationship, said the official, who declined to be named because child welfare matters are confidential.
If Stiviano cooperates with the remainder of the approval process, the children could be placed with her in about three weeks, the official said.
Leslie Starr Heimov, who leads the Children's Law Center, the court appointed law firm for foster children in Los Angeles County, said the California Department of Social Services routinely issues such exemptions for minor crimes such as petty theft, especially when they occurred in the distant past.
A conviction for reckless driving would typically undergo more scrutiny, she said, including a review of the police report. They might also put conditions on someone with a reckless driving conviction, telling them they can't drive with the children in the car, she said.
"If we think they can be a safe and loving caregiver, we might put restrictions on the driving and approve the person," she said.
A social worker with the Department of Children and Family Services signed off on Stiviano as the boys' temporary guardian after visiting the three-bedroom, $1.8-million home Sterling bought for her last year, in the hours before Stiviano went on camera to talk to ABC's Barbara Walters, according to her attorney.
Sterling was aware of, and supported, Stiviano's relationship with the boys, Nehoray said.
Sign up for Essential California for news, features and recommendations from the L.A. Times and beyond in your inbox six days a week.
You may occasionally receive promotional content from the Los Angeles Times.