Man in prison for 16 years in 'teardrop rapist' case has conviction tossed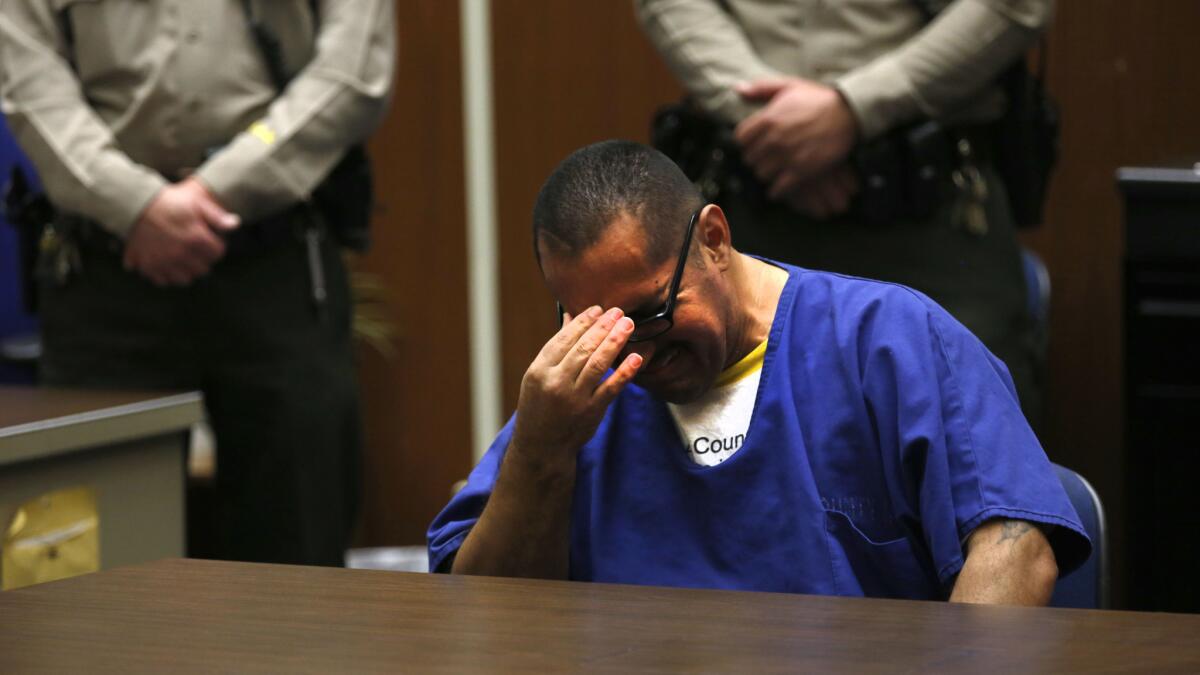 Moments before he was sentenced to life in prison for three sexual assaults, Luis Lorenzo Vargas proclaimed his innocence.
"You can sentence me to all the years you want," he warned a judge in 1999, "but as far as I'm concerned ... that individual that really did these crimes might really be raping someone out there."
Sixteen years later, his words now haunt L.A.'s criminal justice system.
Interested in the stories shaping California? Sign up for the free Essential California newsletter >>
On Monday, a Los Angeles County judge threw out Vargas' conviction after DNA evidence exonerated him in at least one of the attacks and instead implicated the notorious "teardrop rapist," an unidentified assailant linked to more than three dozen sexual assaults spanning nearly two decades.
Los Angeles County prosecutors wrote the judge a letter this month saying the office "no longer has confidence in the convictions," noting that the prosecution argued at trial that there were so many similarities among the three crimes that they had to have been committed by the same person.
Vargas, 46, walked slowly into a downtown courtroom Monday afternoon and peeked into the audience at his mother and his daughter. After the judge announced his exoneration a few minutes later, tears filled Vargas' eyes and he wiped them against the shoulder of his blue jail scrubs. He looked at his crying mother and mouthed "I love you."
"I still feel a lot of anger," Vargas' mother, Blanca Alatorre, said in Spanish outside the courtroom. "This can't happen to other people. It just can't. It's injustice."
Vargas' case again highlights the importance of DNA evidence in reversing miscarriages of justice as well as the questionable reliability of eyewitness identification. It also added a new wrinkle to a hunt that has long dogged Los Angeles law enforcement.
Many of the victims linked to the teardrop rapist were attacked within about three miles of the sexual assaults Vargas was convicted of committing, his lawyers said.
The attacks followed a similar pattern to others connected to the unidentified rapist: After a few words, the man wields a knife or gun and threatens to kill the victim. He pulls his victims into an alley or secluded area, where he assaults them before vanishing. He typically strikes between 5 and 8 a.m.
The teardrop rapist has been tied to at least 39 sexual assaults in the Los Angeles area since 1995, said Los Angeles Police Capt. William Hayes. The tally was recently revised to include the attack that produced DNA that ultimately cleared Vargas. Although the unidentified assailant's last attack was in the spring of 2013, Hayes said he believes the man is still alive, noting that he's had periods of inaction in the past.
"Is he dormant or has he changed his methods and become more careful about forensics?" Hayes said. "We don't know."
Investigators aren't certain the man has a teardrop tattoo — it may be a scar or a mole near his eye, Hayes said — and authorities are now referring to the man more broadly as "the attacker."
Detectives posted a plea on Facebook earlier in the year asking the community for help finding him.
"The attacker is still out there," the post reads. "We have no fresh leads."
Back in 1998, LAPD investigators noticed the similarities between a cluster of three separate sexual assaults in South L.A. over the course of several months. Each took place around 6 a.m.
In February 1998, a 17-year-old told her teacher that she'd been attacked while walking to a bus stop in the city's South-Central neighborhood. A man asked her for help catching the bus, she told a police officer, then pulled her into a nearby driveway, held a knife to her body and sexually assaulted her.
Three months later, a 24-year-old woman reported that a man approached her while she was waiting to catch the bus to work in the Vermont-Slauson area. He held a knife at her waist and told her to unzip her pants. She told him people were watching and the man ran away, the woman reported, saying her attacker threatened to kill her if she told anybody.
She described the assailant as a Latino man with two teardrops tattooed near his left eye. A few days later, a third victim — a 15-year-old girl who was raped in the parking lot of an apartment building in Florence — described the same tattoo.
LAPD investigators focused on Vargas, who lived in the neighborhood and resembled a composite sketch drawn from victim descriptions, Hayes said. Vargas has the faded outline of a teardrop inked under his left eye — he got the tattoo at age 13 in an effort "to fit in" with some boys in his neighborhood, said one of his attorneys, Raquel Cohen.
There was another reason to draw investigators to Vargas: He had a 1992 rape conviction. His attorneys said the charge was brought after he arrived home drunk one evening and raped his girlfriend. A district attorney's spokeswoman said Vargas pleaded no contest and was sentenced to three years in prison.
In 1999, Vargas went on trial for the series of sexual assaults. The three victims identified him as the man who attacked them.
Vargas insisted he was innocent. Several co-workers testified that Vargas had been miles away at work when the attacks occurred. Around the time of the first offense, Vargas worked at a bagel shop in Beverly Hills. Later in the year, he moved to a different shop in Hollywood. The shops, however, didn't keep track of employees' hours, prosecutors said, and Vargas couldn't provide paperwork at trial documenting his schedule.
Jurors convicted him, and he was sentenced to 55 years to life in prison.
As the attacks by the teardrop rapist continued, Vargas fought for his release from behind bars. He filed appeal after appeal and unsuccessfully petitioned the state Supreme Court to look at his case. In December 2012, aided by the California Innocence Project, he filed a request to examine DNA collected from the jean shorts and underwear of one of the victims he was convicted of attacking, according to court documents.
The tests found genetic material from at least two people, including the victim and the teardrop rapist, Vargas' lawyers said.
In the recent letter to the court, the district attorney's office said the sophisticated technology used to exclude Vargas' DNA did not exist back in the late-1990s.
The office said the victims who positively identified him at trial hadn't been as certain of their identifications during earlier lineups. And prosecutors also noted a discrepancy in the victims' descriptions: Two victims said their attacker had two teardrops tattooed near his left eye. Vargas has only one.
The girl who was raped, now a woman, stood by her identification of Vargas when she was recently interviewed by investigators. Prosecutors said they believe she "honestly but mistakenly identified Vargas at trial as her assailant."
A D.A. spokeswoman said the office did a "very careful, extensive review, because there was only DNA from one victim," before deciding to approve of Vargas' release.
At the hearing Monday, Superior Court Judge William C. Ryan ordered Vargas' immediate release but noted that he first would be transferred to federal custody. There is an immigration hold on him, Vargas' attorneys said, because their client, who was born in Mexico, was a legal resident at the time of his arrest. They said they were hopeful he would be released soon.
Vargas' 26-year-old daughter, Crystal Nuñez-Vargas, said she felt a weight lift from her shoulders inside the courtroom Monday.
She told reporters after the hearing that her father's imprisonment had wrecked her life. She often cried herself to sleep and felt as if she'd been robbed of the sense of protection and security that might come with a father. She dreaded birthdays and cried before her quinceañera, knowing he wouldn't be there for a father-daughter dance.
She got married recently, Nuñez-Vargas said, but only on paper. She's holding off on a big church celebration until after her father's release. She wants him to walk her down the aisle.
"Every little girl's dream," she said, choking up.
Her dad's wish for after his release, she said, is simple: He wants to read bedtime stories to her 7-year-old daughter.
Nuñez-Vargas peeked down at her daughter, who was smiling and clinging to her thigh.
Her little girl, Nuñez-Vargas realized, is about as old as she had been when her father was arrested.
Times staff writer James Queally contributed to this report.
For more news from the Los Angeles County criminal courts, follow @marisagerber
ALSO
El Niño may trigger floods, famine and sickness in much of the world
Records give a glimpse into the mind of a man accused of killing his three sons
Sign up for Essential California for news, features and recommendations from the L.A. Times and beyond in your inbox six days a week.
You may occasionally receive promotional content from the Los Angeles Times.