70% of L.A. area stores market junk food, tobacco and alcohol, survey says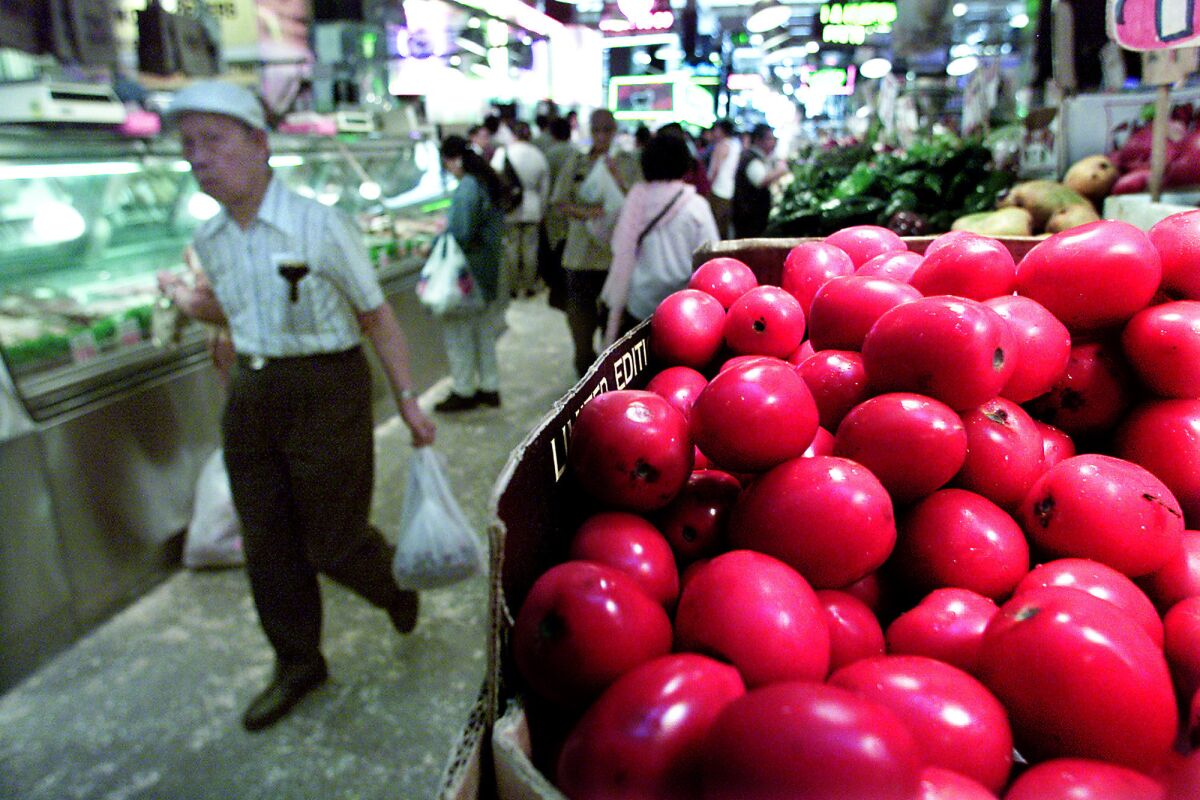 Public health officials Wednesday called a new survey that found 70% of stores in Los Angeles County market tobacco, alcohol and junk food to consumers troubling, especially given that many neighborhoods lack alternatives to make healthier choices.
Meanwhile, just 12% of stores have exterior advertising for healthy foods, such as fruits and vegetables, researchers found.
The statewide survey looked at the availability and marketing of tobacco products, alcohol and food in retail environments of more than 7,300 California stores. The results, released Wednesday at a news conference in downtown Los Angeles, marked the beginning of the statewide campaign "Healthy Stores for a Healthy Community."
Cristin Mondy, area health officer for L.A. County's Department of Public Health, called the results "very troubling."
Of the 749 stores in L.A. County that sell tobacco, 45% sell tobacco products near candy at the checkout and are within 1,000 feet of a school. Also, 53% of stores put sugary drinks near the checkout within the same distance of campuses.
The survey also found that fewer than 40% of the county's stores sold fresh fruits or vegetables, and just 28% sold low- or non-fat milk.
"Because these community stores function as grocery stores in many of our neighborhoods, we need to encourage them to promote and sell healthier food options and re-think how tobacco, alcohol and unhealthy snacks and beverages are marketed and displayed," said Dr. Jonathan Fielding, the county's public health director.
Results in L.A. County were fairly similar to those from the state overall.
Mondy said county officials are still evaluating the data to figure out how to address the issues raised in the survey.
Dr. Eric Walsh, public health director for the city of Pasadena, called the issue of marketing of unhealthy food the "new civil rights" because ads for tobacco and alcohol target the poorest and most vulnerable populations.
Survey data for Pasadena showed that 58% of stores had exterior advertising for unhealthy products, compared with 71% in the state overall.
"We can't allow corporate profits to be more important than the character and development of our children," Walsh said.
ALSO:
California gold coin find spurs no credible claims, expert says
San Francisco bar bans Google Glass for fear of secret recordings
Debate over new e-cigarette restrictions gets personal at L.A. City Hall
soumya.karlamangla@latimes.com
Twitter: @skarlamangla
---
Life is stressful. Our weekly mental wellness newsletter can help.
You may occasionally receive promotional content from the Los Angeles Times.