Construction worker's fatal fall from a downtown high-rise is ruled a suicide
Construction workers gather near the area where an electrician died after falling 53 floors from the Wilshire Grand construction site in downtown Los Angeles.
(Allen J. Schaben / Los Angeles Times)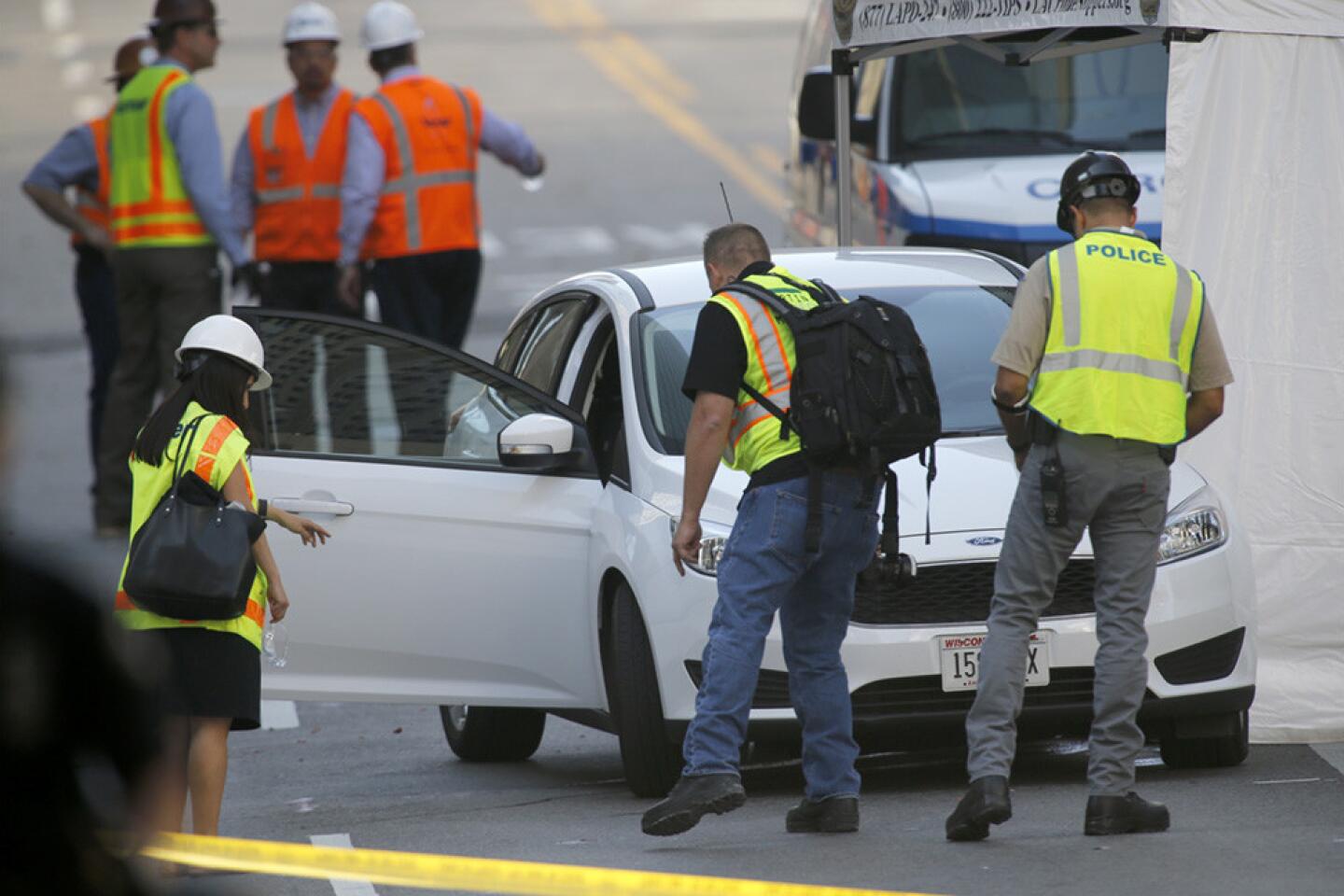 Investigators examine a car on Wilshire Boulevard that the man, who was not identified, struck around noon after falling 53 stories.
(Allen J. Schaben / Los Angeles Times)
Upon completion, the 1,100-foot Wilshire Grand tower will be the tallest structure west of the Mississippi. The $1.2-billion hotel and office project is scheduled to be completed next year.
(Allen J. Schaben / Los Angeles Times)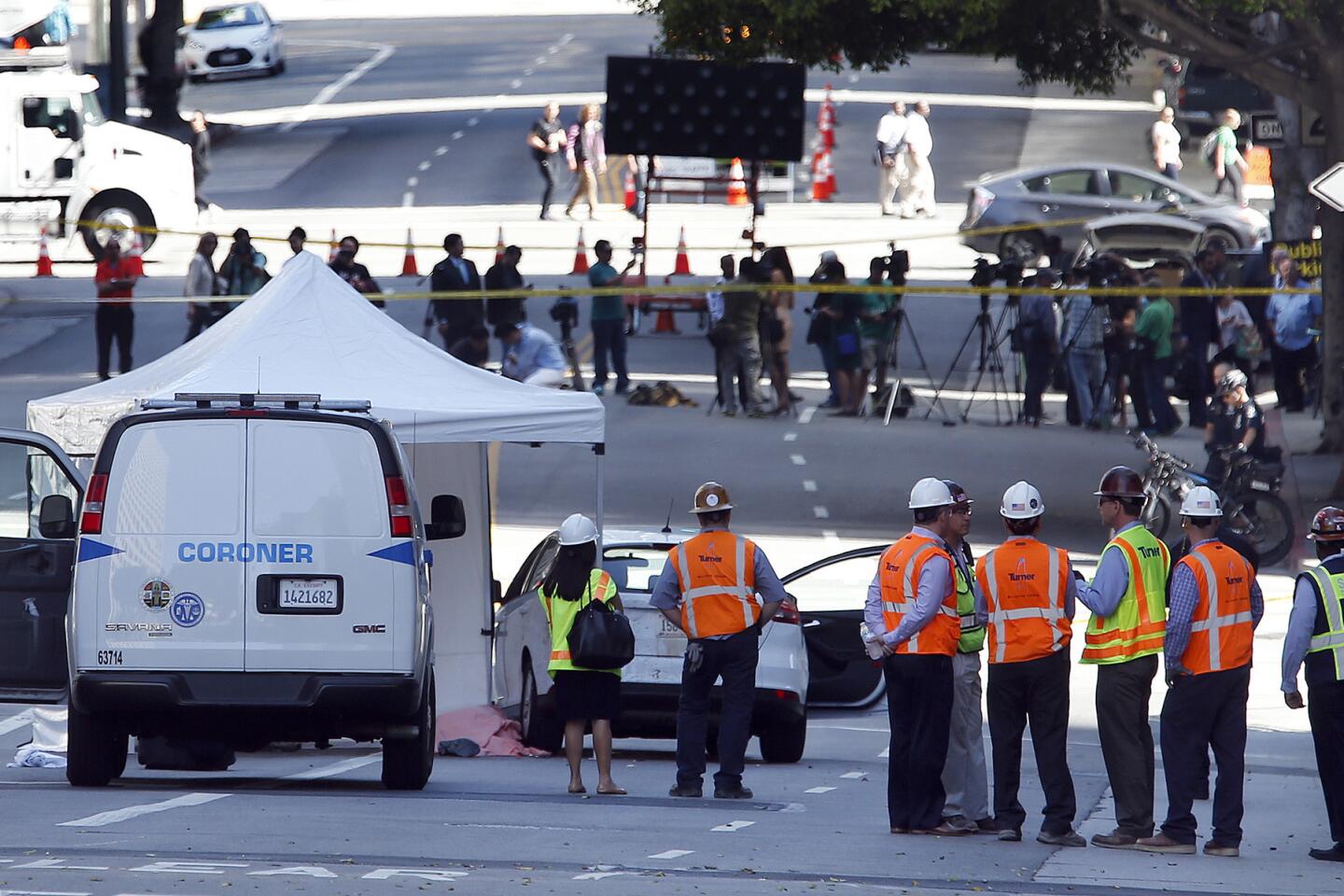 News of the man's death stunned onlookers who milled around the police tape blocking traffic along stretches of Wilshire and Figueroa Street.
(Mel Melcon / Los Angeles Times)
Turner Construction, the company that manages the building site, issued a statement saying that safety protections were not a factor in the fall.
(Allen J. Schaben / Los Angeles Times)
Witnesses along Wilshire Boulevard, who said the man who fell did not appear to be wearing a safety harness or hard hat, heard an impact and turned to find the man's body near a vehicle. Above, people gather at a news conference near the site.
(Allen J. Schaben / Los Angeles Times)
The death of a man who fell from the 53rd floor of the downtown Los Angeles Wilshire Grand construction site last week has been ruled a suicide, the county coroner said Thursday.
It was Joseph Sabbatino's second day on the job as an electrician at the construction site when he plunged to his death and landed on a moving car March 17. The driver of the car was uninjured.
Sabbatino, 36, had been depressed and struggling to find a stable career, his father, Vance Sabbatino, told KABC.
He left his job as a real estate agent with Re/Max All-Pro in the Antelope Valley in December, a company official said.
On his Re/Max profile, Sabbatino described himself as sincere, effective and determined.
NEWSLETTER: Get the day's top headlines from Times Editor Davan Maharaj >>
"Wanting to expand my knowledge in other aspects, in 1999 I moved to the Antelope Valley and pursued construction where I learned about framing, electrical, and HVAC which continued to enhance my insight in real estate," he wrote.
Turner Construction, the company that manages the building site, said last week that the fallen worker had no reason to be above the third floor. Witnesses said it appeared he had removed his hard hat before the fall and that he was not wearing a tethered safety harness.
He landed on the car of Donna Crockett, who told KTLA she was headed to her job downtown and was navigating downtown traffic when her vehicle suddenly shook.
See more of our top stories on Facebook >>
"It was like a second. I moved over and then 'boom!' my car just shook. And I'm sitting there, like, 'Oh God, somebody hit me,'" she told the station. "When I opened up the door his boot was lying next to my car."
The incident shut down construction at the site for two days before restarting again on Monday.
The construction company said all workers went through a "comprehensive safety orientation" for the project. Sabbatino had completed his safety training the day before he died.
For breaking California news, follow @JosephSerna.
ALSO
Driver arrested after special needs student found dead on empty school bus
New law allowing concealed guns on campus roils University of Texas
Flight attendant accused of smuggling 70 pounds of cocaine at LAX due in court
Sign up for Essential California for news, features and recommendations from the L.A. Times and beyond in your inbox six days a week.
You may occasionally receive promotional content from the Los Angeles Times.