NASA detained a 75-year-old woman selling a tiny moon rock. An appeals court says she can sue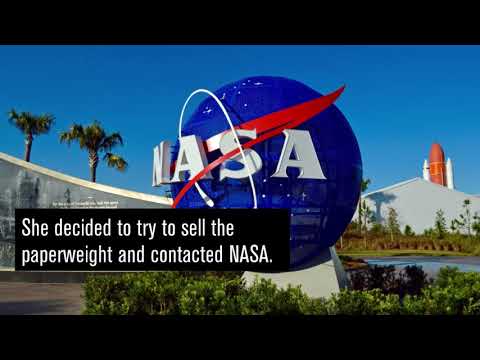 At no point was she informed that all lunar material is the property of the federal government and that possession was a crime, the court said. (April 14, 2017) (Sign up for our free video newsletter here http://bit.ly/2n6VKPR)
A 75-year-old woman who tried to sell a paperweight containing a speck of moon rock may try to hold a federal agent liable for detaining her for two hours in a public parking lot in urine-soaked pants, a federal appeals court decided unanimously Thursday.
The U.S. 9th Circuit Court of Appeals said Joann Davis, the widow of an engineer who worked with NASA, was entitled to show that her detention was "unreasonably prolonged and unnecessarily degrading."
The federal agent "organized a sting operation involving six armed officers to forcibly seize a Lucite paperweight containing a moon rock the size of a rice grain from an elderly grandmother," Chief 9th Circuit Judge Sidney R. Thomas wrote for a three-judge panel.
Davis' late husband, Robert, was a brilliant engineer who managed North American Rockwell's Apollo project, the court said.
During that time, he was given two Lucite paperweights — one containing a fragment of lunar material, the other a piece of the Apollo 11 heat shield — as gifts.
The family believed they came from astronaut Neil Armstrong, but the 9th Circuit said the source was unconfirmed.
After Robert's death in 1986, Joann experienced financial troubles. Her son was severely ill and had to have more than 20 operations. He has since died.
Her youngest daughter also died, and Joann took responsibility for her grandchildren.
She decided to try to sell the paperweights and contacted auction houses without success. She finally emailed NASA for help in finding a buyer for what she called "rare Apollo 11 space artifacts." She explained how her late husband had received them.
Norman Conley, a special agent and criminal investigator for NASA's Office of Inspector General, was assigned to investigate whether Davis really possessed a moon rock.
He had someone pose as a broker and call Davis. During several conversations, all but one recorded, Davis explained how she obtained the moon rock and insisted she wanted to do everything legally. She also mentioned that she hoped to sell her late husband's firearms.
At no point was she informed that all lunar material is the property of the federal government and that possession was a crime, the court said.
After obtaining a warrant to search Davis and seize the moon rock, Conley arranged a meeting with her in 2011 at a Denny's restaurant in Lake Elsinore.
Davis, who was then 75, went to the restaurant with her husband, Paul Cilley, who was about 70, the court said. They had married in 1991.
Davis thought she was going to sell the paperweight and placed it on the table, the court said. Instead, the law enforcement officers went into action.
One grabbed the paperweight from Davis' hand. Another clutched Cilley by the back of his neck and held his arm behind his back in a bent-over position, the court said.
They took Davis and Cilley outside, and she said they ignored her when she said she needed a restroom. Conley has admitted he knew that Davis had urinated in her pants, the court said.
A federal prosecutor later declined to press charges, and Davis sued. Conley contended that as a government agent he was clearly immune from liability. A federal judge disagreed, and Conley appealed to the 9th Circuit.
In rejecting Conley's appeal, the 9th Circuit said Davis had presented enough evidence to show that her constitutional right to be free of unreasonable seizure may have been violated.
"Conley had no law enforcement interest in detaining Davis for two hours while she stood wearing urine-soaked pants in a restaurant's parking lot during the lunch rush," Thomas wrote.
Davis' lawsuit may now proceed.
Twitter: @mauradolan
ALSO
Former Episcopal Bishop Frederick Borsch dies at 81; early LGBTQ advocate pushed for living wage in L.A.
This common misuse of disabled parking permits could cost you $1,000
Sign up for Essential California for news, features and recommendations from the L.A. Times and beyond in your inbox six days a week.
You may occasionally receive promotional content from the Los Angeles Times.