Despite his ouster, Max Nikias is still a force at USC, leaving some worried
He moves through USC without fanfare these days, just another bespectacled academic cutting across the quad by Tommy Trojan. Students flying by on skateboards and bicycles seem to take little notice.
C.L. Max Nikias was just a year ago the biggest man on campus, a seemingly indomitable force known nationally for transforming the university. Then, he was pushed out as USC's president — censured by the faculty council, ridiculed in memes and personally blamed by alumni and students for creating a culture of scandal. Many celebrated his departure as a clean break with a sad and embarrassing period in the university's history.
Yet Nikias never left USC and will probably play a significant role in the institution for years to come.
He remains a tenured professor, and his exit package negotiated behind closed doors with the legal help of a longtime USC trustee provided him with a permanent, if non-voting, seat on the university's governing board. In the many ongoing investigations and lawsuits the campus is facing — including the current college admissions case and the handling of former campus gynecologist Dr. George Tyndall — Nikias is a potential witness as well as a resource for lawyers defending the university.
The 66-year-old has important allies at the university, especially among the wealthy and powerful trustees who credit him with singularly elevating the school's ambition and reputation.
"He's a great university president and he should be seen as an enormous asset," said Bruce Ramer, a veteran entertainment lawyer and lifetime trustee who helped Nikias negotiate his exit package.
Others are concerned about Nikias' ongoing influence. "Being a president emeritus is still recognizing your value not only in the past, but also the future, and that is the part I'm not cool with," said graduate student government officer Kris Coombs Jr.
Nikias declined to be interviewed for this story. He and his wife, Niki, recently moved out of the presidential mansion in San Marino. The property, where the Nikiases entertained thousands of students and donors over the years, is being readied for the arrival of his successor, Carol L. Folt, who takes over July 1.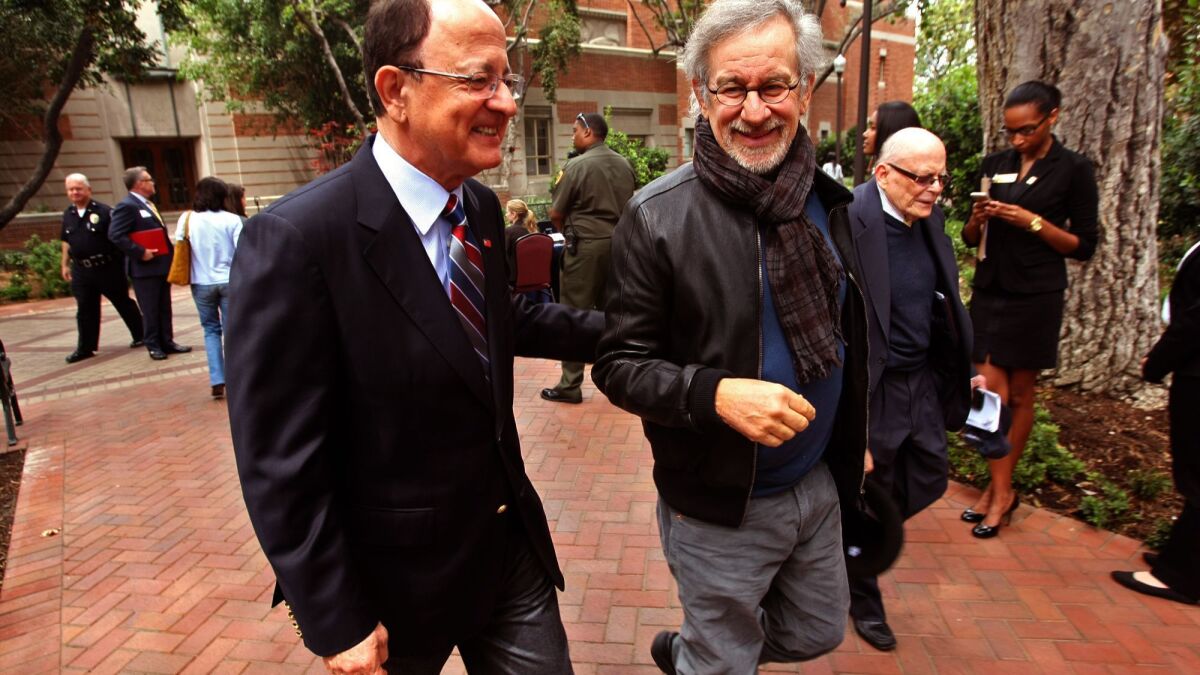 Friends said that despite his abrupt ouster, Nikias remains upbeat and has enjoyed spending time with his wife and two grown daughters. He is expected to return to teaching next year. An electrical engineer who led the Viterbi School of Engineering before becoming USC's provost in 2005, Nikias is also a classics professor. During his presidency, the Cyprus native co-taught an undergraduate class, the Culture of Athenian Democracy.
"He has a desire to be back in the classroom," said Robin Romans, an associate provost who taught the class alongside Nikias and has remained in touch with him. He noted that Nikias has an affinity for tragedies such as "Antigone." "With Max, it's the love of the text, and the particular trials and challenges that these characters face."
Nikias was among the first to grasp the enormity of the Tyndall scandal and its potential effects on his tenure, according to interviews with trustees and faculty.
Around the time The Times revealed that the gynecologist had been accused repeatedly of misconduct at the student health clinic over three decades, Nikias told some on the board that he might have to step down.
That prediction initially left supporters incredulous.
Nikias had presided over a dramatic transformation of USC, physically and financially. He had overseen massive construction on campus, most strikingly in the Village, a $700-million shopping and residential complex occupying several city blocks. His ambitious capital campaign had raised more than $7 billion. And the university regarded as a regional powerhouse was increasingly seen as one of the nation's premier private research institutions.
There had been numerous scandals during Nikias' tenure — at the medical school and the athletic department in particular. And while critics saw a systemic failure in the president's leadership, trustees seemed to regard those affairs as largely eclipsed by his contributions, according to interviews.
With more and more women coming forward to say Tyndall had sexually abused and harassed them, however, hundreds of faculty demanded his resignation and Nikias agreed that he should be replaced.
In negotiating his exit with the board, Nikias turned to a longtime trustee for legal representation: Ramer, a Hollywood power lawyer who counted Clint Eastwood, David O. Russell and fellow trustee Steven Spielberg as clients. Experts said it was an unusual arrangement because Ramer had a fiduciary duty to USC at the same time he had a legal duty to Nikias to win the best possible exit package.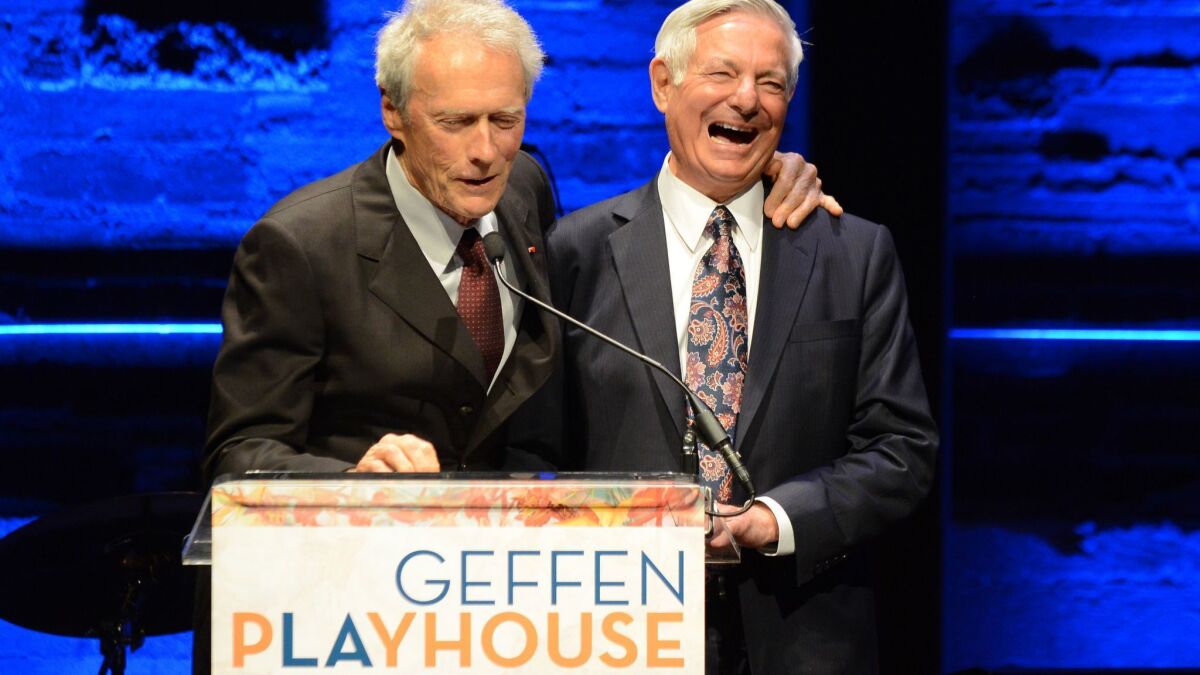 "The optics of it are not good for the school, and I wouldn't recommend it," said Raymond D. Cotton, a Washington, D.C.-based attorney who has advised more than 400 boards of trustees and college presidents.
Ramer said he did not consider it a conflict because he served only as a lifetime trustee, a status that prohibited him from casting votes in proceedings, and he recused himself from discussions of Nikias' deal. He said that no one on the board objected to his representing the president.
"I pride myself on maintaining as pure ethics as I can," Ramer said in an interview.
The exit package for Nikias included a board seat as a lifetime trustee, the title of president emeritus and a loan to buy a new residence.
Nikias and his wife purchased a Manhattan Beach home in the fall from sports broadcaster Colin Cowherd for $4.1 million, according to public records. USC declined to reveal other parts of the agreement, such as Nikias' annual salary going forward. As president, he had earned a base salary of more than $1 million, with total compensation topping $3 million. His predecessor, Steven Sample, was paid about $400,000 a year as president emeritus before his death in 2016.
The known terms of the package, however, have upset some faculty members.
Estela Bensimon, an education professor who directs USC's Center for Urban Education, said she preferred Nikias make a "total exit" from campus. She said she feared his board seat and friendships with trustees would undermine Folt as she tries to carry out the task of reforming the institution.
"We have had a very male culture in our leadership, so having the former president who is so close to the trustees, it would not make me feel very comfortable," Bensimon said. "I guess I would be thinking all the time, are the trustees consulting with Max?"
Trustee Stanley Gold, a friend of Nikias' and one of his most fervent supporters on the trustees' executive committee, said the former president had no intention of challenging Folt's leadership.
"You can only have one president at a time. If she consults with him, I am sure she will find him very helpful, but these are questions for" her, Gold said.
Gold talks regularly with Nikias and said the former president has a lot of energy that could be poured into parts of the university that don't always get the attention they deserve. One possible role, he said, was expanding an existing USC college prep program for youth from South and East L.A., known as the Neighborhood Academic Initiative.
"He did a great job of making that a serious program," Gold said.
Wherever he ultimately ends up on campus, Nikias will be surrounded by his legacy. He will pass buildings he helped to build, professors he recruited and students who would have never considered USC without the vast improvements he made in ranking and prestige.
But Nikias also is bound to encounter women suing the university for employing Tyndall, faculty members who had demanded his removal and others who view his tenure as marked by several ethical lapses.
Ariela Gross, a law professor who led the faculty revolt against Nikias, said faculty and staff send her emails and texts when they spot the former president on campus, messages she said attest to fears about his influence.
Gross, however, said she no longer shares their worries. She said that with planned reforms of the board, Nikias' post as a trustee is likely to be largely ceremonial.
"From my point of view, the important thing is new leadership and moving on," she said.
The stories shaping California
Get up to speed with our Essential California newsletter, sent six days a week.
You may occasionally receive promotional content from the Los Angeles Times.