Help pouring in to Trona after earthquakes, but officials warn recovery will take time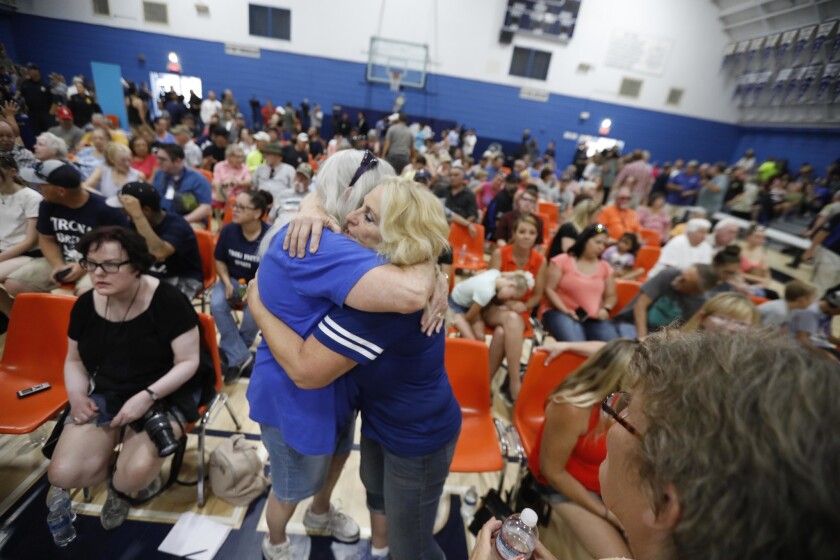 Less than a week after twin earthquakes rocked the core of the tiny town of Trona, Calif., Ronnie Tolbert walked out of a community meeting and got straight to work.
The longtime resident helped an Arizona man unload a van full of supplies, which would be delivered to a local church for distribution.
Tolbert, 60, said she's in awe of the help coming from out of state to Trona, a place few had heard of before last week's major quakes.
What's less surprising, she said, is the goodwill that has come from within the small town of about 1,800 people. Since the first earthquake, measuring magnitude 6.4, struck on July 4, neighbors have spent long hours helping one another as resources from outside communities and local officials have trickled in.
On Wednesday morning, about 900 residents gathered at Trona High School for a community meeting convened by local officials — three days after a similar meeting in nearby Ridgecrest. Though it took a few days for additional help to arrive, officials and volunteers are now out in full force, Tolbert said.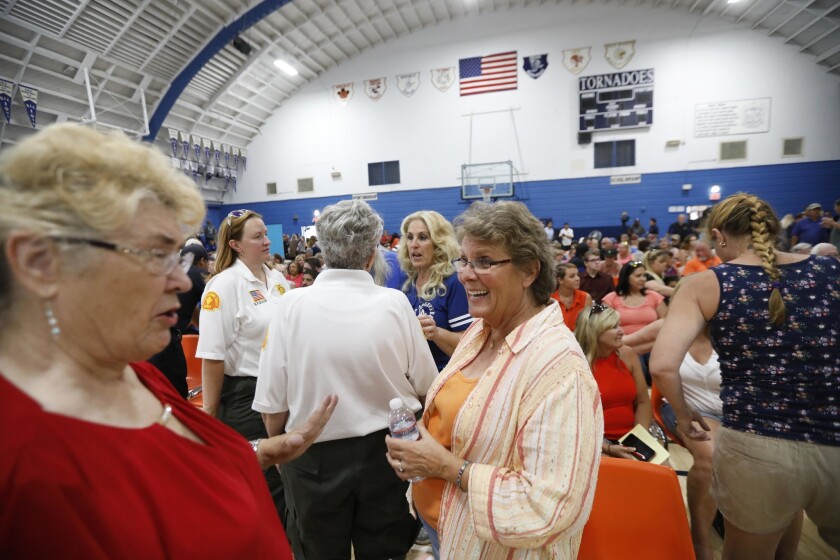 Representatives from the California Department of Emergency Services, the San Bernardino County Public Health Department, the county Land Use Department, the Red Cross and other agencies were at the 10 a.m. meeting to hear locals' concerns, said Robert Lovingood, chairman of the San Bernardino County Board of Supervisors.
A full recovery, though, will take more time.
"I certainly think it's going to be a while," Lovingood said. "We're going to continue until everything is back and functioning."
County officials have brought portable showers and bathrooms to Trona, established a shuttle service between the town and Ridgecrest, opened commodity distribution centers and made counselors available at the local high school.
Federal and state funding is beginning to roll in.
Power was restored — again — a day after Friday's 7.1 quake, residents said. Water just came back on Wednesday morning.
"It's steamrolling to where we're starting to get a lot more resources we need to help rebuild," said resident Jonathan Schmid, 36, who works at the Searles Valley Mineral Plant.
Schmid has become an informal liaison between his neighbors and county officials. He wakes up daily at 6 a.m. to unload and distribute donations and puts his head to rest after midnight, he said.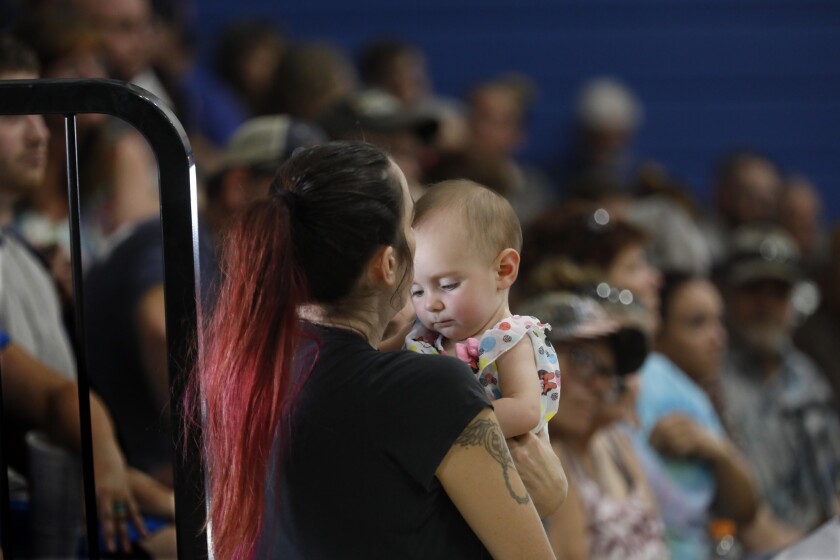 When the quake hit these Trona families, 'everything came tumbling down' »
"It's still hectic," he said. "We take care of our own."
At the town hall, residents expressed concern for Trona's elderly and disabled and their medical needs, Schmid said. And because the town lies on the border of Inyo and San Bernardino counties, he's worried not everyone is getting the same level of attention.
Tolbert said many residents are still focused on cleanup and getting their homes cleared by safety officials.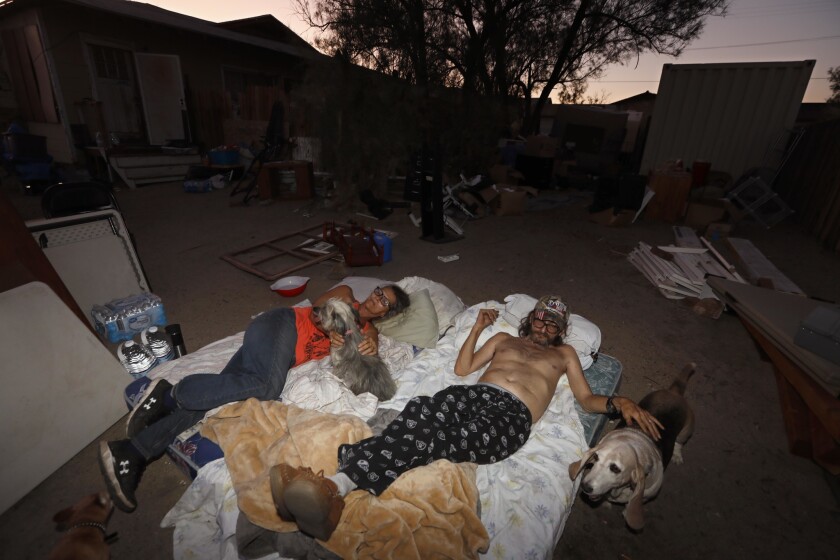 Many houses have been red-tagged — declared unsafe to inhabit — and residents have resorted to sleeping in their yards. Tolbert herself sleeps on mattresses on her driveway after her home was severely damaged. Those who can get into their homes find shelter under tables or away from walls. Some have left the town entirely.
Still, Tolbert said the experience has brought everyone closer.
"I now know things about my town I did not know," she said. "I am a more aware neighbor, honest to God."
alejandra.reyesvelarde@latimes.com
Twitter: @r_valejandra
---
The stories shaping California
Get up to speed with our Essential California newsletter, sent six days a week.
You may occasionally receive promotional content from the Los Angeles Times.