When the quake hit these Trona families, 'everything came tumbling down'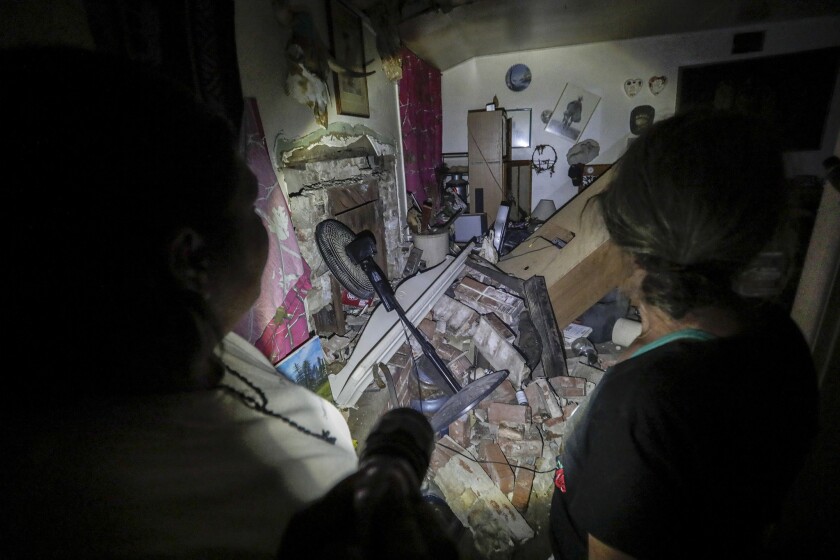 Reporting from Trona, Calif. —
Before sunrise Saturday, Ronnie Tolbert, 60, used a flashlight to make her way through the Trona home where she has lived for 32 years.
Her fireplace had collapsed after Friday night's earthquake and the bricks were scattered in her living room. The windows had shattered and a bookshelf was lying against her bed. The floors were filled with magazines and books, bottles and food. The ceiling tiles in one room had all fallen.
"We lost everything in here," she said. "Everything came tumbling down."
Tolbert and her husband had pulled their mattresses onto the frontyard to try to sleep. Her daughter, whose house was also severely damaged, rested in a truck parked on the street. Her grandson and his friends had sprawled out and were talking on their own mattresses across the road. The frequent aftershocks and the persistent anxiety that another big quake would soon hit made it impossible to get any rest.
There were four calls for medical assistance in the hours after the quake and all of them had been minor injuries, said Battalion Chief Kenny Halseth of the San Bernardino County Fire Department. And there had been rumors that the town was being evacuated early on, but those were false.
Still, the town had no electricity and no running water as of early Saturday morning. And officials were still assessing the damage, but a number of homes were believed to be damaged, Halseth said. Several people said that their homes had been seriously damaged and that they didn't know how they would recover.
FULL COVERAGE: 2nd major quake in two days hits Southern California »
"My kids keep asking me what am I gonna do," said Tolbert, who said she raised 11 children in her home. "I said, I don't know."
Outside the fire station, where Halseth and his team coordinated the emergency response, more than a dozen people slept in cars in the parking lot, unable to return home because of damage or afraid to because of the aftershocks.
Several families here had spent the day cleaning up after the Thursday quake with little rest when the 7.1 quake hit.
"I've felt earthquakes before, when I was younger," said Matthew Lewis, 26. "They were nothing like these. These were earth-shattering."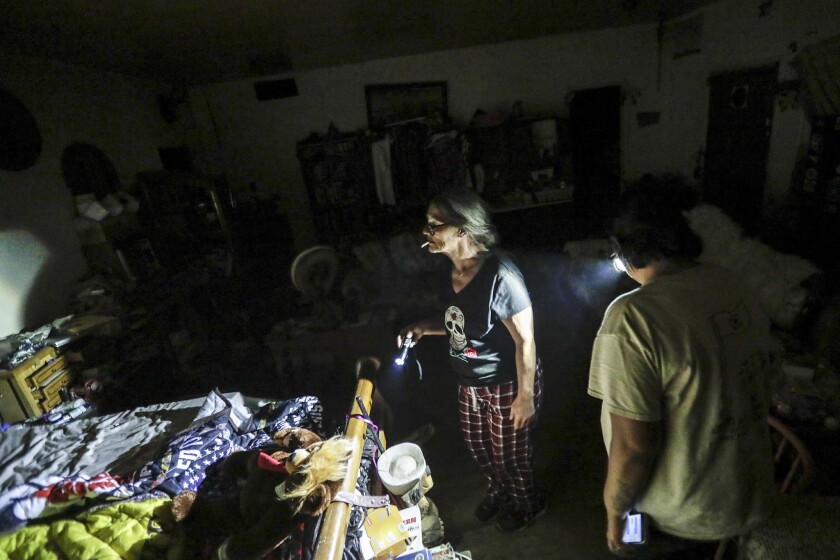 Alicia Marines, 72, sat on a folding chair outside the Trona fire station in the hours before dawn. She had tried to sleep in her car but the constant shaking and anxiety kept her awake. Her elbow and feet were wrapped in bandages from cuts she suffered when a mirror that hung above her bed shattered.
Here are the biggest earthquakes in California history »
When the earthquake struck, she had been changing into her sleeping gown. She lives alone and was left in the dark, with glass all around her, she said. She waited outside the home for more than an hour until one of her sons called and told her to go to the fire station.
"It was horrible," she said.
Chavela Padilla, 40, said she and several other community members had trained in late May to help with emergency responses. When the quake hit, they went door to door, making sure that their neighbors were OK, helping to turn off the gas and doing whatever else they could to help.
Her two boys, ages 5 and 8, tried to sleep in the back of her truck while she drove around town, checking on friends. After the quake hit, she said, many people got in their cars and drove out of town. Those who had stayed behind were doing their best to help one another, she said.
---
For reporting and exclusive analysis from bureau chief John Myers, get our California Politics newsletter.
You may occasionally receive promotional content from the Los Angeles Times.