Live: Trump departs LAX for Las Vegas
Reporting from CALEXICO, Calif. —
President Trump embarked Friday on his third trip to California since entering the White House, a day after backing off his latest threat to seal off the border between Mexico and the United States.
Trump had been threatening to close the border for a week, leading some to believe he would use Friday's visit to a section of fencing in Calexico to announce at least a partial closure.
After inspecting the wall at the Calexico-Mexicali border, Trump flew on to Los Angeles, where he attended a private fundraising event and had dinner with his son Eric at his Rancho Palos Verdes golf course.
President Trump departs Los Angeles for Las Vegas
Marine One landed back at LAX around 10 p.m. and President Trump boarded Air Force Once about five minutes later, according to the White House Travel Pool report. At 10:12 p.m. Air Force One was departing on the runway headed for Las Vegas.
Protesters are few as President Trump arrives at his golf club
Gina Gualeni was on her way home when she saw about a dozen supporters gathered outside the Trump National Golf Club in Rancho Palos Verdes.
So she made an anti-Trump sign and headed out with her daughter.
"I couldn't just drive by and do nothing," Gualeni, 50, said. "These are the people who I'm sick of."
Gualeni said she was surprised that she didn't see any other protesters.
"I think people are getting tired," she said.
Adriana Barba of West Carson was heckled by Trump supporters as she stood alone across the street holding a sign that read, "Not my president."
"I was hoping there would be more protesters — more than just me — because there's safety in numbers," Barba, 29, said.
Barba said Trump's visit was too close to home. She looked on as his supporters danced with American flags in the middle of Palos Verdes Drive.
"I needed to at least do something by coming here," Barba said. "I don't have that much political pull or lobbying power — at least not yet — so this is step one."
A crowd of about 50 supporters of President Trump clapped and cheered as Marine One circled the golf club about 7:45 p.m.
As the crowd started to disperse, supporters broke into chants of "U.S.A."
8:50 p.m. | Alexa Díaz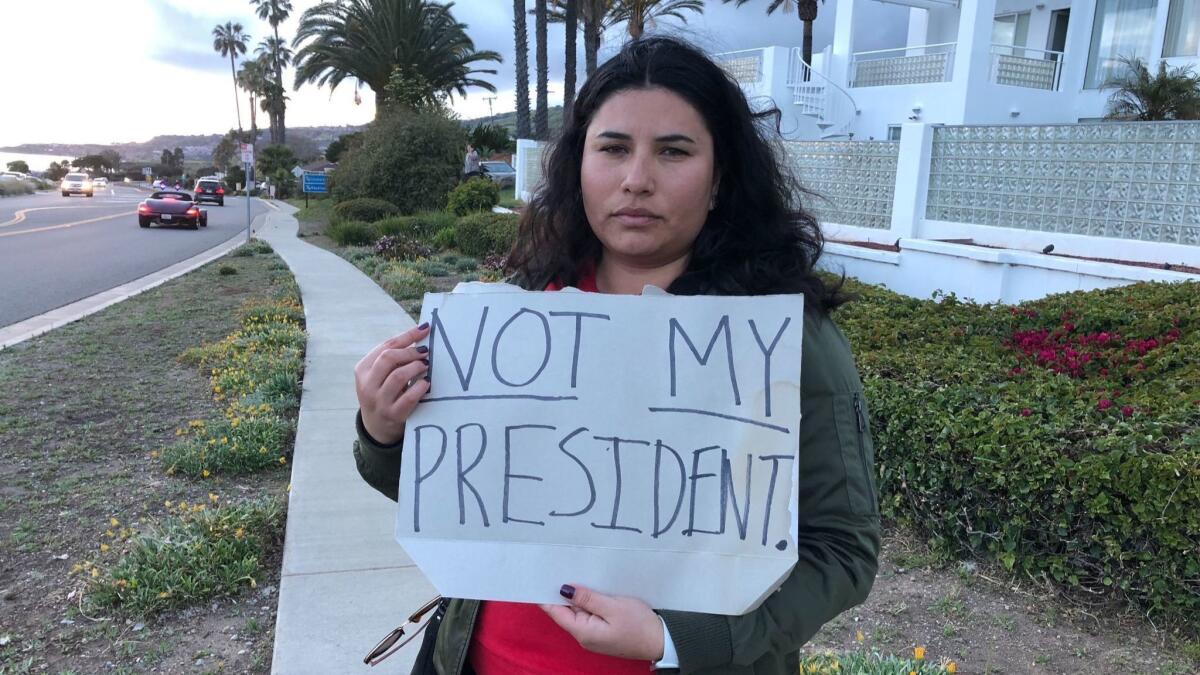 Angry Angelenos rant about Trump traffic as the president makes his way through L.A.
Residents in some neighborhoods, including Santa Monica, lined the streets hoping to catch a glimpse of the president as he made his way through West Los Angeles. And in Rancho Palos Verdes, Trump supporters got wind that Trump would visit his golf course to have dinner with his son.
Virginia Padilla, 71, waved two American flags outside Trump National Golf Course. "The honks are hopeful because California is so liberal," Padilla said of the honking cars passing by. "We're sinking. If we were a ship, we would have already gone under. We're praying for reelection."
Padilla said Secret Service agents on the property told her that Trump's helicopter would land on the side of the club opposite from the main road, out of sight to the public. She has seen Trump in person three times before — twice at the golf club, and once in L.A. Harbor, before he was elected, when he came right up to her and signed her "Make America Great Again" sign, she said.
Wendy Yen, 73, lives across the street from the golf club and joined the group of about a dozen supporters eagerly awaiting Trump.
"The closest I've ever been to Trump is the television," Yen said.
Yen, once a Democrat, said that if anyone wasn't a supporter of Trump before, they should be after seeing what he has done for the economy and for illegal immigration. She said she thinks it's important to show her support of Trump because conservatives often are attacked.
"We can't say anything [in public], but we're just going to vote," Yen said.
Elsewhere in Los Angeles, residents were dreading Trump's arrival Friday afternoon, some because of his political agenda and many for the chockablock traffic he was expected to generate as he made his way through the city.
Angelenos vented their anger on social media, declaring that the president was unwelcome in liberal L.A.
One user said, "Oh yeah … thanks for the extra traffic. Forgot he is here in Beverly Hills asking money to the Hollywood elite and liberals!!!"
5:25 p.m. | Alejandra Reyes Velarde and Alexa Díaz
Air Force One lands at LAX; Trump boards helicopter for Beverly Hills
Running nearly an hour behind schedule, President Trump arrived at Los Angeles International Airport shortly before 4 p.m. He greeted and shook hands with a crowd of supporters and reporters before boarding a helicopter that would take him to a Beverly Hills fundraiser. According to several news outlets, the fundraiser will take place in the private home of healthcare executive Lee Samson.
His travels throughout Los Angeles are expected to cause delays on major roads.
4:30 p.m. | Alejandra Reyes-Velarde
Trump wraps up Calexico border visit, expected to have dinner at his Rancho Palos Verdes golf course
The president arrived at the Calexico-Mexicali border wall about 1:55 p.m. He was joined by several law enforcement officials from California's Central Valley and Arizona who spoke about how illegal immigration affects their communities.
"It looks great," Trump said. "It's better and much more effective than the previous wall. It's pretty sharp up top, too. If you want to climb that you deserve whatever you can get."
After the brief visit, Trump was scheduled to make his way to Beverly Hills for a fundraising event in a private home. According to CBS, the home belongs to healthcare executive Lee Samson.
Then, for his last stop in California, Trump is expected to have dinner with his son Eric Trump, local officials and supporters at his Rancho Palos Verdes golf course, the Washington Post reported. Though officials wouldn't confirm Trump's stop there, the golf course was barricaded by 3 p.m. Several police vehicles drove onto the property throughout the afternoon, and attendants told people trying to enter the venue that it would be closed for a private event but would not comment further.
3:35 p.m. | Alejandra Reyes-Velarde and Alexa Díaz
Head of ACLU in San Diego and Imperial counties says Trump is creating 'fear' and 'chaos' with border agenda
The American Civil Liberties Union in San Diego and Imperial Counties released a statement Friday reacting to what they called Trump's "anti-immigrant agenda."
Executive director of the ACLU branch, Norma Chávez-Peterson, said Trump made no public plans to meet with Imperial Valley residents or community leaders about concerns over how his policies will affect local resources.
"Border communities are among the most peaceful and prosperous in our country," she said. "It's time for President Trump to stop this extremist pandering to his base and listen to border residents — the people affected by his anti-immigrant agenda."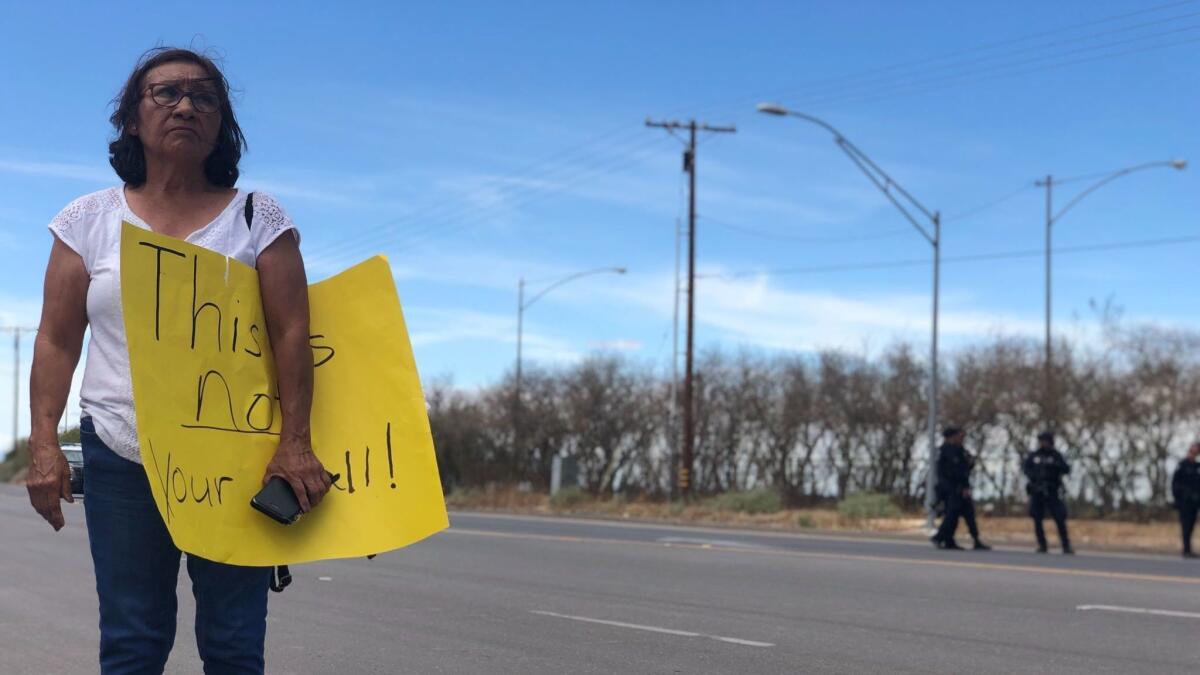 Trump jam: Here's where to expect traffic gridlock from the president's visit
"Obamajam" became a term of foreboding for greater Los Angeles when President Obama came to town. His motorcade often caused major traffic tie-ups that frustrated many.
President Trump has visited L.A. less often than Obama, but on Friday, he's set to attend a fundraiser in Beverly Hills. His stop comes after a visit to the Mexican border at Calexico. He's also scheduled to attend a fundraising event and speak to the Republican Jewish Coalition on Saturday in Las Vegas.
His trip has prompted a series of traffic advisories.
Trump and border officials tout the effectiveness of walls, announce plans to build 450 miles of barrier
At his round-table discussion on border security, which began at the El Centro Border Patrol station at about 12:35 p.m., Trump reiterated his belief that a border wall is the most effective solution for overwhelmed ports of entry.
"The system is full," he told a room full of reporters and local officials. "We have to say, 'I'm sorry we can't take you.' We've been trying to take people and you can't do it."
The president commended the work of border agents as well as Mexican officials, who he said have been apprehending Mexican and Central American immigrants at the U.S.-Mexico border by the thousands in the last few days.
Mexican officials say they haven't changed their strategy or enforcement operation at the border.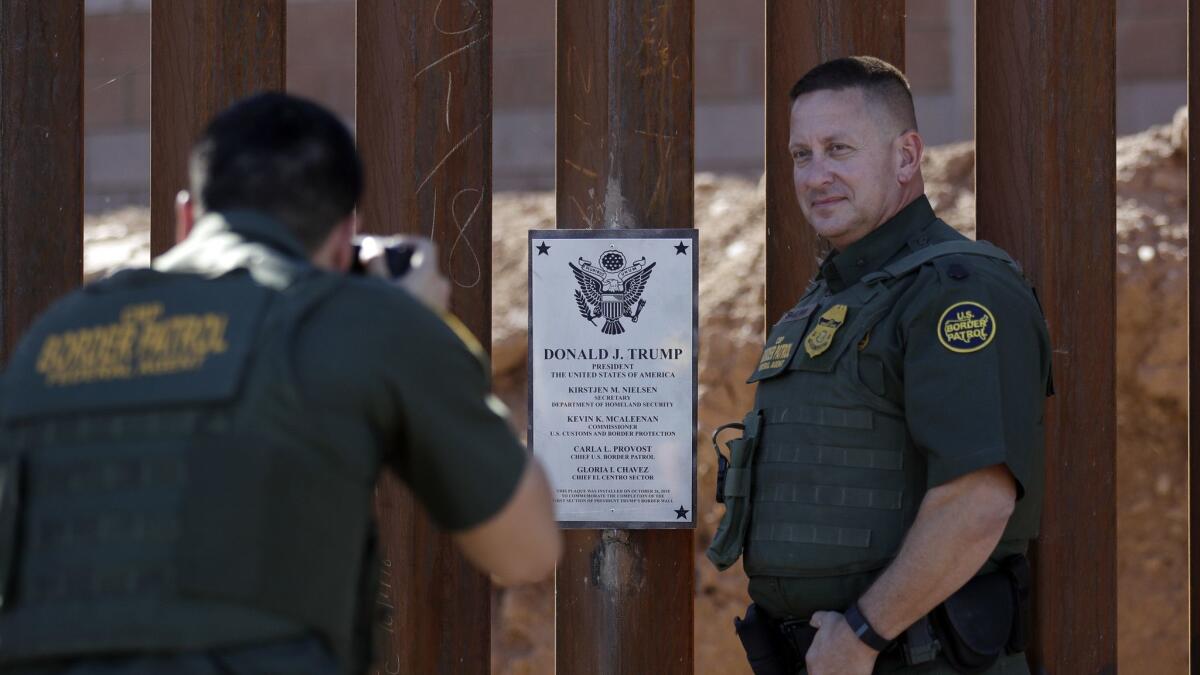 Mexico "is bringing them back to where they came from," he said. "That'll help us 90%, 80%. What do you think, fellas, pretty close, right? They've never done that before, in 30 years they've never done like they're doing it right now."
Gloria Chavez, chief of the El Centro Border Patrol sector, echoed Trump's statements about the need for a wall. The 58-mile stretch in that area is more than 20 years old, she said.
"It's very easy for them to cross," she said. But since construction of a portion of new barrier in the two-mile area, illegal entries decreased by 75%, according to Chavez.
Lt. Gen. Todd Semonite with the Army Corps of Engineers then made statements about the progress made so far on the border and plans for the near future. According to Semonite, 82 miles of border wall have been built so far, and by the end of the year officials expect 97 miles of the wall to be constructed.
In 2020, another 277 miles of barrier is planned to go up for a total of 450 miles made up of about 33 different projects along the southern border. Trump is also expecting more funding for port of entry security measures, including drug detection equipment, he said.
1:40 p.m. | Kate Morrissey and Alejandra Reyes-Velarde
Trump arrives in El Centro
Air Force One landed in El Centro at 11:37 a.m. With him were several members of Congress, including GOP Reps. Kevin McCarthy of Bakersfield, Ken Calvert of Corona and Mike D. Rogers of Alabama, as well as Customs and Border Protection Commissioner Kevin McAleenan. Trump stepped out of Air Force One and was greeted by cheers. The president walked toward the crowd of reporters and supporters, giving them a thumbs up and shaking hands with some. He spent several minutes speaking to the crowd and took time to sign MAGA hats and other items. He clapped and saluted his supporters before boarding a black SUV for a short ride to his destination in Calexico.
-- From White House press pool reports
Mexican spectators catch glimpse of protesters ahead of Trump's visit
Just a little before 11 a.m., about 100 local officials and officers, many dressed in Border Patrol uniforms, began filing into the El Centro Border Patrol station to hear the president speak.
Border Patrol Agent Daniel Hann, who is in charge of the station, said the moment is particularly special because it's the first time a president has visited Calexico.
As Trump was en route, a large crowd of demonstrators had gathered in a dirt lot near Calexico's airport and what the Trump administration is calling the "new border wall." A huge Baby Trump balloon floated above them. Organizers had raised $2,600 to be able to display the protest symbol.
"I'm happy people showed up," said Maribel Padilla, co-founder of the Brown Bag Coalition, a non-profit organization that feeds the homeless, as she snapped a photo of the crowd.
Padilla said she was worried that if Trump ever does close the border, more immigrants may get stuck in the U.S. and would need to be fed. Even then if that wasn't the case, she said, there would likely be a severe shortage of field workers, which would affect the cost of agricultural produce.
Standing near her, Margarita Sauza, director of the nonprofit Sure Helpline Crisis Center, said she came out to support the movement. Sauza has handled refugee cases of mothers from Central America and Mexico, women who have suffered from domestic abuse and have lost children to violence.
She said she hopes that people can stop for a second and feel some compassion for refugees trying to cross the U.S.-Mexico border.
"We need a little more of that, and what pains me the most are Latinos who don't care about this enough," she said.
On the other side of the steel border wall, Mexicans popped their hands through the barrier's poles and took their own photographs of the American demonstrators.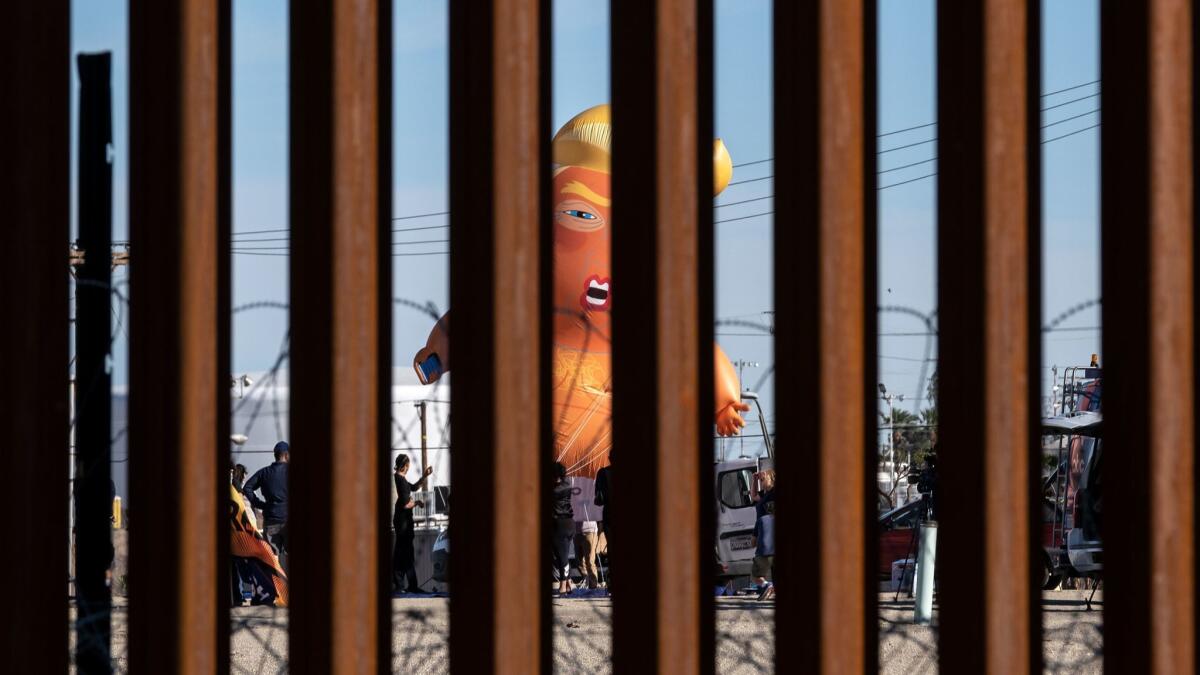 Among them was 49-year-old David Villanueva, who was heading home from work when he heard the echoes of chants and cheers on the other side.
"This thing is massive," he said, looking at the new barrier. "Feels like a prison wall."
Villanueva said he's not a fan of Trump, mainly because of the president's many derisive comments about Mexicans and his country.
"He's a racist, that's all there is to it," he said. "No one likes him."
But, mingled with protesters and Mexican spectators were Trump supporters who approved of the actions he has taken.
"It's all about safety for me, there are too many drugs coming through the country," said Joe Rivas, 60, of El Centro.
Rivas said drugs have taken some of his friends and torn families apart.
"People are overdosing everyday," he said.
He believes that most of the drugs are coming from Mexico and that some but not all, immigrants cross the border illegally and commit crimes.
"So it's about safety, and that's why I'm out here supporting him," he said.
There was one thing both sides could agree on: No one liked the razor wire lining the steel wall.
"It looks ugly," Rivas said
11:25 a.m. | Ruben Vives and Kate Morrissey
Supporters and protesters turn out for Trump's arrival
In downtown Calexico, near the city's water tower, dozens of people planning to march and protest Trump's visit began to gather early Friday.
They came with signs that read "Dump Trump" and "Trump keep the border crossings open," as well as signs about issues such as pollution. Most demonstrators wore white shirts in support of "international friendship and solidarity."
Among them was Suzie Newell, 64, who held a small sign with a picture of two hands, tattooed with the Mexican and American flags, shaking hands over a barbed-wire fence. It read, "Two Countries and One community."
A resident of El Centro just north of Calexico, Newell said she came out to oppose closing the border.
"I don't think he's thinking about how it's going to affect both sides," she said. "It will hurt the economy."
"We have a lot of farm workers who cross the border doing jobs that Americans won't do," she added.
Newell, who worked as a teacher in Calexico for 24 years, said she didn't agree with how the border town was being portrayed by Trump.
"We don't have a border problem," she said.
Covered in hearts pinned to her shirt, Frederica Luke, 72, drove 30 minutes from Brawley to participate in the demonstration. Luke pinned a heart on Eduardo Olvera,a 17-year-old who was on his way to school when he stopped to speak with demonstrators.
Luke said she came out to protest Trump and spread a little love in the process.
"I didn't vote for him and I initially gave him a chance," she said. "But I think he's incompetent. I'm horrified some people haven't seen what a fraud he is."
Olvera, who lives in Mexicali with his dad but whose mother lives in Calexico, said a border closure would be devastating for both the cities he calls home.
"The farmworkers who cross to work the fields won't be able to work," he said. "People come here with the intention to work and have an opportunity at a better life, not to commit crimes," he said.
At least two Trump supporters — Linda Jung, 71 and her husband Keith Wood, 80 — stood by watching for a few minutes.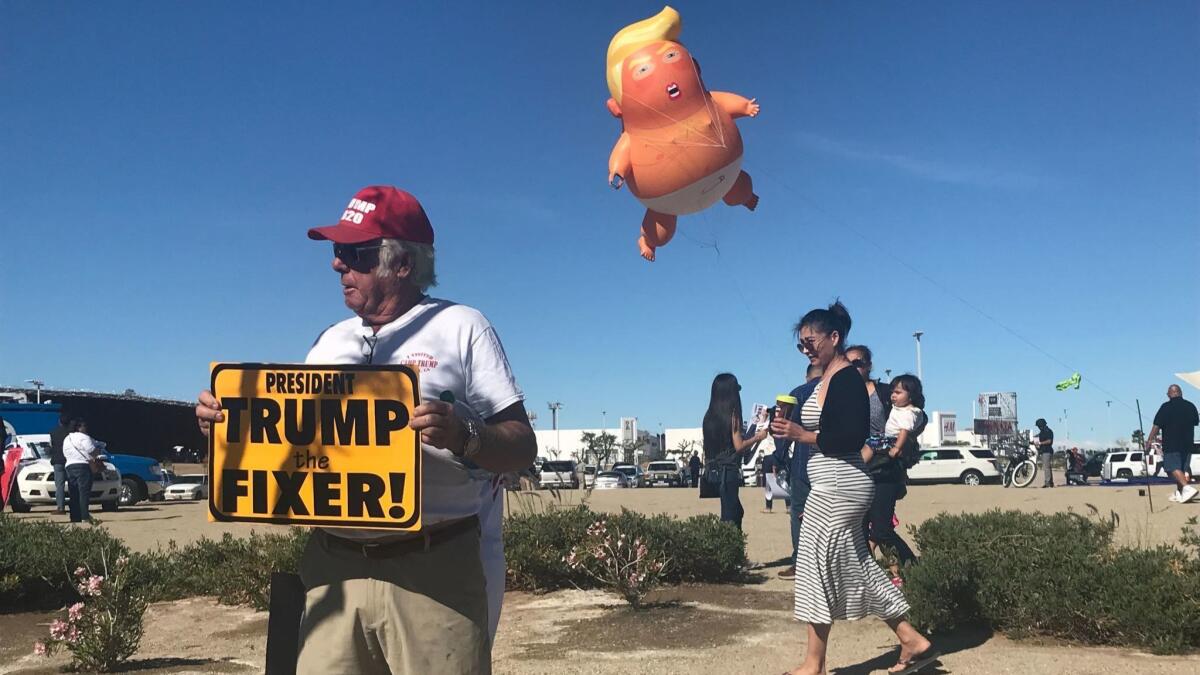 "We came to support our wonderful president," Wood said.
The couple said they support a closed border in order to spur Congress to pass better immigration laws. "If we have to suffer some economic shortcomings then so be it," Wood said.
10:10 a.m. | Ruben Vives
5 misconceptions about the U.S.-Mexico border
Is Trump able to shut down the southern border with Mexico? Will building a wall stop the flow of drugs? Is there an actual crisis at the border? We separate misconception from fact.
8:45 a.m. | Molly O'Toole, Melissa Gomez, Kyle Kim, Jon Schleuss and Lorena Iniguez
As Trump makes border visit, leaders from California and Mexico will discuss pollution
As President Trump makes his third visit to California on Friday to tour the border in Calexico, state lawmakers and Mexican leaders will meet at another end of the state's southern boundary to discuss what they see as a crisis in the border region: high levels of air and water pollution.
8:45 a.m. | Jazmine Ulloa
From the Archives: Trump has never been able to conquer Southern California
On Jan. 13, 1990, Donald Trump arrived at the once-glamorous Ambassador Hotel for a major announcement: Here on Los Angeles' Wilshire Boulevard, Trump said, he would build the tallest building in the world.
It was the New York developer's first major deal on the West Coast and a potentially skyline-redefining project for L.A. The 125-story, $1-billion-plus residential and commercial complex would overshadow everything else in the neighborhood, a towering testament to Trump's ambition.
8:37 a.m. | Matt Pearce
In Calexico, people are dreading Trump's visit
Inside Edi Fashion, a discount clothing store in this border city, 42-year-old Tere Guerrera and 38-year-old Marcela Valle waited for Mexican shoppers to walk in and make last-minute purchases.
The survival of businesses such as Edi Fashion has long been tied to Mexican citizens who cross the border on a daily basis to work in the fields of Imperial Valley. Those same workers come to shop for clothes and food.
So when the women heard that President Trump was visiting on Friday, they were frustrated.
"People are going to be scared to come here," Valle said. "We're going to suffer economically. We're going to see a 60% drop in revenue."
She added: "Frankly, no one wants to see him here."
"His visit doesn't benefit us at all," Guerrera said.
The women based this on past experience. Last year, when the National Guard was sent to help secure the border and install razor wire on the border fence, it had a costly impact on businesses. For 15 days, Valle and Guerrera said, the number of people who came to town from Mexico was down.
"People were just afraid to cross over," Guerrera said. "You saw military soldiers all over with guns."
But it wasn't just financial worries that made locals dread this visit. They also worried that Trump in his remarks would portray the city as if it's under siege by criminals who crossed the border illegally.
"He only says negative things," Valle said. "The fact is, people stand around for more than an hour trying to cross the border. They go through heavy security before coming here."
Trump's visit was to include a roundtable discussion with law enforcement officials before a trip to the border to view a 30-foot steel bollard barrier that replaced a fence last October.
A plaque on the newly constructed fence says the 2.5-mile steel barrier is the first section of the border wall that Trump has repeatedly promised.
But border and elected officials in Calexico said efforts to replace that specific portion of the fence were already in the works when President Obama was in office.
Trump's visit also comes after he had announced his intention to shut down the border entirely, a threat he abandoned Thursday.
Claudia Gonzalez, 42, who lives on the other side of the border in Mexicali, said she was worried her husband would not be able to go to his job if the border were shut down.
Sitting next to her on a concrete bench, Baltazar Castellanos, 75, told her that if the president decided to close off the border it probably wouldn't last long.
Before Trump made his announcement that he was backing off on the threat of closing the border, the Calexico City Council on Wednesday night approved a proclamation opposing Trump's plan.
Mayor Lewis Pacheco said he was relieved to learn that Trump had changed his mind. He said closing the border would not only hurt his city but the country.
During 2017, California exported an average of $127 million a day of merchandise to Mexico and imported an average of $73 million a day of goods.
"The money involved in the economy is tremendous," Pacheco said. Shutting the border is "not a viable solution."
"We have ties next door by culture, by language. We're connected by the hip."
7 a.m. | Ruben Vives
Chasing danger: How border patrol chases have spun out of control, with deadly consequences
A ProPublica-L.A. Times investigation finds dangerous car pursuits have happened more frequently under the Trump administration, often endangering lives. In the last four years alone, along the U.S. side of the border, at least 250 people were injured and 22 died after a Border Patrol pursuit.
9 a.m. | Kavitha Surana, ProPublica; Brittny Mejia and James Queally, Los Angeles Times
Sign up for Essential California for news, features and recommendations from the L.A. Times and beyond in your inbox six days a week.
You may occasionally receive promotional content from the Los Angeles Times.