Drones would be prohibited over private property in California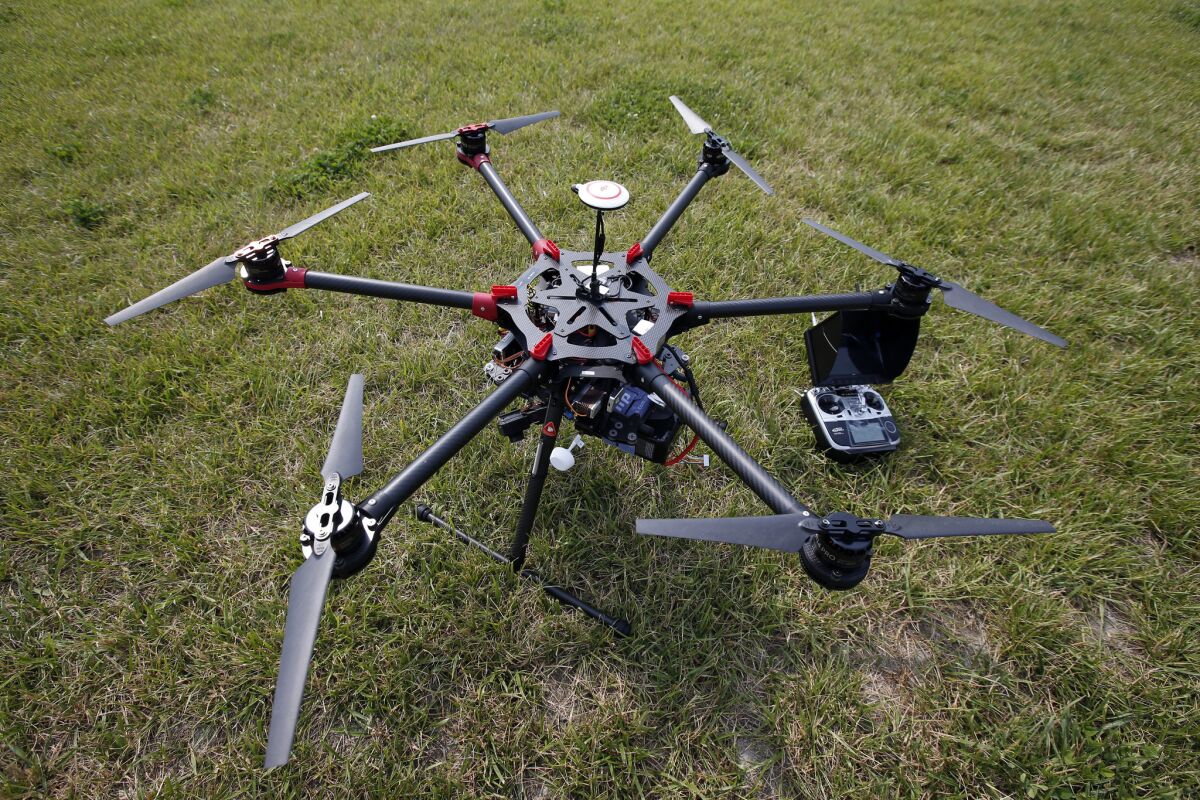 Reporting from Sacramento —
Lawmakers in the state Assembly approved a measure Monday that would restrict the use of drones over private property without the owner's permission.
But a bill that would require local law enforcement agencies to set up policies governing their use of body cameras fell flat after facing criticism from some Democrats that it did not go far enough.
The drone bill, by Sen. Hannah-Beth Jackson (D-Santa Barbara), would make flying a drone less-than 350 feet above private property without consent a trespass violation.
"If you drive on someone's property with a car, you're trespassing. If you're looking on someone's property to break in, you're trespassing," said Assemblyman Mike Gatto (D-Los Angeles), who presented the bill on the floor. "It makes no sense that a drone should be able to look in your window and the operator should not be guilty of the same trespass."
Interested in the stories shaping California? Sign up for the free Essential California newsletter >>
Some members were wary that the measure would needlessly regulate the burgeoning drone industry.
"The last thing we need to do in our state is ... limit the ability to not only create jobs but also create revenue," said Assemblyman Mike Gipson (D-Carson).
Gatto noted that under the bill, the drone operator, not the manufacturer, would be held liable for the trespassing violation.
The bill, SB 142, passed the Assembly on a 43-11 vote and heads to the Senate for final approval.
The body camera measure by Sen. Bob Huff (R-San Dimas) would require that local law enforcement agencies opting to use cameras create policies on how they would be used.
The bill would "create a statewide flexible framework, so local agencies can develop policies and procedures that line up with their community needs, the agency resources and the Constitutional and privacy rights of citizens," said Assemblyman Tom Lackey (R-Palmdale), in support of the measure.
Body cameras have been hotly debated in the Legislature this year, as high-profile killings of African American men by police officers have prompted a national discussion about police accountability.
Another measure aimed to impose uniform rules on body camera use statewide, but that bill stalled over objections of law enforcement groups.
Police groups supported Huff's measure, but some Democrats said it did not provide enough accountability.
"This bill, with all of its efforts, is really an anemic response to the crisis that we face," said Assemblywoman Shirley Weber (D-San Diego).
"I don't believe this is good enough," she added. "I don't believe we've done the best we can. As you look at the bill that's come out, it's really just a shell that has no content in it that's significant."
With just 34 'yes' votes, the bill, SB 175, failed to pass the Assembly; many Democrats, including all Democratic members of the Latino and black caucuses, withheld their votes.
Follow @melmason for more on California government and politics.
ALSO:
LAPD searches area around Century City mall after armed robbery at Rolex store
Black women kicked off Napa wine train after laughing too loud
Hoverboard-riding rapper Wiz Khalifi briefly detained at LAX
The stories shaping California
Get up to speed with our Essential California newsletter, sent six days a week.
You may occasionally receive promotional content from the Los Angeles Times.