Welcome to the final weekend of the year, in fact the last day of 2016 — a year that for many, could not end soon enough. It has been, however, a pretty great year if you're prone to stress eating. We've seen some terrific new restaurants and some remarkable cuisine — on restaurant tables and in home kitchens, as well as the 100-plus restaurants on Jonathan Gold's annual list.
For his last review of the year, our restaurant critic went to the San Gabriel Valley, not unfamiliar territory, where he found some very enjoyable Sichuan dishes. Not a bad way to gear up for next month's Chinese New Year celebration. As for tonight's New Year's Eve party, we have a story about sparkling wines — also not unfamiliar territory — in the form of a kind of suggestion list from area wine experts. And in more news, we have stories about a new restaurant in Koreatown and a new part of the city to head to for craft beer. Happy new year indeed.
More fun with Sichuan food
This week, Jonathan heads to Alhambra to review the Legendary Restaurant, a newish Sichuan place that excels in what he calls mannerist cooking. So: slices of pork belly hanging on what looks like a towel rack made for the Borrowers, and rice cakes served skewered onto the antlers of a small bronze deer. And chiles — so many chiles.
New Year's Eve bubbly
Tonight marks the end of 2016, which for many of us means not a few bottles of sparkling wine of one kind or another. To help us out some, wine writer Patrick Comiskey polled four local sommeliers to find out what kind of bottles they'd suggest. So if you haven't stocked up yet, you have a few more hours to pick up some bottles of Champagne, Prosecco, sparkling Chenin Blanc, sparkling rosé, etc.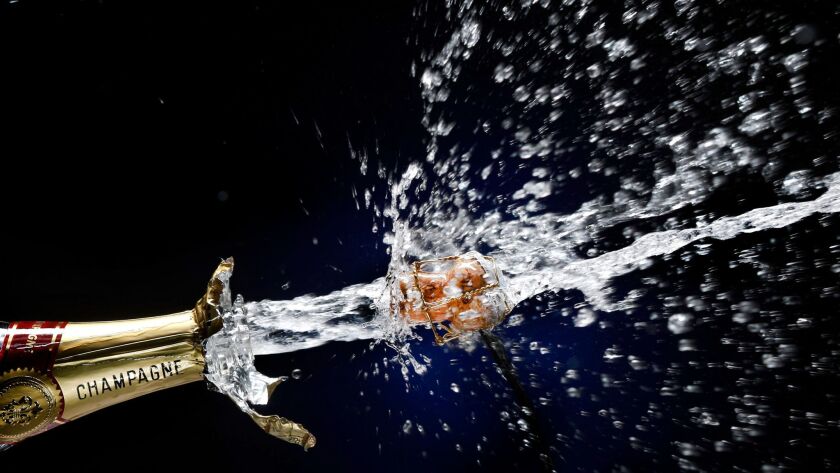 Another reason to head to KTown
If you spend much time in L.A.'s Koreatown neighborhood, you've likely been to the barbecue specialist Kang Ho Dong Baekjeong. The folks behind that and Quarters, another popular KTown restaurant, have recently opened Terra Cotta, which is neither a pottery store nor a barbecue joint. Deputy Food editor Jenn Harris considers what's on the menu: spatchcock chicken, crudo — and a cocktail based on the Netflix series "Stranger Things."
Your beer crawl extends to Hawthorne
Beer writer John Verive checks out Los Angeles Ale Works, a brewery and tasting room opening in January that will be the first in the city of Hawthorne, and assuredly not the last. This means that local beer geeks have a place to stop between the area around Los Angeles International Airport and Torrance — both great places to drink craft beer — like hophead versions of John Cheever's Neddy Merrill. (Probably way more fun with beer in L.A. than gin in Westchester County.)
Love robots as much as you love our resident restaurant critic? Of course you do. Now you can have both, thanks to Goldbot.
Jonathan Gold's 101 Best Restaurants, the authoritative annual guide to local dining, is online for subscribers and now features his 2016 Best Restaurants. If you didn't get a copy of the booklet, you can order one online here.
"City of Gold," Laura Gabbert's documentary of Jonathan Gold's Los Angeles, is available on Amazon.
Check us out on Instagram @latimesfood
In the Kitchen: Sign up for our weekly cooking newsletter
Check out the thousands of recipes in our Recipe Database.
Feedback? We'd love to hear from you. Email us at food@latimes.com.
---