Newsletter: So much Peruvian food, so many doughnuts, so close to home
Happy post-Labor Day weekend, which means you're not eating too much food in triple-digit heat in a studio backlot, but instead comfortably at home or maybe restaurant-bound, worrying about the Dodgers. Right. So pull up a chair or scroll down and get some reading done.
This week, Jonathan Gold visits Ricardo Zarate's new place and enjoys pisco sours and some ceviche. And Jenn Harris visits a few doughnut shops — well, almost 30 of them, driving 508 miles around this overheated town in the process, and eating not a few yeast-raised, chocolate-covered, jam-filled confections so you don't have to. Or, perhaps more accurately, so you can just eat the ones you want to eat. What to pair with them? How about a pint of beer. What else we've got: a story on the origins of Newport Seafood, our weekly market report, lotsa recipes (chili, maybe for all those football games tomorrow; 127 restaurant recipes; our top recipes from August); and a new restaurant in Culver City to go to for rosé and oysters.
MORE FUN WITH PERUVIAN FOOD
This week Jonathan considers Rosaliné, the new Peruvian restaurant from chef Ricardo Zarate. For those of us who loved Mo-Chica, Zarate's latest project is great news, as it marks his return after a hiatus. Rosaliné, named after Zarate's mother, takes over the former Comme Ça space and brings ceviche, paiche and chaufa paella to West Hollywood.
29 WAYS OF LOOKING AT (AND EATING) A DOUGHNUT
Doughnuts are one of those things that adapt to the times, like styles of jeans — some stay classic, others get uber trendy. Deputy Food Editor Jenn Harris, who may love doughnuts even more than you, decided to tour the area to find the best of the current crop of doughnut shops, 29 in all. Check out her definitive guide to L.A. doughnut shops.
SOME BALTIC PORTER WITH THAT CAKE DOUGHNUT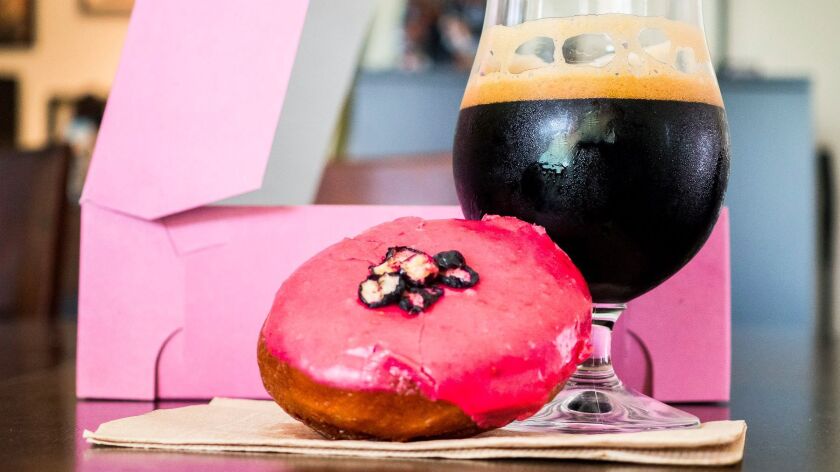 Sure, you can drink coffee with your doughnuts, but that's predictable — why not drink a pint or bottle of craft beer instead. Beer and doughnuts? Beer writer John Verive says that this unlikely pairing can be a lot more delicious than you might think. "Be it through acidity, alcohol, effervescence or hoppy bitterness, beer slices through oils and fats to refresh the palate in preparation for the next bite." Who knew.
AN ODE TO SPICY LOBSTER
If you've spent many a happy dinner consuming the enormous spicy lobster dish at Newport Seafood, food writer Gillian Ferguson has a good story for you. The couple responsible for both the dish and the restaurant, or rather restaurants, had a circuitous journey, from Cambodia to, in Wendy Lam's case, a wartime labor camp to Orange County. It was a long road, full of hardship and hard work, of love and chiles.
EASY UNDER THE APPLE BOUGHS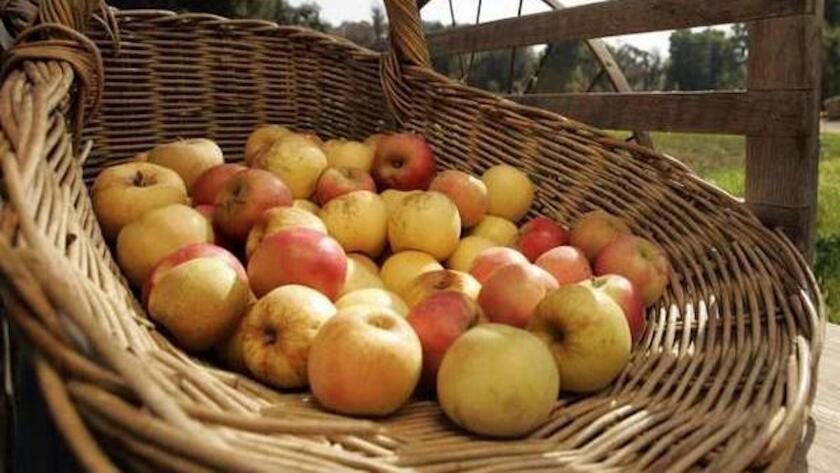 Test Kitchen Director Noelle Carter gives her weekly farmers market report, considering apples. September is apple time, with all kinds of heirloom varieties hitting the stands — and the U-pick farms too, if a trip up to Oak Glen is part of your fall tradition (where you can also get apple cider and yes, more doughnuts).
Goldbot: You can talk to Jonathan Gold any time you want — or at least the robot version of him that lives on Facebook Messenger. You can ask Goldbot for a personal restaurant recommendation based on location, type of food or price. The bot will also deliver Jonathan Gold's latest reviews straight to your device.
The Daily Meal, the food and drink website under the editorial direction of Colman Andrews, is now one of our partners. Check out their city food guides, restaurant lists, food stories, recipes and videos.
Jonathan Gold's 101 Best Restaurants, the authoritative annual guide to local dining, is online for subscribers and now features his 2016 Best Restaurants. If you didn't get a copy of the booklet, you can order one online here.
Check us out on Instagram @latimesfood
Check out the thousands of recipes in our Recipe Database.
Feedback? We'd love to hear from you. Email us at food@latimes.com.
---