Newsletter: Essential California: Trump team and Stormy Daniels each accuse the other of lying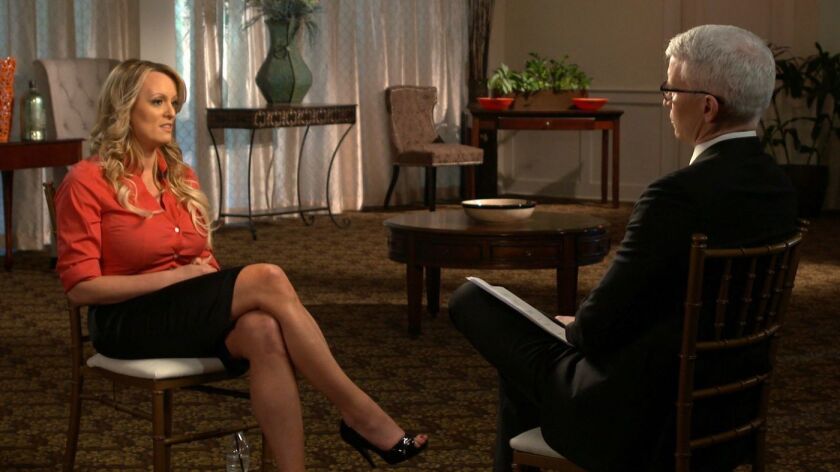 Good morning, and welcome to the Essential California newsletter. It's Tuesday, March 27, and here's what's happening across California:
TOP STORIES
The porn actress-versus-president legal drama shows no signs of letting up, and that does not appear to be good news for the president. A lawyer for President Trump's attorney Michael Cohen demanded a retraction and apology from Stormy Daniels for suggesting on "60 Minutes" that Cohen was behind an alleged threat of physical harm to the porn actress. Then, Daniels announced she was suing Cohen. What's next? Los Angeles Times
-- Columnist Robin Abcarian with a reality check on the scandal: They were grown-ups. The sex was consensual. The money changed hands. Was it sleazy? Yes. Was the hush money a campaign finance violation? Maybe. Los Angeles Times
-- And who is the Newport Beach lawyer who has become such a thorn in the side of the White House? Washington Post
The outrage grows
Between sobs and gasps, Sequita Thompson struggled to recount her terror eight days ago when gunfire rocketed through her backyard. Sacramento officers searching the neighborhood for a reported vandal encountered Thomas' grandson Stephon Clark, who lived there with them. Police fired a reported 20 rounds at the 23-year-old. Video of the encounter showed officers shouting "gun, gun, gun" before opening fire, but the only object discovered near the dead man was a cellphone. Los Angeles Times
Novel approach
As Conor Lamb's campaign showed in Pennsylvania, the Democratic Party appears to have an unconventional new strategy for dealing with anti-Nancy Pelosi campaign ads in 2018. Rather than defend Pelosi or try to change the subject, Democratic candidates are being given leeway — at least unofficially — to buck her if that's what's needed to win a seat in a conservative-leaning district. It may give Democrats control of the House again, but will Pelosi have the votes to hold the gavel? Los Angeles Times
Battle within City Hall
Why is the mayor of Riverside suing his own city? It's created an ugly environment at City Hall, with talk of conspiracies, collusion and power grabs just as the city has been on an upswing. Los Angeles Times
L.A. STORIES
Dodgers ace: After the incredible disappointment of the World Series, Clayton Kershaw packed up his family early last November and returned to Texas. He did not permit himself to wallow. "It's not like life just stops, and I just sat around," Kershaw said. "I don't sit. I don't do that. Ever." Los Angeles Times
Here, kitty: "I was stunned and amazed at the beauty. I didn't feel scared, it didn't seem like it was aggressive." — A day of drama as a mountain lion roams an Azusa neighborhood. Los Angeles Times
Teen's tale: A beautiful tale of latch-key kid activism. New York Review of Books
Organizers: At a time when unions are losing ground in California, they are showing signs of life in the Inland Empire. Press-Enterprise
The old ballgame: In the San Fernando Valley, a Mexican sport — pelota mixteca — is keeping a language alive. New York Times
Water works: It's proven difficult for L.A. to keep Silver Lake filled with water. Curbed Los Angeles
CRIME AND COURTS
Firearms sales: Two Gardena police officers have been indicted by a federal grand jury on charges of using their position to acquire firearms and illegally selling more than 100 of the weapons to others, including a convicted felon. Los Angeles Times
They want you as a new recruit: The struggle to hire more cops in Southern California. San Gabriel Valley Tribune
Court ruling: A twist in the Olivia de Havilland/FX legal drama. The Hollywood Reporter
GOVERNMENT AND POLITICS
Days of reckoning: "From the early days of Silicon Valley's Internet-era revolution, as engineers, designers, and financiers began to recognize the potential of their inventions, sanctimony was a distinct feature of the revolutionists. The young innovators of Silicon Valley were not like the largely amoral barons of industry and finance. They were visionaries of virtue. Google adopted the slogan 'Don't Be Evil' (which morphed into 'Do the Right Thing')." — David Remnick on Silicon Valley at a crossroads after the Cambridge Analytica scandal. The New Yorker
Plus: California's attorney general: Facebook has "broken our trust." San Francisco Chronicle
And: Despite the Facebook controversy, expect more digital political ads than ever this year. Los Angeles Times
Reading the tea leaves: Does Kevin de León have a shot against Sen. Dianne Feinstein? George Skelton says De León's job performance as a legislator, including the last three-plus years as leader of the California Senate, indicates he'd be an energetic, in-your-face, ultimately effective U.S. senator — and much more liberal than Feinstein. That doesn't necessarily mean he should oust her. Los Angeles Times
Not resisting enough? San Fernando Valley Rep. Brad Sherman is supporting the push for Trump's impeachment. But to some in his district, that is not enough. Los Angeles Daily News
Plus: How's that House flipping going? Los Angeles Times
Numbers drop: Syrian refugees struggle to build a new life in Modesto as the door to fellow refugees slams shut. Sacramento Bee
Superfund sites: In the world capital of innovation, there is a legacy of pollution. What is Silicon Valley going to do about it? New York Times
Think ahead: In the home stretch of this year's ballot initiative season, don't be surprised if you're asked to sign a petition for a proposal that won't actually go to California voters until Nov. 3, 2020. That's almost two years ahead of the normal schedule. In politics, as in life, a good deal can be hard to pass up. Los Angeles Times
CALIFORNIA CULTURE
Suicide prevention: The San Diego-Coronado Bridge is among the deadliest spans in America for suicides. Only the Golden Gate Bridge has regularly seen more people plunge to their death in recent years, and there officials are in the process of installing a net below its deck to deter would-be jumpers at a cost of roughly $204 million. Now officials are considering protections for the San Diego bridge as well. Los Angeles Times
At the movies: The next great hope for the struggling movie industry: "Ready Player One." A lot is riding on Steven Spielberg and his message. "For Steven, it's a question he deals with on a daily basis in his life with his wife and his family: Would you rather be online or would you rather live in the real world?" says Spielberg's longtime producing partner, Kristie Macosko Krieger. "At the end of the day, that's sort of what it's all about." Los Angeles Times
Plus: The March movie box office is reaching a new low for Hollywood. Can Spielberg save the day? The Hollywood Reporter
And: Why "Black Panther" became such a bright spot. Can the success be duplicated? Quartz
Must-see: The movie mystery surrounding this BART photo. SF Gate
Marathon man: Times music critic Mark Swed says Taylor Mac's "A 24-Decade History of Popular Music" is a necessary and great American epic for our time. It is, on the surface, like nothing else, a queering of American history with the help of a quirky selection of 246 songs, a great many of them put to audacious use. Los Angeles Times
CALIFORNIA ALMANAC
Los Angeles area: sunny and 78. San Diego: sunny and 70. San Francisco area: sunny and 65. Sacramento: sunny and 74. More weather is here.
AND FINALLY
Today's California memory comes from Jim Crabbe:
"When stationed at Camp Beale in 1943, our FA HQ battery was sent to Mt. Shasta to help fight forest fires. I remember going into the town of Redding on an off day and getting one of the most delicious ice cream cones that I had ever eaten. It had a distinctive bran flavor and was unforgettable. Have never been back but have often wondered if that dairy store is still there."
If you have a memory or story about the Golden State, share it with us. Send us an email to let us know what you love or fondly remember about our state. (Please keep your story to 100 words.)
Please let us know what we can do to make this newsletter more useful to you. Send comments, complaints and ideas to Benjamin Oreskes and Shelby Grad. Also follow them on Twitter @boreskes and @shelbygrad.
---