Newsletter: Essential California: Smoggy with a chance of Trump?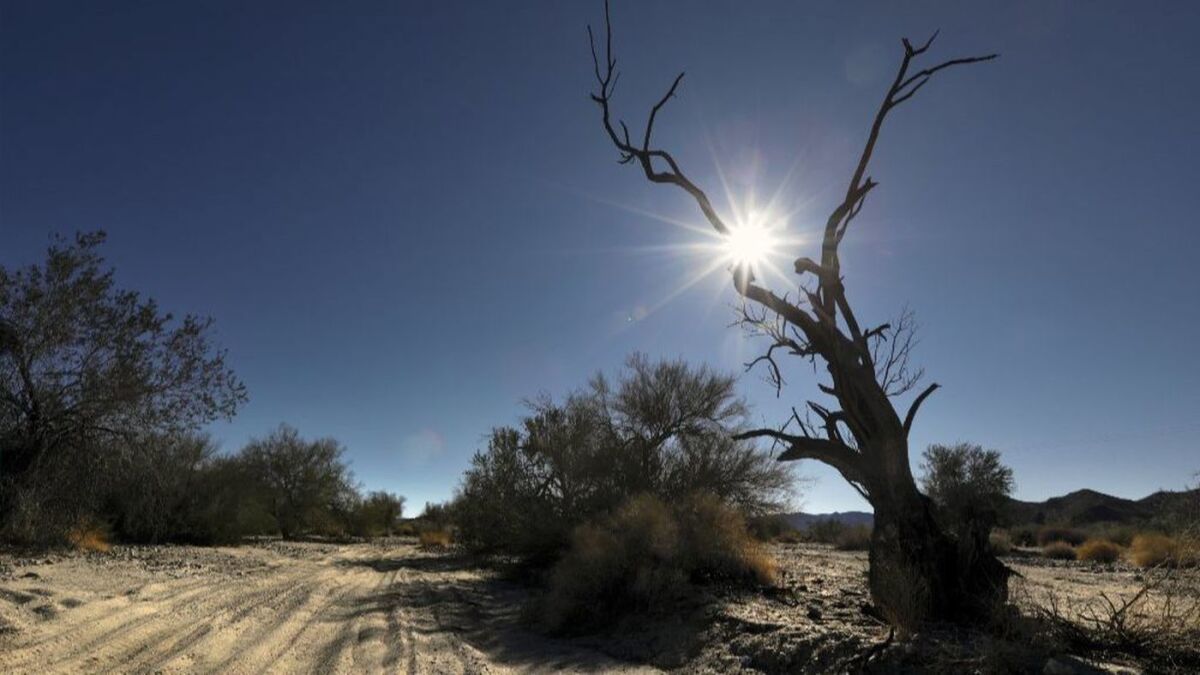 Good morning, and welcome to the Essential California newsletter. It's Tuesday, April 3, and here's what's happening across California:
TOP STORIES
Setting up its most aggressive clash yet with California over environmental standards, the Trump administration signaled Monday that it may revoke the state's ability under the Clean Air Act to impose stricter rules for vehicle emissions. The announcement came as the administration confirmed it is tearing up landmark fuel economy rules pushing automakers to manufacture cleaner-burning cars and SUVs. Los Angeles Times
Plus: The Trump administration also stepped up its offensive on California's environmental laws, suing to reverse a state law that seeks to handcuff the federal government from selling any of the 45.8 million acres of property it controls in the state. Los Angeles Times
Lost in Lincoln Heights
Many immigrants in Lincoln Heights, who lived through high crime and police oppression, never expected to be forced out by real estate values. But with the neighborhood becoming a prime target for investors, some renters find themselves displaced in the midst of L.A.'s crushing housing shortage. Los Angeles Times
Hollywoodland
Saudi Arabia's 32-year-old crown prince is in Los Angeles this week meeting with Hollywood bigwigs. His trip has elicited excited curiosity among entertainment industry executives who see the desert kingdom as a lucrative new market for movies — and a potential source of much-needed financing. Hollywood's biggest foreign financial partner, China, has mostly stopped writing checks because of a government crackdown on foreign investments and leveraged deals that once dominated headlines. Los Angeles Times
L.A. STORIES
Great news: A frantic, overnight search for Jesse Hernandez — the 13-year-old boy who plunged into a vast network of city sewer tunnels beneath Griffith Park — ended happily Monday morning after sanitation workers removed a manhole cover and spotted the boy peering back at them. Here's how they found him. Los Angeles Times
He speaks: Jesse describes his ordeal. NBC News
Watch: See the video that led rescuers to him. Los Angeles Times
How generous: Ahead of the 2028 Olympic Games in Los Angeles and in an effort to improve youth fitness and access to sports, the Clippers Foundation announced Monday a $10-million donation to the L.A. Parks Foundation to renovate all indoor and outdoor basketball courts in city parks. Los Angeles Times
Ooof: "The cost of buying a home in the San Fernando Valley hit a new record-high in February, according to a new report from the Southland Regional Association of Realtors." Curbed LA
IMMIGRATION AND THE BORDER
Quota system: The Trump administration will pressure U.S. immigration judges to process cases faster by establishing a quota system tied to their annual performance reviews, according to new Justice Department directives. Washington Post
On Twitter: President Trump unleashed a flurry of tweets Sunday and Monday attacking Mexico on several fronts, including immigration and the North America Free Trade Agreement. It's more fiction than fact. Los Angeles Times
Plus: "A caravan of about 1,200 Central American migrants making its way up through Mexico has grabbed headlines for both its size and its unimpeded push north. But it's an exception amid a severe crackdown on undocumented immigration by the state — and a trek that other migrant rights groups warned would likely leave chaos in its wake." BuzzFeed News
Chilling tale: "This teenager told police all about his gang, MS-13. In return, he was slated for deportation and marked for death." ProPublica
POLITICS AND GOVERNMENT
Up north: The signs stand throughout rural Shasta County. There's the one on Lake Boulevard, a quiet two-lane that cuts through the trees south of the towering Shasta Dam. One stands on Olinda Road in Anderson, just west of North Valley High School. Another hangs from an electric pole in Redding, across the street from Kent's Meats & Groceries. "No Room for Racism," they declare unequivocally and without margin for debate. But, of course, in all matters of race — and all that comes with it — it's never as easy as putting up a sign. Los Angeles Times
Update: Residents, business owners and others have filed more than $421 million in insurance claims as a result of the Montecito mudslide in January, the state Department of Insurance announced Monday. Los Angeles Times
Interesting profile: Hollywood's man in Washington used to run the Muppets empire, was the U.S. ambassador to France and is now helping the six big studios navigate the Trump era. New York Times
LAUSD chief race: Who could be the next Los Angeles schools superintendent? Los Angeles Times
CRIME AND COURTS
Hopes fade: The search for three missing siblings feared dead after their family's SUV plunged down a cliff into the sea last week has been delayed by rough conditions on the California coast. Los Angeles Times
Setback: In a blow to privacy advocates, the California Supreme Court decided 4 to 3 Monday that the state may continue to take DNA from people arrested on suspicion of a felony. Los Angeles Times
Records detail "hellacious fight": Court records in a lawsuit that has resulted in a tentative $1.5-million settlement with the city of Pasadena offer new details about a violent struggle between officers and Reginald Thomas Jr. that ended in the death of the mentally ill man. Los Angeles Times
THE ENVIRONMENT
Big change: The Metropolitan Water District of Southern California is dropping plans to push ahead with a full, two-tunnel proposal to revamp the state's water delivery system, opting to pursue a scaled-back version instead. Los Angeles Times
CALIFORNIA CULTURE
On the stock exchange: Tesla Inc. stock dropped Monday, as the maker of electric cars came out of a week of bad news — including a big recall of Model S cars and an investigation into a fatal crash of a Model X SUV — and investors expect the company will announce disappointing delivery numbers for its Model 3 car. Los Angeles Times
Coming to a TV near you: Sinclair Broadcast Group, which is in the process of buying KTLA, has been thrust into the spotlight by a viral video showing anchors from its news stations nationwide reading a company-mandated promotional announcement warning against media bias and "false news." Los Angeles Times
Yum: This Navy vet turned fishmonger is smoking and curing some of L.A.'s best sustainable seafood. Los Angeles Times
Shaq is back! "Retired NBA great Shaquille O'Neal is becoming general manager of the Sacramento Kings' first e-sports team." San Francisco Chronicle
CALIFORNIA ALMANAC
Los Angeles area: Partly cloudy, 68, Tuesday. Partly cloudy, Wednesday, 71. San Diego: Partly cloudy, 65, Tuesday. Partly cloudy, 66, Wednesday. San Francisco area: Partly cloudy, 60, Tuesday. Partly cloudy, 61, Wednesday. Sacramento: Sunny, Tuesday, 77. Partly cloudy, 74, Wednesday. More weather is here.
AND FINALLY
Today's California memory comes from Terri Christensen:
"Although I now live in Australia, I was born and raised in Long Beach, with fond memories of my childhood. We lived across from Barton Elementary, where I often walked home for lunch or my mother took me to the new McDonald's for a 13-cent hamburger. Our neighborhood was typical middle class, full of kids who played 'kick the can' until dark and we were a favorite target for Fuller Brush, the Helms Bakery truck and a child photographer with the live pony. Wednesday was 25-cent ride day at the Pike, and my dad often took me there in summer, but I never was allowed on the roller coaster."
If you have a memory or story about the Golden State, share it with us. Send us an email to let us know what you love or fondly remember about our state. (Please keep your story to 100 words.)
Please let us know what we can do to make this newsletter more useful to you. Send comments, complaints and ideas to Benjamin Oreskes and Shelby Grad. Also follow them on Twitter @boreskes and @shelbygrad.
---