Newsletter: Essential California: An agonizing decision for asylum seekers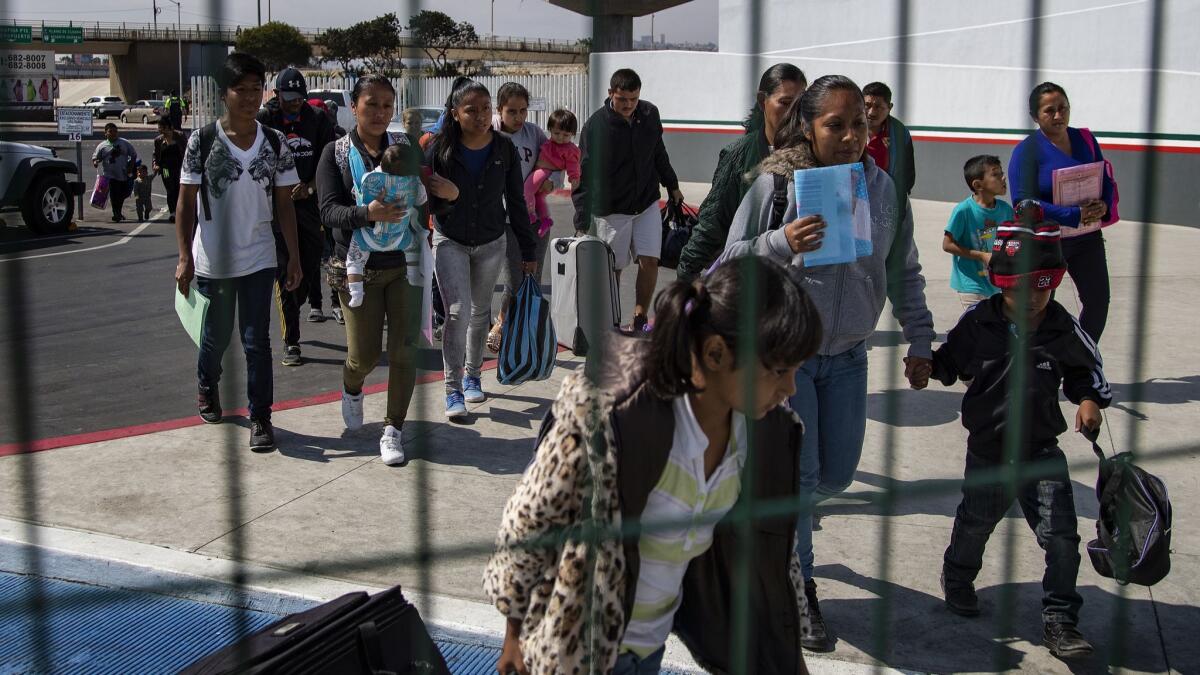 Good morning, and welcome to the Essential California newsletter. It's Monday, June 25, and here's what's happening across California:
TOP STORIES
At dozens of temporary shelters lining the U.S.-Mexico border in Tijuana, hundreds of asylum seekers fleeing violence of all sorts are making calculations before turning themselves in at the San Ysidro Port of Entry. Across the Southwest border, they have had to weigh the risks of a "zero tolerance" policy for illegally crossing into the U.S., the threat of being separated from their children and a ruling that shuts out many asylum seekers knocking on America's door. For many, the terrors back in their homelands — in Guatemala, Honduras and El Salvador — supersede the tribulations especially engineered for them by the U.S. government. Los Angeles Times
-- Inside the California facilities holding children separated from their parents at the border. Los Angeles Times
-- Democrats responded skeptically Sunday to the Trump administration's assertion that it has a process in place to reunite more than 2,000 "separated minors" with their parents, while Republican lawmakers sought to defend the president's immigration policies and again promised that all the children taken from their parents in recent weeks were accounted for. Los Angeles Times
-- A contractor working for private prison company CoreCivic has applied for construction permits to expand Otay Mesa Detention Center in southern San Diego County, which houses immigrants awaiting court proceedings. Los Angeles Times
Mexico's big election
If the polls are right, Andres Manuel Lopez Obrador will be Mexico's next president. A week before the July 1 vote, the 64-year-old former Mexico City mayor, widely known by his initials, AMLO, is beating his closest rival by as much as 25 percentage points. He owes his remarkable rise to sheer persistence — he has essentially been running for president continuously since before 2006, when he first appeared on the ballot — and savvy positioning. The anti-establishment rhetoric he's been fine-tuning for more than a decade is finally in step with a recent global shift toward populism as well as local outrage over rising violence, endemic corruption and, above all, a sense that Mexico's ruling class cares only about itself. Los Angeles Times
USC's big legal problem
At least 200 former USC students have joined lawsuits against the university, alleging it failed to heed warnings for nearly 30 years that a campus gynecologist was sexually abusing patients. Lawyers representing the accusers expect the number of women suing to reach at least several hundred and possibly thousands. If successful, the suits could cost the university hundreds of millions of dollars. Los Angeles Times
Plus: As USC grapples with sexual abuse allegations against longtime campus gynecologist Dr. George Tyndall — accusations he denies — the case is also shaping up to be somewhat of a teaching moment within the world of gynecology. Los Angeles Times
Get the Essential California newsletter »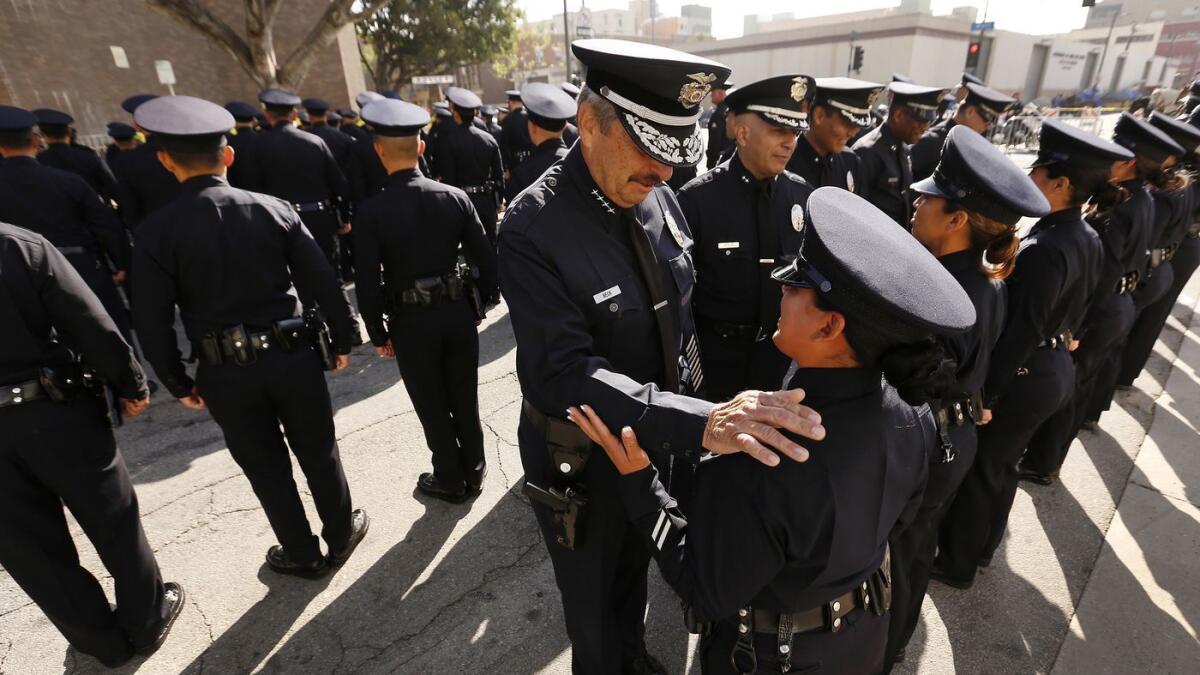 L.A. STORIES
A look at Beck: As he retires after more than 40 years with the LAPD, Chief Charlie Beck has evolved with the department he leads. Los Angeles Times
History of allegations: Long before 10-year-old Anthony Avalos died Thursday with severe head injuries and cigarette burns covering his body, law enforcement officers and child protective caseworkers documented years of severe abuse allegations, according to sources familiar with the case history. Los Angeles Times
On the mean streets: A friend of these cyclists died in a hit-and-run. "Can they take on car culture in Los Angeles?" New York Times
IMMIGRATION AND THE BORDER
An overstretched system: The problems in getting detainees to court on time have been magnified under the Trump administration's "zero tolerance" immigration crackdown. San Diego Union-Tribune
The future: Times alum and author Hector Tobar looks at how Latinos are shaping America's future. National Geographic Magazine
Kids in exchange for deportation: Detained migrants say they were told they could get their kids back on the way out of the U.S. The Texas Tribune
POLITICS AND GOVERNMENT
The Trump effect: President Trump's immigration agenda forces California's GOP candidates to navigate a tricky course. Los Angeles Times
O.C.'s homeless: Brooke Weitzman says the homeless crisis in Orange County is solvable, with the only obstacle a lack of resolve from local political leaders. She has been at the center of the legal fight supporting a group of homeless people in their bid to be treated more humanely. Los Angeles Times
Preventing wildfire: "For PG&E, cutting power could prevent fires and save lives — and costs." San Francisco Chronicle
Electionland: "Meet Jennifer Siebel Newsom, the filmmaker who could be California's 'first partner.' " Mercury News
CRIME AND COURTS
After the bullets fly: In the aftermath of a police shooting, families feel left in the dark with more questions than answers. Los Angeles Times
In Orange County: Anaheim police are investigating the death of a 46-year-old man who had a "brief altercation" with officers after disrupting traffic on a busy street. Los Angeles Times
Sad: A man who was fatally shot while camping with his family at Malibu Creek State Park has been identified. Los Angeles Times
THE ENVIRONMENT
Fire grows: A wind-driven wildfire tore through rural Lake County in Northern California over the weekend, scorching thousands of acres, prompting evacuations and destroying a dozen structures by Sunday afternoon while threatening hundreds more. Los Angeles Times
Then and now: These days, just a handful of lush, green orchards recall the era long gone when Silicon Valley was called the Valley of Heart's Delight for its stone fruit: apricots, cherries, plums, and peaches. Those fruit farmers left survive by serving locals in the know — and in the case of Andy's Orchard, high-end chefs in Santa Monica. KQED
CALIFORNIA CULTURE
Cool story: Meet the top-ranked American fencer who's also a male model. Los Angeles Times
They said what? The Lakers' latest comments show the mustard's off the hot dog, writes columnist Bill Plaschke. Los Angeles Times
Exciting stuff: Will Mexico advance in the World Cup? Here are the scenarios heading into the final group stage game. Los Angeles Times
Zsa Zsa! "A 9-year-old English bulldog was named the winner of the 2018 World's Ugliest Dog contest in the San Francisco Bay Area." Associated Press
"It's beautiful": Cheech Marin reflects on his new art museum and some big cultural shifts. Los Angeles Magazine
CALIFORNIA ALMANAC
Los Angeles area: Sunny, 77, Monday. Partly cloudy, 80, Tuesday. San Diego: Sunny, 72, Monday. Sunny, 73, Tuesday. San Francisco area: Partly cloudy, 63, Monday. Sunny, 61, Tuesday. Sacramento: Sunny, 86, Monday. Sunny, 92, Tuesday. More weather is here.
AND FINALLY
This week's birthdays for those who made a mark in California: retiring LAPD Police Chief Charlie Beck (June 27, 1953) and entrepreneur Elon Musk (June 28, 1971).
If you have a memory or story about the Golden State, share it with us. Send us an email to let us know what you love or fondly remember about our state. (Please keep your story to 100 words.)
Please let us know what we can do to make this newsletter more useful to you. Send comments, complaints and ideas to Benjamin Oreskes and Shelby Grad. Also follow them on Twitter @boreskes and @shelbygrad.
Sign up for Essential California for news, features and recommendations from the L.A. Times and beyond in your inbox six days a week.
You may occasionally receive promotional content from the Los Angeles Times.