Newsletter: Essential California: In Redding, fire burns a path of destruction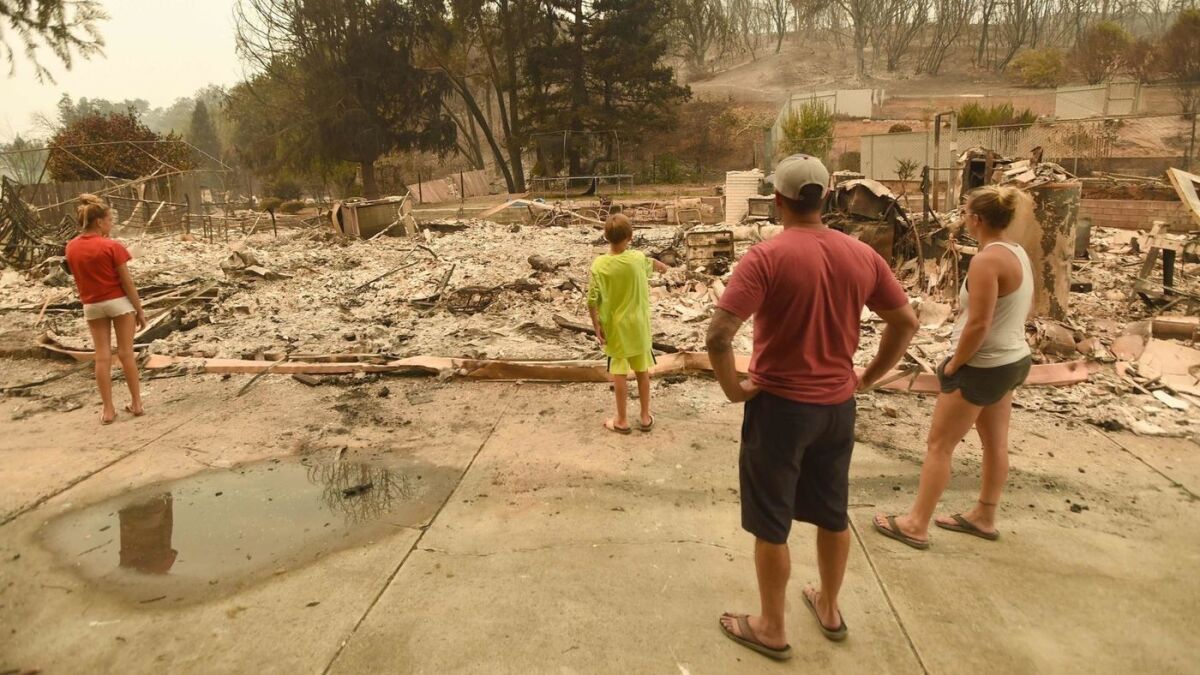 Good morning, and welcome to the Essential California newsletter. It is Saturday, July 28. Here's what you don't want to miss this weekend:
TOP STORIES
A destructive wildfire in and around Redding has killed at least two people, including a city firefighter, and destroyed 500 structures, officials said Friday. Northern California will see high heat and low humidity over the next week to 10 days, which will increase the likelihood of new fires starting and firefighters wearing out as they battle new and existing blazes. Los Angeles Times
The year of fire: When the flames are intense enough to generate their own weather. Los Angeles Times
Life or death: The terrifying decision when you are in the path of a wall of flames. Los Angeles Times
Scary: As firefighters continue to battle the Carr fire, some captured on video the tornado-like flaming vortexes that have swept through the area. Los Angeles Times
And: Riverside County prosecutors have charged a 32-year-old man with starting nine fires, including a wildfire that has burned more than 11,500 acres in Idyllwild and forced the evacuation of thousands of residents as it rages through the San Jacinto Mountains. Los Angeles Times
Controversy at CBS
CBS Corp. Chief Executive Leslie Moonves has long been larger than life in Hollywood: the master showman who saved CBS from irrelevance, the savvy programmer with a knack for putting together hit shows and building the venerable network into a TV juggernaut. But on Friday, Moonves no longer controlled the script. CBS stock plunged on rumors that a bombshell report would be published that alleged he sexually harassed multiple women more than a decade ago. The article published Friday afternoon by the New Yorker said six women had accused Moonves of sexually harassing them. Los Angeles Times
Plus: Here's the story from Ronan Farrow — who has written similar blockbusters about Harvey Weinstein and former New York Atty. Gen. Eric Schneiderman. The New Yorker
AROUND CALIFORNIA
Great graphic: California's attorney general is waging war against Trump. These are the battlefronts. Los Angeles Times
Changing their ways: In Los Angeles, local lawmakers can quietly block affordable and homeless housing in their districts by withholding a required letter. Now a community group is going to court to demand the city eliminate that "pocket veto." Los Angeles Times
Approved: Walt Disney Co. and 21st Century Fox Inc. shareholders on Friday overwhelmingly approved Disney's proposed $71.3-billion takeover of much of Rupert Murdoch's 21st Century Fox — a milestone in a merger that is expected to dramatically reshape the entertainment industry. Los Angeles Times
The new "Ellis Island": A south Texas bus terminal. New York Times
Fudging the numbers: Under a new formula, L.A. Unified's graduation rate is lower than expected. Los Angeles Times
Released: A Mexican journalist held in U.S. immigrant detention since last year was released Thursday night. Los Angeles Times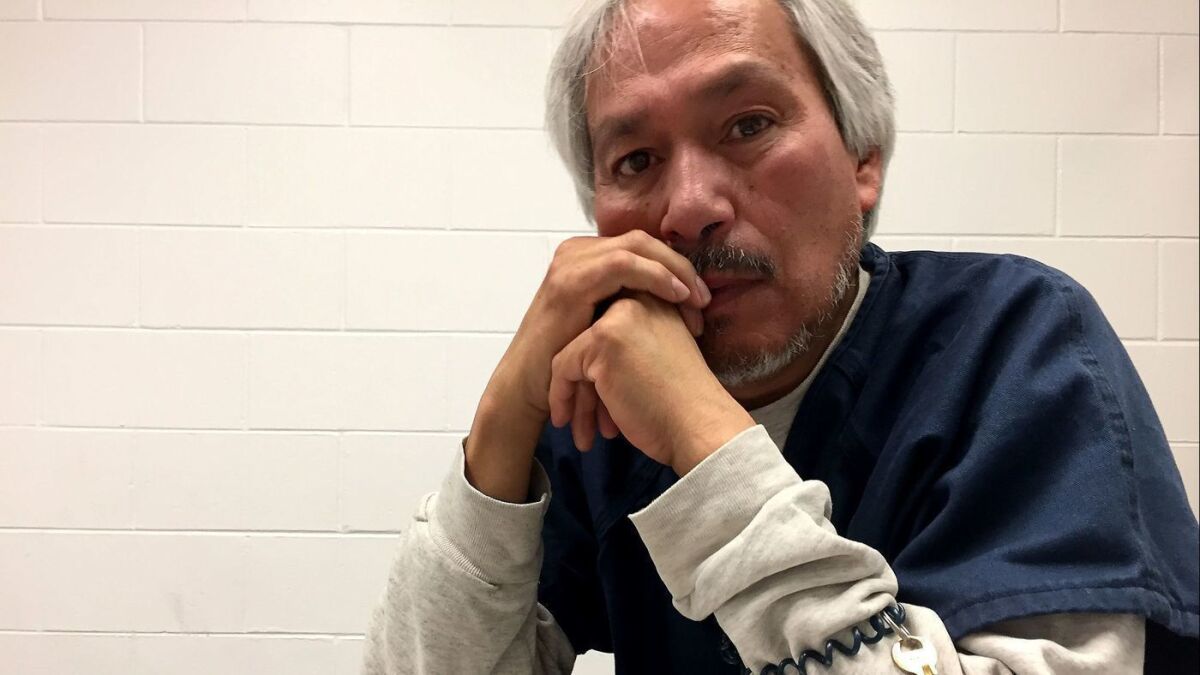 Uh oh: "One in five batches of marijuana has failed laboratory testing since new state safety requirements kicked in July 1, according to data from the California Bureau of Cannabis Control." Mercury News
No charges: Los Angeles County prosecutors said they will not file criminal charges against "Gossip Girl" actor Ed Westwick, who was accused of sexual assault by three women. Los Angeles Times
Down in Pedro: A newly proposed federal bill could help fund the relocation of butane and propane storage facilities located near homes and schools, including a San Pedro site that has long concerned residents. Los Angeles Times
In court: A federal judge said Friday that he was inclined to deny the request by Michael Cohen, President Trump's former personal lawyer, for a gag order to stop attorney Michael Avenatti from attacking him in the news media. Los Angeles Times
Back on the scene: "How Kid Cudi found joy after fighting depression: 'I'm the best I've ever been.' " Billboard
In Fresno: When a landfill becomes a landmark. Atlas Obscura
Get the Essential California newsletter »
THIS WEEK'S MOST POPULAR STORIES IN ESSENTIAL CALIFORNIA
1. Literary ambition. Fabulous parties. A hidden past. Who is Anna March? Los Angeles Times
2. Questions swirl over an LAPD shootout that left a Trader Joe's store manager dead. Los Angeles Times
3. Watch Out! Here are the top 10 spots for freeway accidents. Crosstown Traffic
4. As L.A. struggles to reduce traffic deaths, speed limits keep going up. Los Angeles Times
5. Breaking down the dramatic videos that show the LAPD chasing and exchanging fire with the Trader Joe's shooting suspect. Los Angeles Times
ICYMI, HERE ARE THIS WEEK'S GREAT READS
Smart: At each of the 50 Mexican consulates in the United States, representatives from local clinics and other health organizations give talks about topics such as diabetes or domestic violence to people waiting to receive passports or renew identification cards. The captive audience is offered flu shots, diabetes screenings or referrals to nearby clinics. Los Angeles Times
In the youth centers: Using state public records laws, ProPublica has obtained police reports and call logs concerning more than 70 of the approximately 100 immigrant youth shelters run by the U.S. Health and Human Services department's Office of Refugee Resettlement. While not a comprehensive assessment of the conditions at these shelters, the records challenge the Trump administration's assertion that the shelters are safe havens for children. The reports document hundreds of allegations of sexual offenses, fights and missing children. ProPublica
Wild story: How Silicon Valley became a "den of spies." Politico Magazine
Looking back: That time Jonathan Gold saved the struggling Night+Market from closure. Los Angeles Times
California housing crisis podcast: Should California emulate Seattle to fix its affordability problems? Los Angeles Times
Please let us know what we can do to make this newsletter more useful to you. Send comments, complaints and ideas to Benjamin Oreskes and Shelby Grad. Also follow them on Twitter @boreskes and @shelbygrad.
---